Hi everyone; happy new year! Holidays are coming to an end and I have no excuse to stay away from the computer anymore (it's -17 c out, that's 1 degree fahrenheit! It's Narnia out there, eternal winter, no christmas. I refuse to stick even the tip of my nose outside the door). Anyway, Graylight is in stores, so let's celebrate with two of my favourite images? Each chapter ends with a two page spread like this.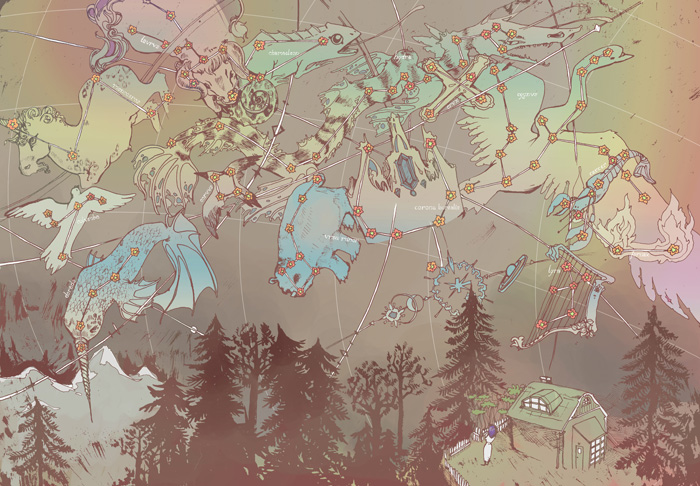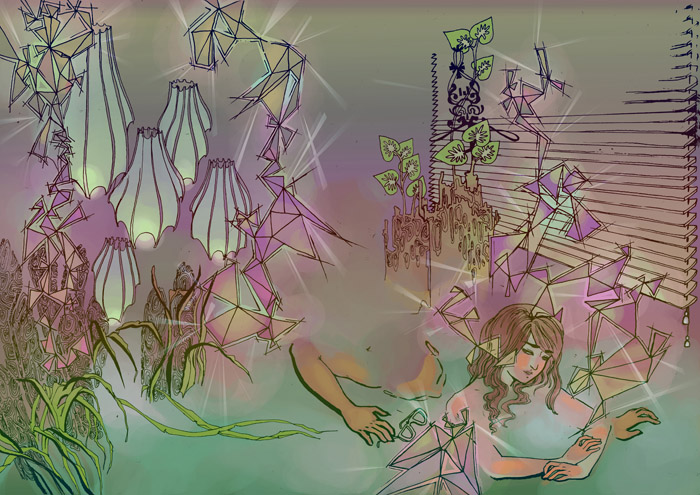 As you've probably guessed if you've been reading my posts here or over on my personal blog (which by the way gets a lot of updates) there's a whole lot more magic going on in this book than the previous ones. In Unholy Kinship, it was there in the shape of madness. In House of Clay it was there as a dainty sort of half-dream twist on a mostly realistic story. I do fully believe in magic though, and witches especially. I remember in the very first interview I did about my comics someone (it was a panel interview) asked how much of my work was inspired by faerytales. I laughed and said that well, faerytales always meant a lot to me but … there's no unicorns or anything. The audience liked my answer… but I've gotten tired of putting restraints on myself for fear of my work falling into a stereotypical "magical girl" genre. While trying not to be a stereotype is a good thing it very definitely takes a back seat to being honest and describing your real passions. You won't see people throwing spells at each other in my comics because to me that's not how it works. That's fantasy and what I would ideally want to do is show how much magic I see everywhere, in this real world. I've met three (older) women I believe to be witches so far in my life. They've fascinated me like no other people I've ever encountered and I've had more dreams about them than anyone else. Here's a strange coincidence: one is from the south (I met her before I started on Unholy Kinship), one from the north (I met her just as I began work on House of Clay), one from the east (You figure…). I guess there may be a fourth in my future. Okay so this probably all sounds ridiculous and perhaps too personal but now that Graylight is out I felt it was time to talk about my inspiration and motive more explicitly. Hopefully it will make someone want to read.
Moving on though, right? I'd like to write about new projects coming up this year … but I can't. True to my partner in crime for one of my juiciest crimes yet (only in part comics related) I can't share any news, but I swear this will be an exciting year… can I write stay tuned or is that cheesy? No, it's cheesy. Ok. But stay with me.
ps. There's gonna be unicorns some day.
pps. My website now has illustration and photography aside from paintings.