hi, just a quick note … i'm having a raffle at my blog (here!) for a free copy of graylight. i did it for house of clay and it was fun, so i thought, why not. put your name down if you like
Since my last entry was about abstract and out-there stuff like magic, I thought i'd be down to earth this time.
In comics, when you work with another writer (I haven't done this much, but I know people who do) you get a detailed description of each page and each panel of whatever you're working on. The nice thing about being the writer and illustrator all rolled into one is you don't have to do that. I write the text in some sort of loose script form, sometimes as dialogue, sometimes more descriptive. In Graylight I had the whole thing divided into chapters so I would do one of those at a time. Starts out with a sketch: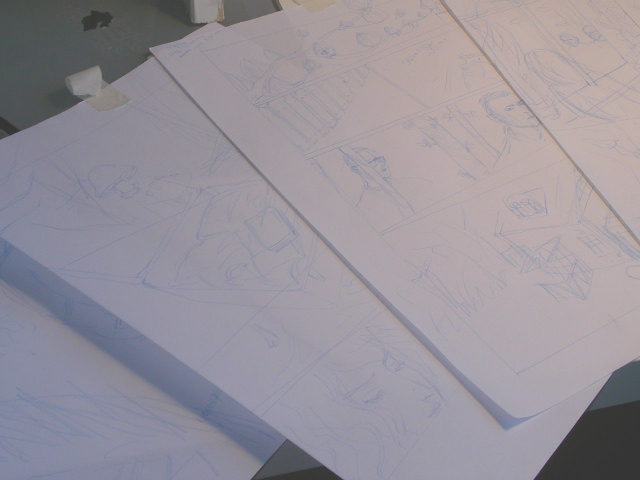 I do these in blue pencil, on regular A4 / letter size paper. Blue saves you time consuming and dangerous erasing (ruins the paper if you're not careful and i'm not really that careful). Normally I don't use photo reference at all while sketching. I learned at a young age that copying is very, very bad and shameful and that is sort of sticking with me, even though I've completely changed my mind about it – I don't think tracing is bad, whatever you do that looks good works. Tracing can look boring if you overdo it though or do it inexpertly because it ends up looking sterile and takes away a lot of the "style" element from the drawings, which is something i very much enjoy. I like to see how a person interprets an image, not how a camera interprets it (unless I'm looking at photos of course). Photographs have messy angles, too, that may work in a photo but not as a drawing. That said, for my next comic I may go a little more manga style and trace a building or two… Still considering. Depends on how much time I'll have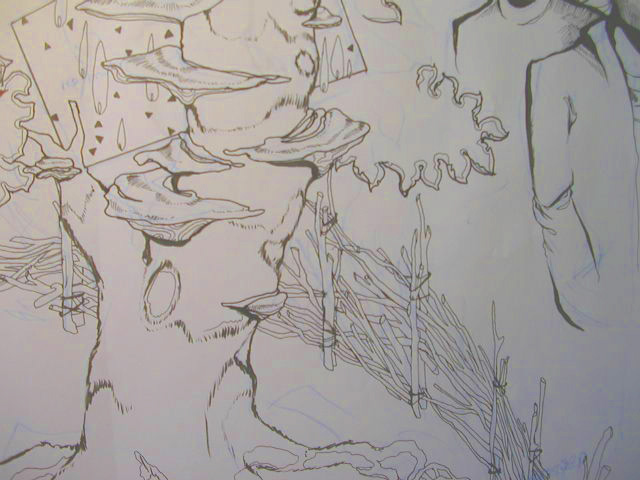 Anyway, after sketching a couple of pages I ink them, first with a brush for the thicker, more flowing lines and then with increasingly tiny technical pens. I usually work on two at a time, just taping them up on my drawing table.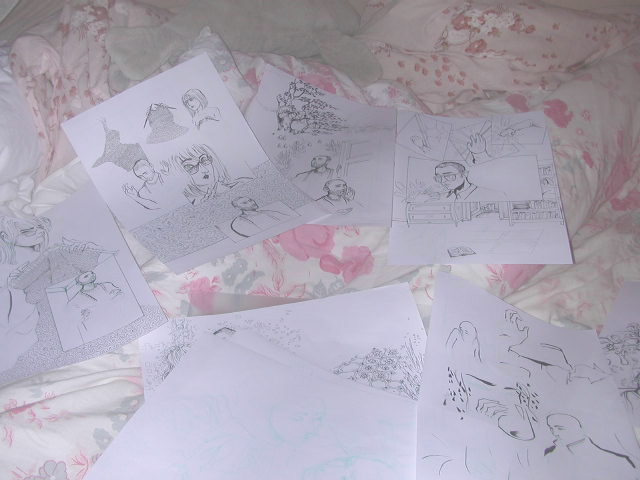 After I have ten or so, I scan them all which takes a while so i usually watch stupid things on youtube in the meantime. I do my colouring in photoshop, normally using about two layers, one for background/larger elements and one for smaller stuff.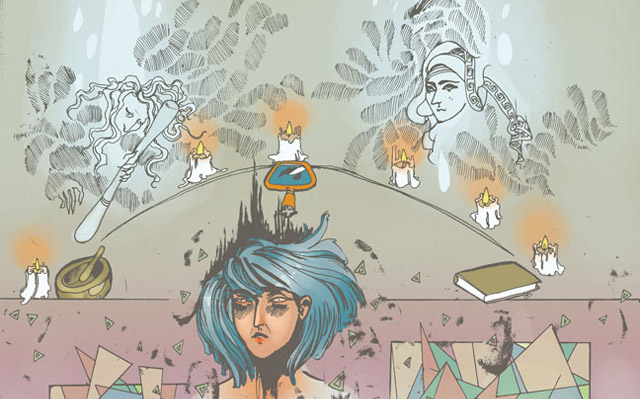 Then i put speech bubbles on the whole thing.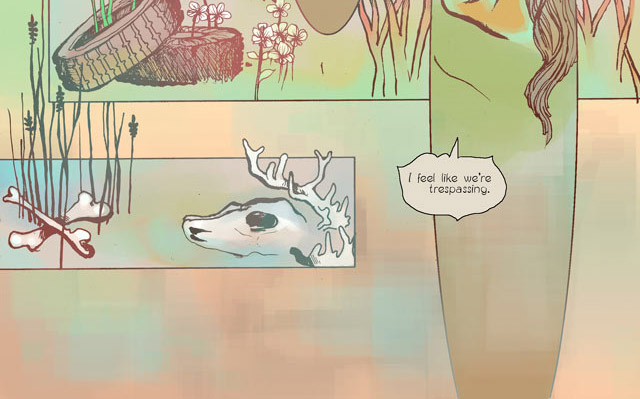 The font is my own – I made it from scratch but since I'm no expert designer I loosely based it on one of my favourite fonts, Century Gothic, so round and lovely it almost looks pregnant. Century Gothic is also the font used on the cover.
This process repeated about 12 times, with many interruptions for activities that involve making money for food & rent and then finally, there it is: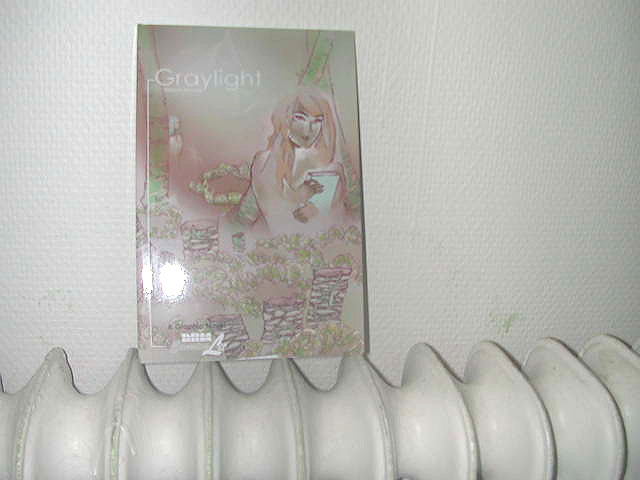 I really like it standing there on the radiator. For some reason.
Thanks to Terry, you can now follow me on amazon author central! pretty neat, it syndicates both my entries here and the ones from my blog.
Hi everyone; happy new year! Holidays are coming to an end and I have no excuse to stay away from the computer anymore (it's -17 c out, that's 1 degree fahrenheit! It's Narnia out there, eternal winter, no christmas. I refuse to stick even the tip of my nose outside the door). Anyway, Graylight is in stores, so let's celebrate with two of my favourite images? Each chapter ends with a two page spread like this.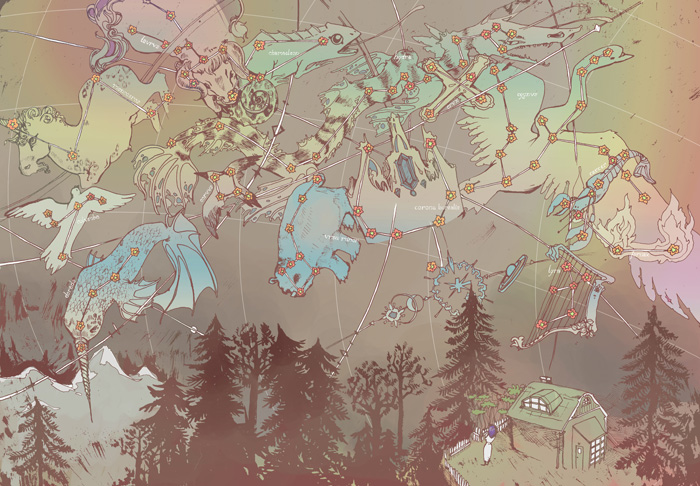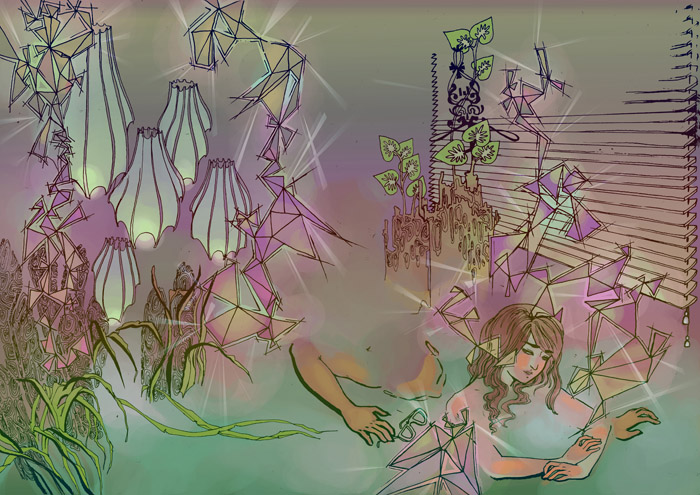 As you've probably guessed if you've been reading my posts here or over on my personal blog (which by the way gets a lot of updates) there's a whole lot more magic going on in this book than the previous ones. In Unholy Kinship, it was there in the shape of madness. In House of Clay it was there as a dainty sort of half-dream twist on a mostly realistic story. I do fully believe in magic though, and witches especially. I remember in the very first interview I did about my comics someone (it was a panel interview) asked how much of my work was inspired by faerytales. I laughed and said that well, faerytales always meant a lot to me but … there's no unicorns or anything. The audience liked my answer… but I've gotten tired of putting restraints on myself for fear of my work falling into a stereotypical "magical girl" genre. While trying not to be a stereotype is a good thing it very definitely takes a back seat to being honest and describing your real passions. You won't see people throwing spells at each other in my comics because to me that's not how it works. That's fantasy and what I would ideally want to do is show how much magic I see everywhere, in this real world. I've met three (older) women I believe to be witches so far in my life. They've fascinated me like no other people I've ever encountered and I've had more dreams about them than anyone else. Here's a strange coincidence: one is from the south (I met her before I started on Unholy Kinship), one from the north (I met her just as I began work on House of Clay), one from the east (You figure…). I guess there may be a fourth in my future. Okay so this probably all sounds ridiculous and perhaps too personal but now that Graylight is out I felt it was time to talk about my inspiration and motive more explicitly. Hopefully it will make someone want to read.
Moving on though, right? I'd like to write about new projects coming up this year … but I can't. True to my partner in crime for one of my juiciest crimes yet (only in part comics related) I can't share any news, but I swear this will be an exciting year… can I write stay tuned or is that cheesy? No, it's cheesy. Ok. But stay with me.
ps. There's gonna be unicorns some day.
pps. My website now has illustration and photography aside from paintings.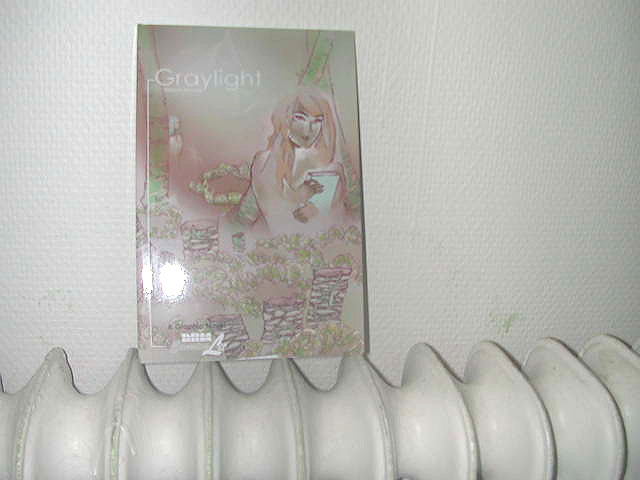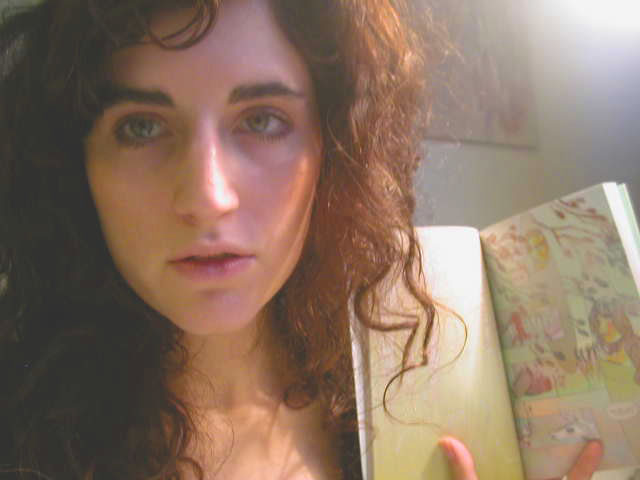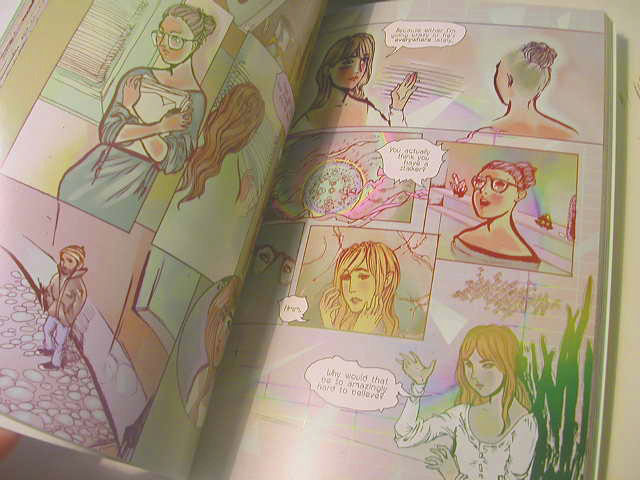 i don't get fame or fortune but i do get advance copies and great great joy! the printing is wonderful, the paper is thicker than i thought it would be, everything is perfect!! 144 pages, full colour. slightly unreal.
i sold and signed some of these on saturday at the opening of a group art show (well, me and two others). seeing the first copies in the hands of friends and strangers was really touching and very inspiring to keep drawing comics despite this being such a hard career path. i better sit down and actually write down my ideas if i want to be able to show terry something new when i go to new york in january….

I'm on the edge of my seat (which is bad because my work chair is very tall and rickety and injuries can happen) waiting for my copies of Graylight to arrive! Some stuff has appeared in previews online; so check them out here! I got to pick what parts were released so it's some of my favourite stuff. Well, no, it's some of my favourite stuff from the parts that don't give away too much of the story.
In the meantime I'm not drawing comics, just writing some ideas and painting for an upcoming art show. (If you happen to be in Stockholm, details are on my personal blog, you're cordially invited).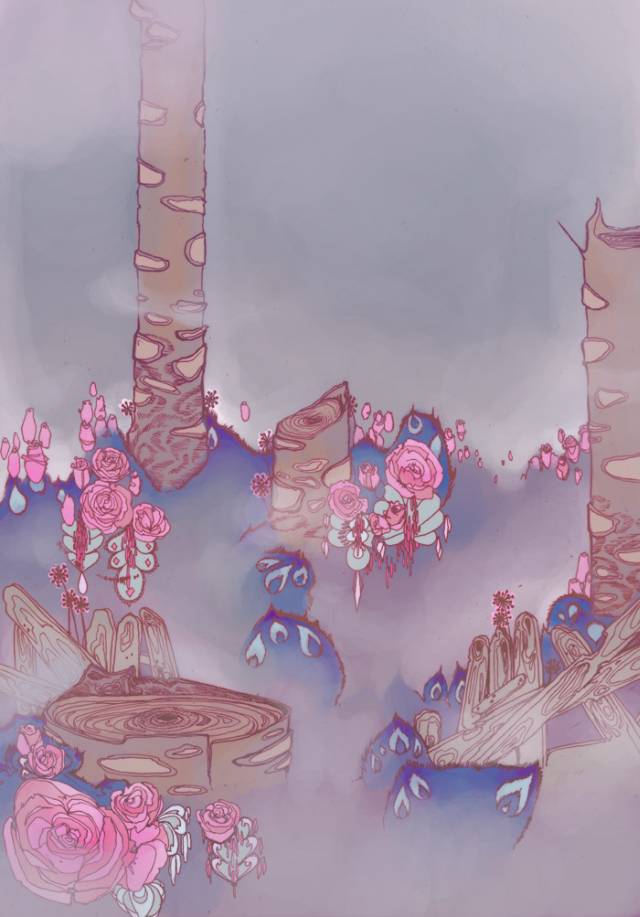 this is the graylight back cover! the following text will go on it when i can decide on a font to use:
A promise made decades ago could suddenly be fulfilled, endangering the life of a girl, trying her friendships and confusing her suitors. A semi-conscious love triangle ensues in twilit northern forests. Obsession, overprotection and the hunger for everything to be in it's right place – rules of the game, set to a backdrop of arctic summer.
i'm thinking about new projects to sink my teeth into. i'm getting that fresh but slightly scary feeling of not being tied down by a huge undertaking, for once. how is it that while you're working on a graphic novel you think "i'm just going to do this, and then never again, too grueling" and as soon as you're done you're entertaining happy thoughts of your next 150-page endeavour? i'm going to hold off on it a little though. i'd like to do something for a younger audience, possibly.
ps. follow my non-comics-related life over at my blog. i mostly post drawings and photos + talk about plants or clothes (and comics too of course).

i've quit my day job (third time, third job!) but this time i'm staying one day a week, which is enough to pay the bills if i can just make a tiny sum from art things once in a while. could it be the elusive finances/time/art equilibrium? stay tuned … so anyway, i'm finally ready to start new things. no comics for a few months i think, my next project is doing that portfolio i can't believe i don't have.
i just had some great news, too – kristiina(terry, you know her!), a woman who's done a lot for comics, secured some sort of grant money to take sequential artists to comic con in st. petersburg, russia. she chose me to go with her! this is the most excited i've been about something comics related since … a long time (except for the fact that graylight will be out december). i guess i'll bring something to show when i'm there but mostly, think of all the inspiration! i grew up with russian fairytales, russian art, animation and music and i can't believe i will get to see it all live. i'm going late september and hopefully i'll sketch a lot, take photos&notes and make a post here about comics way out east. anyone else going by the way?
might be hard to stay true to the "no comics for a little while, make sensible portfolio instead" sentiment after all that.
ps. click that animation link, you won't be sorry.
It's the little things that take longest with comics … I've got all the artwork finished for graylight but I'm now on my third day of fixing speech bubbles. I want each one to be hand drawn of course, to fit what ever it contains … a slight vibrato, a whisper or a shout can be seen in the outline.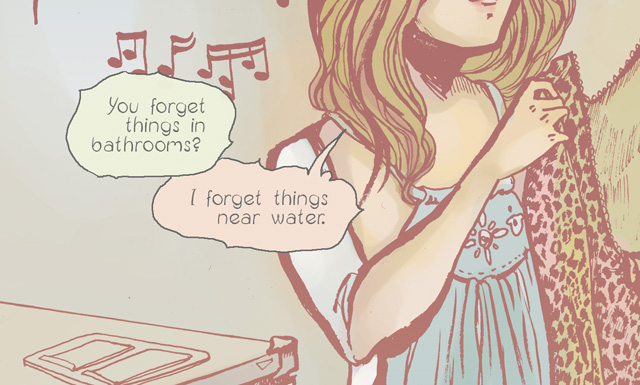 So, counting on maybe two more days. Must. Stay. Strong. Through. Tedium. Well, actually there's something poetic about monotone work once you get used to it. It's summer here, by the way.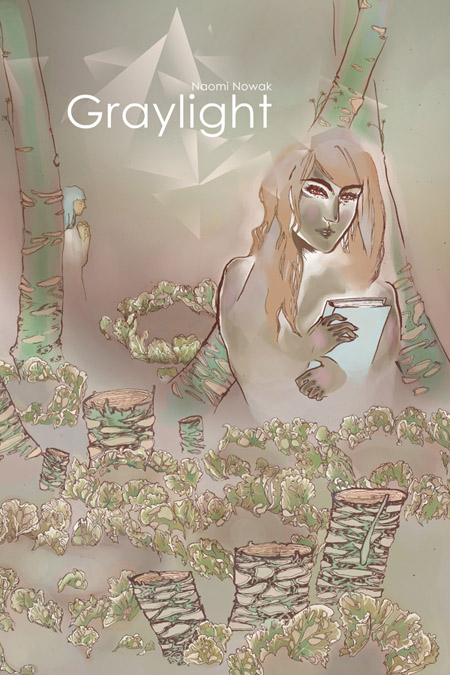 this is the cover and i'm spending the night at the studio colouring the very last pages. after this it's three days out in the countryside before i start editing the whole thing. surreal! i can't believe i somehow thought i would finish this project in 2008. my year has been way too turbulent for that, i guess if life was more boring i could've done it. i'm hoping it's later but better.
A strange thing happened on saturday night. I've been working on the last chapter of Graylight over the last two or-so weeks, but I got stunted because I couldn't figure out what I wanted on the very last spread. I'd been focusing on the three main characters. Which ones to show and in what context? I was about to panic when I decided to let it go for a while and just be silly with my colleagues (yes, i spend saturday nights at the studio. bars? clubs? i don't know what these things are) when i finally KNEW how to do it! Of course I'd been focusing on the wrong thing and the wrong characters. So I finished it. Does this happen to you? You let your brain grind to no end and with no result only to come up with a great solution the minute you relax. So easy to say, yet so hard to implement. Now to colour the last 20 pages + do the cover. I'm going to start on the cover tomorrow… Crazy. In the meantime, here's our players.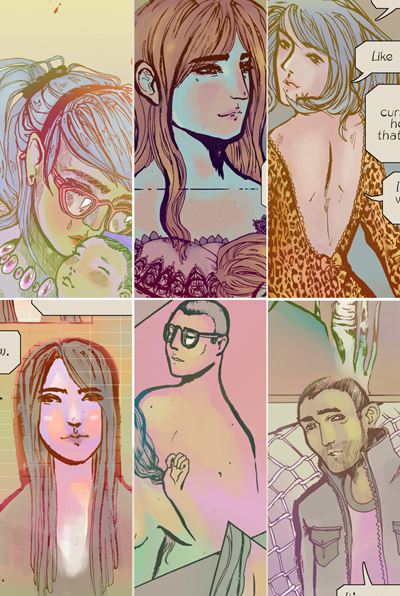 This is the week from hell, by the way. I may have gotten in too deep when i decided to organize an art show with 13 people exhibiting and 100 or so visitors (on sunday). Better go get that wine&candy. Guh… Wish me luck!