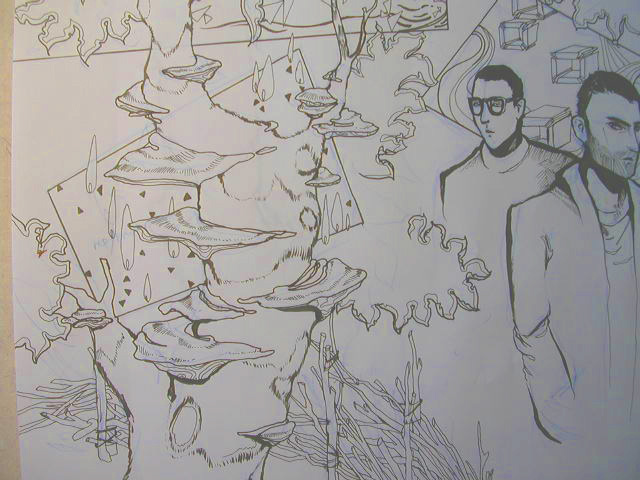 in regards to terry's comment on my latest entry … the last chapter of graylight seems to have a different type of mushroom on every page (here, featuring page 126 with tree shrooms). i didn't consciously make it so, but the two male leads are walking through a forest, and shrooms being one of my favourite elements of forests i guess it's natural.
i sat on the ground outside of the studio today, drawing. it's so sunny and bright my head hurts. that's how scandinavia is … we're all awake through the winter but with spring sun it's still as if hibernation is finally over and there's all this vigorous talk and experience of everything sensual. beauty.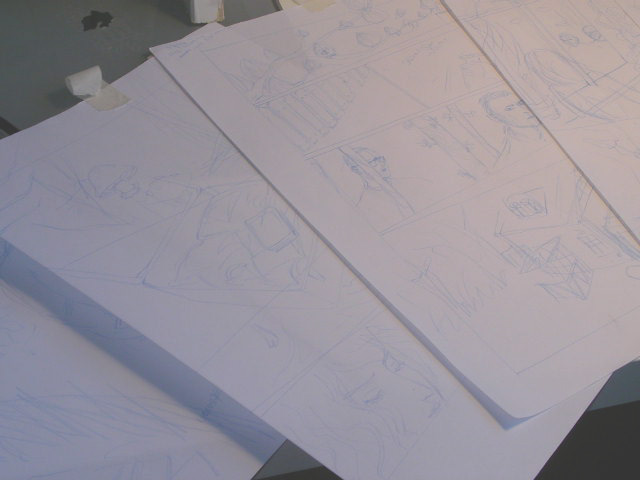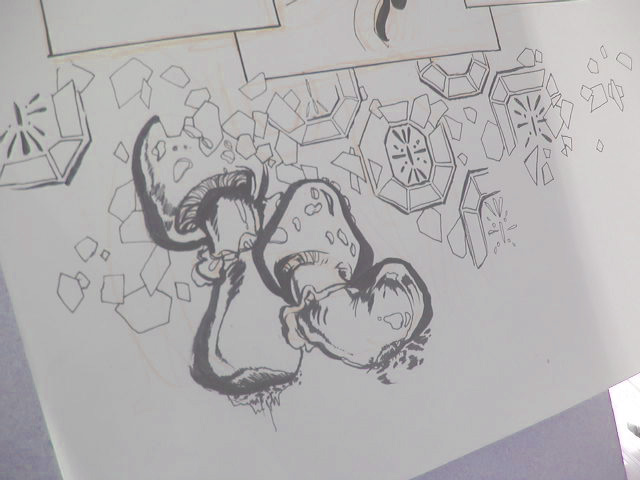 some snippets from chapter 10, the last chapter! crazy. i have a lot of edits and talking back and forth with terry to do and then the cover, so still a lot of work and i'll be doing full time at my day job for a while yet. saving up for paris and nyc… or maybe just for living like a free person again. there's always lots more progress photos, drawings, paintings and photos of me/my life over at my blog, just in case you wanna.
a question for everyone … your favourite graphic novels? here's one that's very dear to me(click it for some info):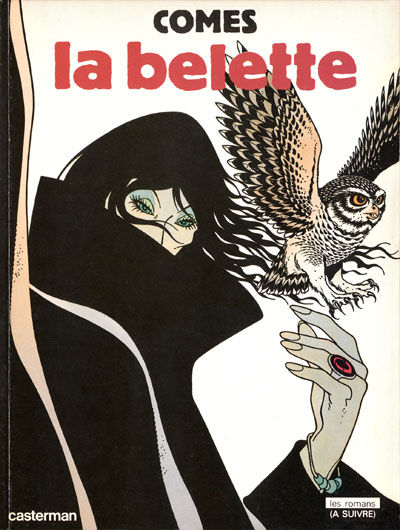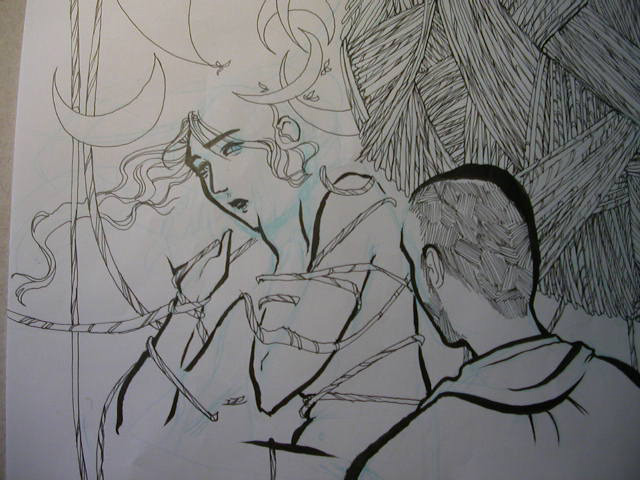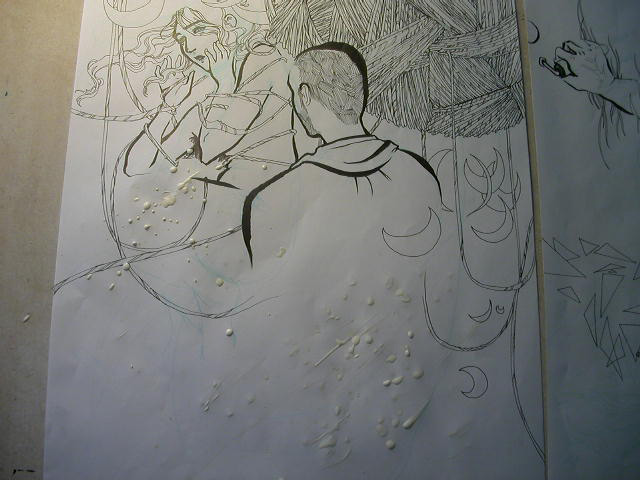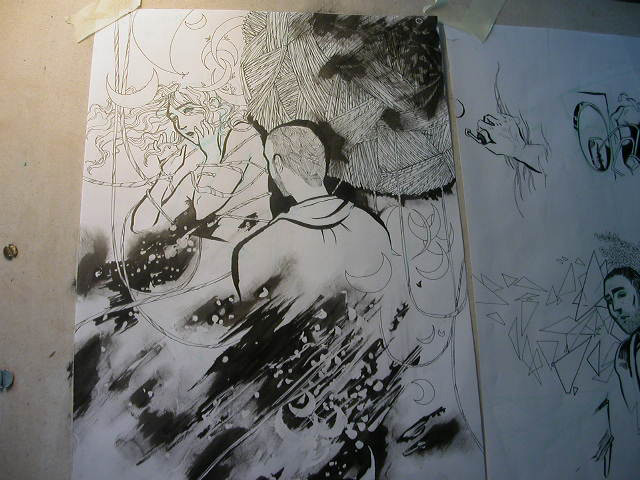 i'm finishing up chapter 9 right now, and it's the next-to-last part! just like jesse i badly want to say that i'm done even though i'm not. and just like him, i have a landmark birthday coming up – i'll be 25! i have no particular feelings about this, even after doing some soulsearching (is it the new 15?). unlike jesse i never had a problem talking to girls though ;P
i finally have an idea for the graylight cover, too – i was waiting and waiting for it to come and hoping i wouldn't have to force it, and it turns out i won't. i'm really looking forward to it. it's hard to juggle a full time job, comics, boyfriend, friends/family + trying to stay healthy and not forget food or exercise. i do really well most days, but for me a busy lifestyle almost inevitably leads to a small breakdown every once in a while. it's allowed to feel pathetic and then move on, right? i wonder sometimes if i take things too seriously. luckily i have everyone at the studio and we back each other up
the universe is putting me through paradox lately: for new years i wished for two things, one, to finish graylight and be happy with the result, and two, get my finances in order*. i thought i'd do one first and then the other – grit my teeth and eat rice/ramen/oatmeal (the holy three of my starving artist's life) and then find a job which would allow me to, oh, eat something with actual proteins or vitamins in it and maybe travel to nyc for a bit! or the ocean! i've been on about the ocean for ages already, my friends tire i'm sure. i miss the sea so much i can feel a physical clenching of the heart when i think about it. that's why it plays such an important role in house of clay as well. i realise that's miles and miles from unique or even original but i've started subscribing to the theory that there are no new stories to tell anyway, so why try. all we can do is tell them our way and be sincere.
right, the universe. so – this woman calls on my phone looking for a friend of mine who'd applied for a job i'd once toyed with the idea of having but never considered applying for because i knew 700-odd people wanted it. only my friend had moved back to the states at this point and i'd completely forgotten about the whole thing. on a whim i called this lady back and said, you know what, she's not here, but if you want i can come to the interview instead. she said why not. and so it goes and so it goes … my beloved space-time continuum, karma, what have you, served it up like the kick in the side you never saw coming. at that point i had 30 pages left to draw on graylight. 30 pages! (may sound like a lot but it's not, considering i've already done 105). you get what you wish for but never the way you thought it would happen, huh. i won't complain**, i'll work mornings and nights and lunch hours to finish this but it's still gonna take longer. i could do without the anxiety though – like many artistically inclined people i guess i identify a tad to much with my work sometimes. like, i tend to believe i'm nothing when i don't draw. it's funny how you get what you wish for really, i was so fed up with my wardrobe*** for one thing and i get a job that offers hundreds of dollars of free clothes. insane.
i'd like to know how all you other authors are doing — we've been sharing mostly professional stuff and images here but terry's last email (i wasn't the only one that got it i'm sure) sparked a need to share. choosing a difficult carreer path is something we have in common. tell us how you did it/are doing it/not doing it?
____________________________________
* they've been at the point where i'd pick one bill out of five to pay each month. it's a fun little lottery! who gets the money … phone company, electric company, studio …
** this is probably not true. i will complain. a lot. to my boyfriend, poor soul. from now on i will try to shut up about it in blogs however.
*** some of the clothes you see in my comics are designs that i've sewn for myself
i'm especially skilled at making new creations out of dad's, boyfriends, brothers, ex-boyfriends old t-shirts (they're big enough to make new things easily and the fabric is already soft and comfortable – there's no self-value in new fabric, it can mature like wine).
Living and working in Stockholm and having Terry and NBM all the way over in NYC is hardly ever a problem with today's communications. One of the downsides that do come with it is the fact that I've had two graphic novels published (Unholy Kinship, House of Clay) and never a party or any kind of event to accompany the release.
That's about to change! Well, knock on wood, we've got some preliminary plans. Apart from doing comics I'm also a painter and for about a year now the people over at the Hive gallery in LA have been wonderful enough to display my work. So – when Graylight comes out (looks like it's gonna be fall, but things aren't set yet and I've got another 30 pages to go) they've agreed to arranging a little celebration with me. This would include, as part of one of their large monthly shows, a corner with paintings related to the book as well as books for sale. If I have a day job* at the time I might be there in person, and hopefully meet up with you. Here's a page from the book by the way! From chapter 7. (i've only lettered up to chapter 6, huff huff).
___________________________________________________________________________________
* Painting, illustration, comics and web design are just baaaarely paying the bills right now. I'm at the studio 8am-8pm on all days when I'm not too sleepy. I've just decided I should probably start looking for a day job though… could be fun for a change.
a small snippet from a starry sky spread i worked on all day. i'm almost 90 pages done! this is surreal.
things are very much back in business here at the studio. i eat most of my meals here. living and breathing drawing and colouring.