EUROTICA takes center stage this month, as solicited for in comics bookstores, as we bring the great Italian artist LIBERATORE back with an amazing art book:
LE DONNE
Liberatore
 The Italian artist of the controversial RanXerox comic series which shook the world of comics in the eighties presents women in-your-face proud of their feminity. Women in all their physical glory but without the softness or subservience. This explores limits without shame or fear and is occasionally pornographic, bizarre, or even disturbing. Includes chapters entitled "Desire", "Pulse" with stark black & white illustrations, "Embraces" with a fearless abandonment to sheer lust, "Chiaroscuro", "Intimacies" with never before seen angles on the nude figure, "Flesh" with soft beautiful aquarelles. This book challenges and does not leave indifferent.
9×12, 168pp., full color clothbound: $39.99, ISBN 9781561637133
See Previews. (must be over 18)
Outside of Eurotica, this month, NBM has two new sets of books to catch up on some of our awesome series and authors:
Dungeon, The Early Years set
Banding together the two volumes of this branch of the vast history of Dungeon, a tongue-in-cheek epic by two grand masters of the new comics generation, The Early Years relates the origins. From leaving home a lad full of enterprise to becoming the Night Shirt, a misguided vigilante, to his initiation to the very dark realities of governing, we follow the Dungeon Keeper on his dramatic dangerous path to power.
6 ½ x 9, 192pp., banded set of two books, full color trade pbs., $24.99,
ISBN 9781561636990
Jewish in America, set of graphic novels by Neil Kleid
Art by Jake Allen and Nicholas Cinquegrani
Rising star and award-winning comics writer Neil Kleid explores two aspects of being Jewish in America in this banded set of his two highly praised graphic novels: Brownsville and The Big Kahn. Brownsville presents factually the rise and fall of 'Murder, Inc.', a group of assassin for hire Jews in the mob in the twenties. The Big Kahn, with its Rabbi who turns out to have never been Jewish, explores the very nature of faith.
Specially priced!
6×9, 390pp., banded set of two B&W trade pbs., $24.99, ISBN 9781561637003
See previews (Big Khan) and for Brownsville.
And look out for the following from PAPERCUTZ:

Ninjago #4 our bestselling series, this one with a 425,000 copy print run! and from Classics Illustrated #16: "Kidnapped" a Robert Louis Stevenson novel adapted by Mike Vosburg.
ALL THIS BEING SOLICITED FOR AT YOUR COMICS BOOKSTORE NOW!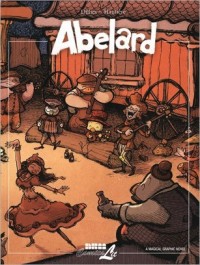 Abelard by Renaud Dillies (2 time Eisner nominee for Bubbles & Gondola), we're happy to report,  was nominated by the BEA panel of booksellers, librarians and critics as one of the best graphic novels of 2012! The book is coming in November ansd will be up on our website soon in the Coming Up section.
Also receiving an Honorable Mention is Margreet de Heer's 'Philosophy- A Discovery in Comics' which one of the panelists noted for its very personal journey into the world of philosophy, indeed one of the most appealing aspects of her book.
Today, better comics bookstores will have available "PEYO, the Life and Work of a Marvelous Storyteller", a beautiful artbook featuring the creator of the Smurfs' artwork over the decades of his career, imported directly from France. NOTE! this is a very limited import not available elsewhere, including Amazon.
It's in English as well as French and chock full of comics pages, directly shot from his originals, sketches, pencils, etc. It covers not only the creation and evolution of the Smurfs but also his Johann and Peewit series where the Smurfs first appeared, Benoit Brisefer, a little kid with a beret and superhero like strength -as long as he doesn't have a cold- and the wonderful cat strip "Poussy'.
It's 250 pages full of discovery on one of Europe's best and most talented artists and was done with the close cooperation of Peyo's family for an exhibit of his originals in Europe as the movie came out . This means it's also full of photos of Pierre Culliford (Peyo) with colleagues, family, celebrities…
Hey, it's a wonderful souvenir book that'll bring you close to Peyo.
If your comics bookstore doesn't have it, they can order it from Diamond or you can order from us right here.
We'll be in booth 3466, sharing it with sister co. Papercutz and we'll be inaugurating our gorgeous little free sampler/catalog with many pages of previews on our books forthcoming this fall.
Besides the sampler, we'll have full book previews to leaf through of Stan Mack's revised revival of his GN on the American Revolution, the new Louvre collection entry, Margreet de Heer's fun intro to Philosophy, Eisner nominated Dillies' ("Bubbles & Gondola") new lyrical GN "Abelard" and…
The very intriguing "The Ignorants" where the artist, a leading French graphic novelist, exchanges jobs with an organic vintner just to see what it's like and compare notes. Both get to present their art and craft, both get to find out the essential similarities in their life-consuming devotion to being the best at what they do. WE get to find out how both are done! It's going to be a beautiful 272 page hardcover. We're very excited by it, come check it out! as well as the rest of course!
Looking forward to seeing you there.
Thanks, Sean, you beat us to our post about a whole lotta books of ours you can also order as e-books from Comixology. We make sure to have links on this site under each book's cart button as an alternative for e-book versions. AND we also made sure from the start that they feature a free 12 page preview of each book offered!
As of today you can get Rick Geary's Axe-Man of New Orleans there but they already have a number of Geary's Treasury of Murder books: Victorian and 20th Century, including Jack the Ripper, The Lindbergh Child and more.
Besides that there's now:
The Big Khan by Neil Kleid
Bluesman  and Castaways by Rob Vollmar and Pablo Callejo
A Home for Mr. Easter by exciting new talent Brooke Allen
Richard Moore's whole Boneyard series is doing quite well there
And since last fall we're getting more of our books up on all platforms from the iBookstore  to the Nook, Overdrive for libraries and others. We've been doing that through our general trade distributor IPG who gets us into all these 100+ channels of e-book distribution.
Next: watch for P. Craig Russell's Fairy Tales of Oscar Wilde going up on Comixology and all those other non-comics channels as mentioned above within the next few weeks!
…To bigger and nicer offices just up a few blocks on:
160 Broadway, ste. 700 East Wing
New York, NY 10038
and that's why we've been so silent on here as that has consumed a great deal of time.
Here's what Booklist has to say of Colon's Inner Sanctum, that while the stories aren't roofraising:
"The energy Colón infuses into them makes them constitute something more enjoyable than a pop-cultural trip down memory lane."
School Library Journal says of Colon's Inner Sanctum:
"Colón maintains the period settings and character interactions, while showing how ominous shading, gestures caught in frozen moments, staring yet lifeless eyes, and the confusion between reality and nightmarish deformity convert the tales from ear to page. Colón succeeds in respecting the original tales, his readers, and the joy of getting slightly creeped out."
Another review on that book raves over his art but is less than sanguine about his writing: Broken Frontier.
This very same Broken Frontier (on another page), however, praises Salvatore 2 to the Gods:
"Nicolas De Crecy's romantic comedy tour de force continues with witty aplomb and tongue firmly planted in cheek. Reading Salvatore is like reading a Shakespearean comedy, with De Crecy's pointed commentary on the human condition coming in the form of clever double entendres, slapstick pratfalls, and calculated exaggeration."
Stargazing Dog still keeps getting reactions. Modern Dog, a prominent magazine for dog lovers says:
"Anyone who's ever loved a pet will be moved to tears by the tale of human misfortune and the unwavering dedication of dogs that unfolds  in Murakami's graphic novel."
And Chicago's New City:
"Charming and universally appealing."
Here's what we've got being solicited this month in comics bookstores to come in April. The main news is the much awaited 5th volume in P. Craig Russell's adaptations of The Fairy Tales of Oscar Wilde. Started in the early nineties, this was a pioneer in kids' comics! And this story is VERY timely in this election year, relating to the 1% vs. 99% issue…
The Fairy Tales of Oscar Wilde
Vol.5: The Happy Prince
P. Craig Russell
The Happy Prince is arguably the most famous and well loved of Oscar Wilde's nine fairy tales, rivaled only by The Selfish Giant. It is also a very timely tale at a time of controversy over the increasing chasm between rich and poor…The Happy Prince has lived a life of opulence but has died young and his soul inhabits a beautiful ruby encrusted statue covered all over in gold leaf. From his perch high above the city he is witness to all the poverty, misery, and hopelessness in which his people have been living. When a small barn swallow in flight to the warm south ahead of the approaching winter stops to rest upon the statue the Happy Prince prevails upon him to delay his travels in order to remove his gold leaf a piece at a time and shower it upon the poor citizens. Out of love for the Happy Prince the swallow does his bidding. As the days pass the Prince's beauty is stripped away and as winter sets in the bird's fate is sealed. In the spring the townspeople finding only a dull statue with a broken lead heart and a dead bird consign the worthless objects to the ash heap. Only an emissary of God recognizes them as the most valuable treasures of the city and brings them to the gardens of heaven.
8 ½ x 11, 32pp., full color jacket hc: $16.99, ISBN 978-1-56163-626-6
And see the previous volumes, some of which are going back to press on the occasion of this release!
And right here on this blog, Craig has been posting videos of his makling this book as well as posts showing more.
———————————————————————————-
NEW from EUROTICA:
The Diary of Molly Fredrickson: Peanut Butter, vol.6
Cornnell Clarke
Molly may actually be falling for a handsome -and thickly endowed- young man who saves her from a scary situation with two guys getting dangerously close to rape. The reward for him is letting him take her ass… the largest she's ever experienced there, a mind blowing experience that can't be rushed…
8 ½ x 11, 48pp., full color trade pb.: $11.99 ISBN 978-156163-6853
 To see more, click the button on the Eurotica home page
 —————————————————————————–
NEW FROM PAPERCUTZ
SYBIL THE BACKPACK FAIRY  #2 "Amanite"
Michel Rodrigue, writer
Manuela Razzi and Antonello Dalena, artists
Nina loves having her fairy friend Sybil around – she's the only person who can see or hear Sybil and the two have formed a special bond. When Sybil unexpectedly disappears, a new fairy named Amanite mysteriously appears to take her place. Amanite tricks Nina into following her to a magical underwater world, where Nina is transformed into a tiny mermaid at the mercy of hungry sea monsters. How will Nina survive without her friend Sybil?
8  x 10, 48pp., full-color hardcover: $11.99
ISBN 978-1-59707-305-9
CLASSICS ILLUSTRATED DELUXE #8 "Oliver Twist"
By Charles Dickens
Olivier Deloye, artist
Adapted by Loïc Dauvillier
Charles Dickens social novel comes to Classics Illustrated Deluxe in an extra-sized volume that features more comics pages than previous volumes. Dickens surrounds the serious themes of his novel with sarcasm and dark humor, making the quirky yet powerful art of Olivier Deloye a great fit for this adaptation of one of the greatest literary works of the past 200 years.
6 ½ x 9, 240pp., full-color paperback: $19.99
ISBN 978-1-59707-307-3
6 ½  x 9, 240pp., full-color hardcover: $24.99
ISBN 978-1-59707-308-0
Caught this one a bit late admitedly, from Library Journal on Bubbles & Gondola:
"A delightful and well-executed story recommended to those needing a spiritual lift or creative inspiration… fresh, quirky perspective."
Another review for this in School Library Journal:
"Disguised as a cute animal story, Dillies's substantive tale of writer's block, social anxiety, and the magical and restorative powers of allowing oneself to take a break and have fun proves striking it its visuals and narrative.
Dillies and his publishers have used some very physical choices here to show the magic Charles finds as he steps outside, makes friends, allows himself to delight in things as winsome as soap bubbles and a hot air balloon."
Little Nothings get more comments:
"Lewis Trondheim plays up his own foibles to masterful comedic effect." says Playback:Stl.