August 13, 2009 by Naomi Nowak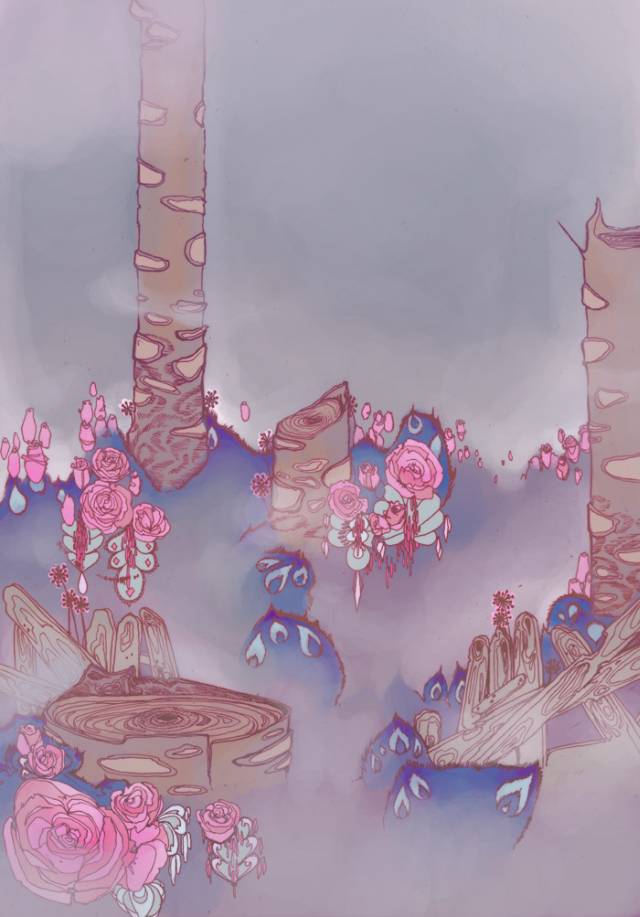 this is the graylight back cover! the following text will go on it when i can decide on a font to use:
A promise made decades ago could suddenly be fulfilled, endangering the life of a girl, trying her friendships and confusing her suitors. A semi-conscious love triangle ensues in twilit northern forests. Obsession, overprotection and the hunger for everything to be in it's right place – rules of the game, set to a backdrop of arctic summer.
i'm thinking about new projects to sink my teeth into. i'm getting that fresh but slightly scary feeling of not being tied down by a huge undertaking, for once. how is it that while you're working on a graphic novel you think "i'm just going to do this, and then never again, too grueling" and as soon as you're done you're entertaining happy thoughts of your next 150-page endeavour? i'm going to hold off on it a little though. i'd like to do something for a younger audience, possibly.
ps. follow my non-comics-related life over at my blog. i mostly post drawings and photos + talk about plants or clothes (and comics too of course).
---
August 12, 2009 by NBM
First off: Booklist, an influential review of books:
Kleid's second graphic novel observes the fallout of a 40-year deception. At Rabbi David Kahn's funeral, a Gentile asks to see his brother one more time. His brother? Just so, for the rabbi wasn't a Jew. He came to Judaism as a young crook working a con but, falling in love and marrying into it, stayed to become a revered spiritual leader. His family is devastated, none more than elder son Avi, a sincere young rabbi presumed to be David's successor-but no longer, which shakes his faith. Equally affected is David's daughter, Lea, who has been in full rebellion against her upbringing (she is first seen here assuaging her grief by shtupping in a synagogue closet while Avi delivers the eulogy) but now reacts with self-doubt. This is an unusually rich work. Every character is well realized. Each panel's composition, perspective, and placement within the continuity, and also the transitions between scenes, are done with care. Unfortunately, Cinquegrani's figural skills don't match the excellence of story and visual conceptualization. Nevertheless, a not-to-be-missed original graphic novel. -Ray Olson
Kleid's script is a wonder, with its pitch-perfect ear for dialogue. Paired with Nicolas Cinquegrani's richly textured shades and overtones, it not only captures New Jersey well—it also fully delivers on the premise of the story. When the no-good brother bursts in, disrupting everything and causing chaos at the scene, the emotions he provokes in the family and in the crowd are so nicely executed that they feel completely real—Cinquegrani's work bringing the panels to life right along with the script, which is at times funny and then heartbreaking.
 
The Big Kahn is an adventurous step for Kleid, author of Brownsville and the webcomic Action, Ohio. Like Brownsville, it's a Jewish story set out east, but it's so simply executed (and subtly ambitious) that it sneaks up on you more easily and more casually than you expect. Its great strength lies in that. I loved the story and was glad to be able to read it in graphic novel form. — John Hogan
See
MORE
on the book including preview pages.
---
August 10, 2009 by Jesse Lonergan
Joe and Azat starts with a taxi ride and it ends with a taxi ride. These two rides work as bookends for the story. One taxi takes you in, another takes you out. In reality it was a Lufthansa jet that brought me to Turkmenistan and another one that took me out, but I thought taxis were better.
Because I rode in so many damn taxis in Turkmenistan.
I rode in taxis across the entire country. I sat in the backseat of a taxi crammed in with two other people for nine hours. I had taxi drivers try and rip me off. I had taxi drivers who didn't have licenses and would bribe there way through the frequent military checkpoints. I had one taxi driver who had to be the worst smelling man I have ever met. I had taxi drivers who refused to turn their lights on at night because they thought the lights would run down the battery. I had taxi drivers who insisted I not wear a seat belt, claiming they were good drivers despite the spider web of cracks on the passenger side of the windshield. I had one taxi driver who somehow had a dvd player and flat screen TV in his cab and only wanted to show me his massive collection of porn. One taxi driver wanted me to go to a prostitute with him, bragging that the prostitute was only eighteen and he was fifty-eight. I rode with fat old women. I rode with crying babies. I rode with hungover army men who repeatedly asked if I wanted to have sex with a goat and then quizzed me in Turkmen to see if I knew my colors. I rode in a taxi where the entire back seat was filled with frozen goat meat.  I road with a taxi driver who insisted on playing the same song over and over and over again for two and a half hours. I rode in a lot of taxis.
And so my book begins and ends with a taxi ride.
It's coming out next month. Check it out. Check out my blog as well.
---
August 10, 2009 by Terry
One of our best and most anticipated books this season, The Big Kahn, is now out and available in stores. Buzz was mounting in San Diego for it as we premiered it there.
As soon as Neil presented this concept to me, I knew we had a winner. But at first, like most people, I thought it would be a comedy. What, a Rabbi who wasn't Jewish? Turned out to be a grifter? But when Neil explained to me this was serious and I read on more about his concept, I was even more intrigued. It's a funny premise alright, but what Neil does with it is fascinating. It becomes a story on the nature of faith and with all the different characters in it, reacting in a wide variety of ways, it's just a great read, his best work so far. I fell in love with it, I hope you do too.
---
August 6, 2009 by NBM
Why I like it: Sometimes, the best information I get at Comic-Con comes from just strolling around and chatting with people. While wandering the convention floor, I started hearing buzz about Kleid's new graphic novel, a tale that begins at a rabbi's funeral. Rabbi Kahn's grieving family is shocked to learn that the man they love wasn't who they thought he was — and each family member reacts in a very specific, yet different, way. I almost missed my subway stop because I was so engrossed in this book, which weaves issues of family, faith and morality. (There's also a glossary in the back, if you're not too familiar with Jewish culture.) And though it touches on some heavy themes, it has lighter (and even sexier!) moments, too.
Why you'll like it: Because you love Catch Me If You Can and stories about con men. Because, even though you have enough family drama at home, you still can't get enough of it.
as seen here
---
August 5, 2009 by NBM
Voice Of Youth Advocates (VOYA), an influential professional publication for librarians catering to YA (Young Adult) audiences has reviewed 3 of our books recently:
Of Famous Players by Geary:
"A compelling tale full of jealousy, hatred, loyalty and a murderer who walked away from the crime."
"Thought-provoking, difficult to put down. It deals with a controversial subject in a unique and absorbing way. The artwork illustrates the tale beautifully, almost poetically."
of Mijeong:
"The stories are unique and powerful on their own, but together they create a solid theme for the collection. Although this title is definitely for comic readers who enjoy more literary quality in their sequential artwork, it has a larger appeal than the typical literary graphic novel. High school teens and adults will find inspiration here."
---
August 4, 2009 by NBM
"The gags are funny and well-designed, with a freewheeling spirit that's held up well over the past century."
So says The Onion on Bringing Up Father, our Forever Nuts latest collection, out in stores now.
Sequential Tart also says of it:
"I began to appreciate the inventiveness of the comic, despite always following the same basic situation. Clashes between classes as a source of humor has always been around, and is still around today. That the strip was able to find endless variations of this impressed me.
The drawing of the comic also impressed me. It didn't strike me immediately, but it is a sophisticated, well-drawn comic that obviously entertained folks for quite a long time. I was also was surprised by realizing that while Jiggs is the butt of the jokes of the strip, you really get the impression it is the high society that is the target…"
---
August 3, 2009 by Jesse Lonergan
My book Joe and Azat ends with a big wedding, and while I was in Turkmenistan I went to a lot of weddings. I also got a fair amount of pressure to get married. People who had known me for only five minutes would find out I was twenty-seven and immediately tell me I should get married. Most of the time they also just happened to have the perfect girl for me.
People married young in Turkmenistan, and there really wasn't much in the way of dating. Girls were supposed to be virgins, and if they weren't they were ruined. So the average Turkmen girl would wait until she was married to have sex. Which puts so much pressure on that night. I don't know about anybody else, but I was nervous the first time and it was just me and a girl. I can't imagine having this big celebration focused on me with some two hundred fifty close friends and family all making toasts to me, everybody looking, everybody knowing what was going to happen that night. I don't know if I could deal with sending out a save the date card for the night I lost my virginity.
Good grief.
If I woman said she was married in Turkmen, the little translation was that her life had been changed.
No kidding.
Check out the book coming out in September. Check out my blog, too.
---
August 3, 2009 by NBM
Xaviera Hollander, author of the best-selling "The Happy Hooker" (which sold 16 million copies) and helped to revolutionzie attitudes on sex, has provided the introduction to Ted Rall's forthcoming The Year of Loving Dangerously (shipping in October and being solicited in comics stores now).
Mentioning her own experience running a brothel in New York in the seventies and being proud of it she says:
"Ted didn't take money for sex, but in Manhattan a place to spend the night is the next best thing to cash—and that's what he wanted, and consistently got, for over a year until he landed back on his feet. His is an unusual story for its honesty. But I'm willing to bet it's anything but uncommon in its frequency.
"What makes "The Year of Loving Dangerously" interesting is that, unlike the work of many cartoonists, he is not a shoe-gazer. He is not socially awkward, writing about his inability to get a date, much less get laid on a Saturday night. Like my attitude as "The Happy Hooker," Ted didn't feel wallow in self-pity. To the contrary, he embraced life and sex, even when they came about in less than conventional ways. He loved and respected women and loved every minute of his sexual adventures. He was not a cad. He was a lover. The fact that he did it to survive doesn't change that.
"The Year of Loving Dangerously" may be the first sex-positive book written by a typical, well-adjusted, heterosexual American man."
See the previews.
---
August 3, 2009 by NBM
Neil Kleid's and Nicolas Cinquegrani's The Big Kahn built up some good buzz in San Diego with Publishers Weekly telling others this may be the sleeper of the show.
The site Comic Book Resources posted a follow-up interview with Neil who provides some fun background on this.
By the way, the book has shipped from our warehouse and will hit stores within the next week or two!
---