June 6, 2009 by Ted Rall
---
June 6, 2009 by shane white
THINGS UNDONE was conceived while I was neck deep in coloring =THE OVERMAN=. Considering this was a labor of love I really wanted to have an easier project that I could rip through in no time that would be a lot of fun. I'm not a comic book colorist, I can't crank out a page a day. I'm more like a painter who has to deliberate on all the possibilities.
I'm a big fan of printing processes from days of old. I like the way things looked whether it be in old magazines, illustrated books or even packaging. Oftentimes I take my direction from such ephemera when it comes to the overall look and feel of a project. I try to distill down how it can help give the atmosphere of a by-gone era through printing if not artistic style. Sometimes I succeed and even if I don't at least it looks interesting to me and not typical of what's out there.
It's about the layers for me.  Usually at first glance people will judge a book or anything by the way it looks or feels. If I can provide richness that's worth drilling down to I hope that in some ways people my not realize what they're responding to, especially if it's a whole cohesive package. I think it was David Mazzuchelli's Rubber Blanket books that really appealed to me early one. Just the quality of the packaging as well as how he and Richmond Lewis treated the art really felt special.
By the way I updated my website to reflect my latest book, THINGS UNDONE which will be out in August.
---
June 5, 2009 by NBM
"I don't know anyone who wouldn't agree that Frances' art is something to be cherished, enveloped in, and appreciated. Art lovers and fable lovers, seek ARLENE'S HEART out."
"This isn't your typical comic-spank fare. It's a delicate dissection of sex in graphic form. These private moments are written and drawn by some extremely talented creators. From the first time one has sex, to the first menage a trois, to the first trip to a sex shop, the first use of a sex doll, to an x-rated sketch story by the one and only Dave McKean: these stories handle these intimate moments with maturity, showing that even sex stories can have some heft to them. Focusing mainly on the emotional impact of these virginal experiences, FIRST TIME offers a glimpse of the sadness, the joy, the pain, the ugliness, and sometimes the beauty of taking the leap into the unknown for the first time, and that unquestionable regret that no matter how good or bad that experience it was, you can never take that first moment back. "
(to see First Time, go to our Eurotica site, you must be over 18)
So says AICN…
---
June 5, 2009 by NBM
GraphicNovelReporter.com has come out with a list of the 15 hottest graphic novels to look forward to this summer and our The Big Kahn is in!
If you're in NYC this weekend come to the MoCCA show to meet the authors and get a free special MoCCA edition paperback preview! At our booth.
---
June 3, 2009 by NBM
If you're in NY this weekend, come meet us and some of our authors who will be handing out and signing previews at the MoCCA Fest.
Our guests will include Neil Kleid (Brownsville) and Nicolas Cinquegrani of the forthcoming The Big Kahn who will be signing a special MoCCA preview book. We'll also have Jesse Lonergan (Flower & Fade) down from New England signing a preview of his Joe & Azat. Hey, they're free! Come say hi.
Besides that, we'll have the premier of the beautiful Bringing Up Father collection! Advance copies a few weeks before they become generally available.
And we just might have the very first copies of Rick Geary's Famous Players, his newest Treasury of XXth Century Murder. We'll also have a smattering of recent books of ours including some from our sister co. Papercutz with Nancy Drew, The Hardy Boys, Bionicle, etc…
Here's the schedule of appearances:
SATURDAY
Nicolas Cinquegrani: 2 to 4PM
Jesse Lonergan: 11 to noon, 1-3, 5-6PM
SUNDAY
Neil Kleid & Nicolas Cinquegrani: 11:30-1PM, Kleid alone: 3:30 to 5
Jesse Lonergan: 1-3:30
A bit about Joe & Azat:
Joe is an American in the strange land of Turkmenistan who finds a good friend in Azat, a Turkmen dreamer whose optimism knows no bounds. With tales of doomed desert cab rides, nights of endless vodka shots, unlikely Turkmen business schemes, and secret girlfriends, Lonergan captures not only the bizarreness of living in a country where the president for life launches copies of his poetry books into space, outlaws gold teeth and renames the months and days, but also reveals that there is hope in seemingly hopeless situations. Based loosely on Lonergan's Peace Corps experience in the former Soviet republic.
See ya there!
---
June 2, 2009 by NBM
Here's what we're soliciting for in comics stores right now!
First up, the great artist Shane (North Country) White is back with:
THINGS UNDONE
Foreword by Robert Kirkman
The author of the acclaimed "North Country" is back with a dark comedy. Despite Rick Watt's best efforts to keep it together, he feels his life is falling apart, turning him into a zombie. After a cross-country move with girlfriend in tow, his fresh start turns into a festering mess. As a video game artist, Rick is subjected to the incompetence of three bosses and a kinky art director. His overactive imagination helps him cope until… his seven-year relationship tailspins and his ex takes flight with the guy across the parking lot. Other jobs and a new GF don't look any better. Caught between his fantasy world and reality, Rick decides to pull the trigger.
With a foreword by Robert Kirkman, creator of the Walking Dead.
6×9, 80pp., 2 color trade pb.: $12.95, ISBN 978-1-56163-563-4
This is in radically different style than North Country which shows off Shane's incredible range. See the preview pages and then compare with preview pages of North Country, you'll see what we mean.
Also in August a new Dungeon book:
DUNGEON The Early Years
Vol.2: Innocence Lost
Christophe BLAIN • Joann SFAR • Lewis TRONDHEIM
Hyacinthe, Dungeon Keeper to be, continues to render justice in a cloak nightly as The Night Shirt and stumbles upon the one he pines for, Alexandra, an assassin, about to be raped! After his valiant and heroic rescue, his wettest dreams come true… with dire consequences. In the second story which happens quite a few years later, he's married and a poor husband, worse even, a poor lover, until Alexandra plots to gain him back. Cloak and dagger with romantic bravura! And you thought he didn't have it in him. Art by Eisner nominated Blain (Gus) and story by legendary Trondheim and Eisner nominated Sfar (Rabbi's Cat).
6 1/2x 9, 96pp., full color trade pb.: $12.95, ISBN 978-1-56163-564-1
Also, Eurotica presents its next issue of Sizzle:
SIZZLE # 43
Kevin Taylor is back with the final installment of "Girl, Second Coming"! Plus Omaha the Cat Dancer, Barbarian Chicks, Casa Howhard and more!
Quarterly adult comics magazine, $5.95
So reserve your copies now at your favorite comics store!
---
June 1, 2009 by Ted Rall
---
June 1, 2009 by Naomi Nowak
It's the little things that take longest with comics … I've got all the artwork finished for graylight but I'm now on my third day of fixing speech bubbles. I want each one to be hand drawn of course, to fit what ever it contains … a slight vibrato, a whisper or a shout can be seen in the outline.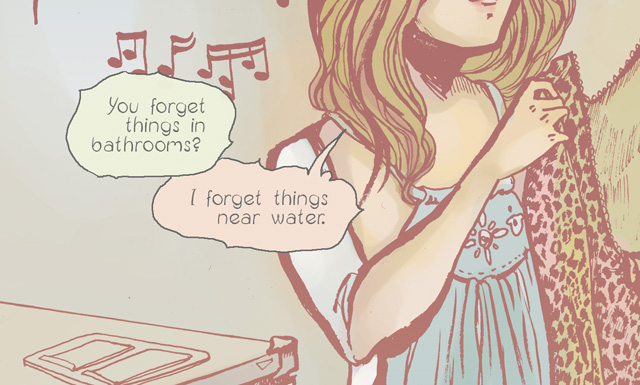 So, counting on maybe two more days. Must. Stay. Strong. Through. Tedium. Well, actually there's something poetic about monotone work once you get used to it. It's summer here, by the way.
---
May 28, 2009 by shane white
Here again with another installment about all THINGS UNDONE.
This time I'm sharing an example of the inkline I was looking for in the process of developing this book. The cartooning wasn't in the bag either. I was pushing for more of a big-head-cutesy-kind-of-thing. The purpose behind it, well I really wanted to show that I can cartoon. I wanted my characters to have the flexibility and strong silhouettes that I think help me express their emotions if in almost an iconic kind of way.
There was no doubt I'd be inking this with a brush, but unlike earlier books I wanted to it feel easy and breezy. Just strong shapely information without a lot of noodling.
The main characters Rick Watts and Natalie Meade are in one of those long-term relationships…like 7 years long. Just in time for things to start getting a little weird.
---
May 28, 2009 by NBM
sign up for our tweets, especially throughout BEA:
@nbmpub
---