May 27, 2009 by Ted Rall
Here's my syndicated opinion column for this week:
MR. OBAMA: RESIGN NOW

With Democrats Like Him, Who Needs Dictators?
MIAMI—We expected broken promises. But the gap between the soaring expectations that accompanied Barack Obama's inauguration and his wretched performance is the broadest such chasm in recent historical memory. This guy makes Bill Clinton look like a paragon of integrity and follow-through.
From healthcare to torture to the economy to war, Obama has reneged on pledges real and implied. So timid and so owned is he that he trembles in fear of offending, of all things, the government of Turkey. Obama has officially reneged on his campaign promise to acknowledge the Armenian genocide. When a president doesn't have the 'nads to annoy the Turks, why does he bother to show up for work in the morning?
Obama is useless. Worse than that, he's dangerous. Which is why, if he has any patriotism left after the thousands of meetings he has sat through with corporate contributors, blood-sucking lobbyists and corrupt politicians, he ought to step down now—before he drags us further into the abyss.
I refer here to Obama's plan for "preventive detentions." If a cop or other government official thinks you might want to commit a crime someday, you could be held in "prolonged detention." Reports in U.S. state-controlled media imply that Obama's shocking new policy would only apply to Islamic terrorists (or, in this case, wannabe Islamic terrorists, and also kinda-sorta-maybe-thinking-about-terrorism dudes). As if that made it OK.
In practice, Obama wants to let government goons snatch you, me and anyone else they deem annoying off the street.
Preventive detention is the classic defining characteristic of a military dictatorship. Because dictatorial regimes rely on fear rather than consensus, their priority is self-preservation rather than improving their people's lives. They worry obsessively over the one thing they can't control, what Orwell called "thoughtcrime"—contempt for rulers that might someday translate to direct action.
Locking up people who haven't done anything wrong is worse than un-American and a violent attack on the most basic principles of Western jurisprudence. It is contrary to the most essential notion of human decency. That anyone has ever been subjected to "preventive detention" is an outrage. That the President of the United States, a man who won an election because he promised to elevate our moral and political discourse, would even entertain such a revolting idea offends the idea of civilization itself.
Obama is cute. He is charming. But there is something rotten inside him. Unlike the Republicans who backed Bush, I won't follow a terrible leader just because I voted for him. Obama has revealed himself. He is a monster, and he should remove himself from power.
"Prolonged detention," reported The New York Times, would be inflicted upon "terrorism suspects who cannot be tried."
"Cannot be tried." Interesting choice of words.
Any "terrorism suspect" (can you be a suspect if you haven't been charged with a crime?) can be tried. Anyone can be tried for anything. At this writing, a Somali child is sitting in a prison in New York, charged with piracy in the Indian Ocean, where the U.S. has no jurisdiction. Anyone can be tried.
What they mean, of course, is that the hundreds of men and boys languishing at Guantánamo and the thousands of "detainees" the Obama Administration anticipates kidnapping in the future cannot be convicted. As in the old Soviet Union, putting enemies of the state on trial isn't enough. The game has to be fixed. Conviction has to be a foregone conclusion.
Why is it, exactly, that some prisoners "cannot be tried"?
The Old Grey Lady explains why Obama wants this "entirely new chapter in American law" in a boring little sentence buried a couple past the jump and a couple of hundred words down page A16: "Yet another question is what to do with the most problematic group of Guantánamo detainees: those who pose a national security threat but cannot be prosecuted, either for lack of evidence or because evidence is tainted."
In democracies with functioning legal systems, it is assumed that people against whom there is a "lack of evidence" are innocent. They walk free. In countries where the rule of law prevails, in places blessedly free of fearful leaders whose only concern is staying in power, "tainted evidence" is no evidence at all. If you can't prove that a defendant committed a crime—an actual crime, not a thoughtcrime—in a fair trial, you release him and apologize to the judge and jury for wasting their time.
It is amazing and incredible, after eight years of Bush's lawless behavior, to have to still have to explain these things. For that reason alone, Obama should resign.
(Ted Rall, President of the Association of American Editorial Cartoonists, is author of the books "To Afghanistan and Back" and "Silk Road to Ruin: Is Central Asia the New Middle East?")
COPYRIGHT 2009 TED RALL
---
May 26, 2009 by Neil Kleid
Just chiming in to remind you that the month of May is almost over and with retailers finalizing their orders, it's time to get in your preorder for THE BIG KAHN, my new graphic novel for NBM Publishing using Diamond Order Code MAY090988

Rabbi David Kahn has lived a forty-year lie: he is not, nor has he ever been, Jewish. When at his funeral, the "rabbi's" grifter brother reveals the truth, it forces the Kahn family to struggle with grief and betrayal as their congregation examines their every move and they question their very faith. Rabbi Avi Kahn, the heir apparent whose future is on the line, spirals into a tryst with his rebellious sister Lea's non-Jewish roommate. Lea rethinks the religion she's run from, religion strong enough to alter her father's life, while Eli — the youngest Kahn — inherits his father's long-forgotten legacy. Somehow, with the help of the uncle he never knew and his slowly re-awakening sister, Eli attempts to return faith and order to his family, community while reinstating his father's good name. This July explore a family secret so well-hidden, even the family didn't know about it until it was too late.
Illustrated by Nicolas Cinquegrani and hitting shelves in July, THE BIG KAHN, a 176 page black and white graphic novel, is currently available to preorder via Diamond Comics Distributors (Order Code; MAY090988) and through bookstores (ISBN 978-1-56163-561-0) at the low price of $13.95.
Click here for a ten page selection from the book, available at the NBM website
---
May 26, 2009 by NBM
"Alfred's charming, emotional color art captures wonderfully Ollie's youthful joy and psychological turmoil. Sensitive. Recommended for older teens and up."
So says Library Journal of Why I Killed Peter about the author's experience with abuse at the hands of an otherwise cool priest.
This only adds to the great press this book had gotten, including The Onion, a starred review from Publishers Weekly, the Miami Herald and many prominent websites.
It should be noted there is little in this book that could prove visually offensive.
---
May 25, 2009 by Ted Rall
---
May 25, 2009 by Ted Rall
---
May 22, 2009 by shane white
Whether I'm writing or drawing I tend to take my characters for a walk to see how they interact with their environment. It's the quickest way for me to get an idea of their personality. I'll do little vignettes and see what they see and how they may act given the perception of who I think they might be.
Eventually with enough perseverance they're telling me where they want to go.
It's important to me to have backstory and a lot of side elements that won't go in the final product, much like when preparing for an acting role. Everything informs the characters decisions of how they'll act and react. Then the hard part really is getting the dialogue to sound natural and consistent with who they are.
So I don't forget to mention it, Things Undone will be out in August at your favorite local comics shop…and the general public I believe by October/November. If you like what you see ask your favorite store to order it ahead of time.
---
May 20, 2009 by NBM
A slew of reviews of late over at Precocious Curmudgeon!
First David Welsh, the author of this blog has some good words about us:
"I don't think I've ever sat down and considered just how much reading pleasure I've gotten out of NBM's catalog. Maybe it's because they have a very restrained publishing schedule, only a few books a month. Still, it's remiss of me, because they're one of those publishers like Drawn & Quarterly and Fanfare/Ponent Mon with an excellent rate of return for my comics dollar. I can't think of many NBM books that I haven't really loved, or at least appreciated for their ambition and craft. So while I wait for Mijeong, I thought I'd run down memory lane and revisit some of my favorite books from NBM."
Then he goes on to point out some of our recent best books: Glacial Period, Little Nothings, points to the Murder of Abraham Lincoln as his fave Geary book, and, while waiting for Mijeong, extolls author Byun Byung Jun's previous Run, Bong-Gu, Run!
---
May 19, 2009 by Terry
This remarkable graphic novel by the talented Korean artist Byun Byung Jun is moving, at times melancholy and quite lyrical. We brought out his Run, Bong-Gu, Run! a couple years ago to good acclaim. This continues our little Manhwa department which also has Buja's Diary by an old Korean master.
Check it out, it's in stores now! And if you like it, tell people, hey, tell me right here in a comment. Would love to hear what you think.
---
May 18, 2009 by Naomi Nowak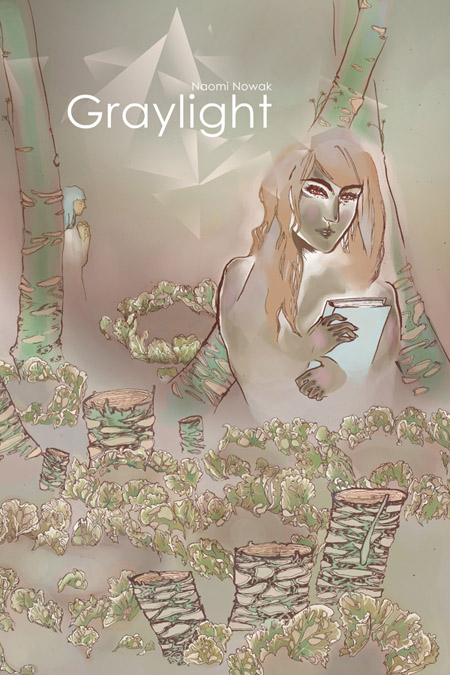 this is the cover and i'm spending the night at the studio colouring the very last pages. after this it's three days out in the countryside before i start editing the whole thing. surreal! i can't believe i somehow thought i would finish this project in 2008. my year has been way too turbulent for that, i guess if life was more boring i could've done it. i'm hoping it's later but better.
---
May 16, 2009 by shane white
Ask any artist about the evolution of an idea and hands down you will get a longer answer than expected. So I'll apologize now for keeping you from your work. I for one have a tendency to let ideas gestate for years at a time taking shape on the subconscious back burner of my mind.
However that's only partly true for my next graphic novel, Things Undone. The story came to me relatively quickly, mainly as a reaction to a comic gig I turned down (it was a poorly conceived zombie-story in case you were wondering). But the character I had in mind was living in my brain with nothing to do.
I wanted someone cool, someone I think people would react well too whatever the situation I put them in.
His first incarnation was a character called Beatnik Billy, a tough grade-schooler who was brought up on Kerouac and Lenny Bruce. Admittedly these were both authors I've never read…but if you've been around long enough you get who they are and how they impacted culture. Imagine that same force impacting PS 121? I did a few strips that amounted to one joke and a pastiche of 50s hepcat patter and it died on the vine.
A few years later I brought him out again, trying this time to make a brand for EXTREME sports. I was working for a t-shirt company at the time and was tasked with coming up with lines of shirts for various markets. The direction went a lot more EXTREME and I abandoned this design as well.
Then the story hit me one day while working on The Overman series. I wanted to start a project that I could really burn through quickly once I was finished. Something simpler in line weight, stylized and shape-driven. I was hungry to express myself through character rather than story. A storyboard gig that I had done recently had used a similar cartooning style and it was this atomic collision of ideas, hunger and line that pushed me in this direction.
NEXT TIME: I'll show more development sketches from finding character to choosing an appropriate line.
---