June 1, 2009 by Ted Rall
---
June 1, 2009 by Naomi Nowak
It's the little things that take longest with comics … I've got all the artwork finished for graylight but I'm now on my third day of fixing speech bubbles. I want each one to be hand drawn of course, to fit what ever it contains … a slight vibrato, a whisper or a shout can be seen in the outline.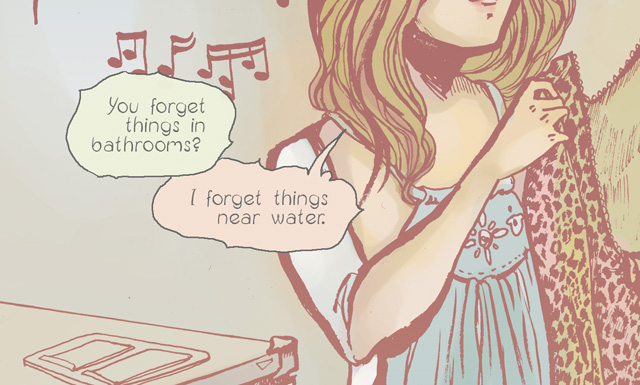 So, counting on maybe two more days. Must. Stay. Strong. Through. Tedium. Well, actually there's something poetic about monotone work once you get used to it. It's summer here, by the way.
---
May 28, 2009 by shane white
Here again with another installment about all THINGS UNDONE.
This time I'm sharing an example of the inkline I was looking for in the process of developing this book. The cartooning wasn't in the bag either. I was pushing for more of a big-head-cutesy-kind-of-thing. The purpose behind it, well I really wanted to show that I can cartoon. I wanted my characters to have the flexibility and strong silhouettes that I think help me express their emotions if in almost an iconic kind of way.
There was no doubt I'd be inking this with a brush, but unlike earlier books I wanted to it feel easy and breezy. Just strong shapely information without a lot of noodling.
The main characters Rick Watts and Natalie Meade are in one of those long-term relationships…like 7 years long. Just in time for things to start getting a little weird.
---
May 28, 2009 by NBM
sign up for our tweets, especially throughout BEA:
@nbmpub
---
May 28, 2009 by NBM
Nicolas Cinquegrani will be signing the preview galleys of The Big Kahn we mentioned earlier on Friday from 10-12 and 2-4 and Saturday 10-12. We're in booth #2941.
We just got those printed paperback bound previews and they're lovely! Free at BEA and ALSO at MoCCA in NYC next weekend!
---
May 27, 2009 by NBM
This Friday through Sunday, Book Expo America is on in NY's Javitts Convention Center. It's the yearly get-together for the book publishing industry (and is open only to professionals). For those of you going, here's what NBM has cooked up:
We'll be in booth 2941 presenting our upcoming Fall goodies. Of most note: we'll have advance galley previews of Neil Kleid's and Nicolas Cinquegrani's The Big Kahn! Nicolas will be there to sign them on Friday and Saturday morning.
Also: we'll have previews of Ted Rall's and Pablo Callejo's beautiful new GN The Year of Loving Dangerously,  the new redesigned Malefic  by Luis Royo part of a complete relaunch of Royo, Jesse ("Flower & Fade") Lonergan's Joe & Azat, Shane ("North Country") White's Things Undone, Naomi ("Unholy Kinship") Nowak's Graylight, the new Dungeon, the next episode of Remembrance of Things Past, and an amazing discovery for ya: Greg Houston and his outrageous Vatican Hustle.
Eurotica will also be announcing it's new omnibus clothbound edition of the classic Crepax Story of O…
Drop by and say hi, meet publisher Terry Nantier, our famous sales guy Tony Shenton and our charming and beauteous assistant Sylvia Nantier, daughter of Terry and heir apparent to the throne (he wishes, she doesn't want it).
---
May 27, 2009 by Ted Rall
Here's my syndicated opinion column for this week:
MR. OBAMA: RESIGN NOW

With Democrats Like Him, Who Needs Dictators?
MIAMI—We expected broken promises. But the gap between the soaring expectations that accompanied Barack Obama's inauguration and his wretched performance is the broadest such chasm in recent historical memory. This guy makes Bill Clinton look like a paragon of integrity and follow-through.
From healthcare to torture to the economy to war, Obama has reneged on pledges real and implied. So timid and so owned is he that he trembles in fear of offending, of all things, the government of Turkey. Obama has officially reneged on his campaign promise to acknowledge the Armenian genocide. When a president doesn't have the 'nads to annoy the Turks, why does he bother to show up for work in the morning?
Obama is useless. Worse than that, he's dangerous. Which is why, if he has any patriotism left after the thousands of meetings he has sat through with corporate contributors, blood-sucking lobbyists and corrupt politicians, he ought to step down now—before he drags us further into the abyss.
I refer here to Obama's plan for "preventive detentions." If a cop or other government official thinks you might want to commit a crime someday, you could be held in "prolonged detention." Reports in U.S. state-controlled media imply that Obama's shocking new policy would only apply to Islamic terrorists (or, in this case, wannabe Islamic terrorists, and also kinda-sorta-maybe-thinking-about-terrorism dudes). As if that made it OK.
In practice, Obama wants to let government goons snatch you, me and anyone else they deem annoying off the street.
Preventive detention is the classic defining characteristic of a military dictatorship. Because dictatorial regimes rely on fear rather than consensus, their priority is self-preservation rather than improving their people's lives. They worry obsessively over the one thing they can't control, what Orwell called "thoughtcrime"—contempt for rulers that might someday translate to direct action.
Locking up people who haven't done anything wrong is worse than un-American and a violent attack on the most basic principles of Western jurisprudence. It is contrary to the most essential notion of human decency. That anyone has ever been subjected to "preventive detention" is an outrage. That the President of the United States, a man who won an election because he promised to elevate our moral and political discourse, would even entertain such a revolting idea offends the idea of civilization itself.
Obama is cute. He is charming. But there is something rotten inside him. Unlike the Republicans who backed Bush, I won't follow a terrible leader just because I voted for him. Obama has revealed himself. He is a monster, and he should remove himself from power.
"Prolonged detention," reported The New York Times, would be inflicted upon "terrorism suspects who cannot be tried."
"Cannot be tried." Interesting choice of words.
Any "terrorism suspect" (can you be a suspect if you haven't been charged with a crime?) can be tried. Anyone can be tried for anything. At this writing, a Somali child is sitting in a prison in New York, charged with piracy in the Indian Ocean, where the U.S. has no jurisdiction. Anyone can be tried.
What they mean, of course, is that the hundreds of men and boys languishing at Guantánamo and the thousands of "detainees" the Obama Administration anticipates kidnapping in the future cannot be convicted. As in the old Soviet Union, putting enemies of the state on trial isn't enough. The game has to be fixed. Conviction has to be a foregone conclusion.
Why is it, exactly, that some prisoners "cannot be tried"?
The Old Grey Lady explains why Obama wants this "entirely new chapter in American law" in a boring little sentence buried a couple past the jump and a couple of hundred words down page A16: "Yet another question is what to do with the most problematic group of Guantánamo detainees: those who pose a national security threat but cannot be prosecuted, either for lack of evidence or because evidence is tainted."
In democracies with functioning legal systems, it is assumed that people against whom there is a "lack of evidence" are innocent. They walk free. In countries where the rule of law prevails, in places blessedly free of fearful leaders whose only concern is staying in power, "tainted evidence" is no evidence at all. If you can't prove that a defendant committed a crime—an actual crime, not a thoughtcrime—in a fair trial, you release him and apologize to the judge and jury for wasting their time.
It is amazing and incredible, after eight years of Bush's lawless behavior, to have to still have to explain these things. For that reason alone, Obama should resign.
(Ted Rall, President of the Association of American Editorial Cartoonists, is author of the books "To Afghanistan and Back" and "Silk Road to Ruin: Is Central Asia the New Middle East?")
COPYRIGHT 2009 TED RALL
---
May 26, 2009 by Neil Kleid
Just chiming in to remind you that the month of May is almost over and with retailers finalizing their orders, it's time to get in your preorder for THE BIG KAHN, my new graphic novel for NBM Publishing using Diamond Order Code MAY090988

Rabbi David Kahn has lived a forty-year lie: he is not, nor has he ever been, Jewish. When at his funeral, the "rabbi's" grifter brother reveals the truth, it forces the Kahn family to struggle with grief and betrayal as their congregation examines their every move and they question their very faith. Rabbi Avi Kahn, the heir apparent whose future is on the line, spirals into a tryst with his rebellious sister Lea's non-Jewish roommate. Lea rethinks the religion she's run from, religion strong enough to alter her father's life, while Eli — the youngest Kahn — inherits his father's long-forgotten legacy. Somehow, with the help of the uncle he never knew and his slowly re-awakening sister, Eli attempts to return faith and order to his family, community while reinstating his father's good name. This July explore a family secret so well-hidden, even the family didn't know about it until it was too late.
Illustrated by Nicolas Cinquegrani and hitting shelves in July, THE BIG KAHN, a 176 page black and white graphic novel, is currently available to preorder via Diamond Comics Distributors (Order Code; MAY090988) and through bookstores (ISBN 978-1-56163-561-0) at the low price of $13.95.
Click here for a ten page selection from the book, available at the NBM website
---
May 26, 2009 by NBM
"Alfred's charming, emotional color art captures wonderfully Ollie's youthful joy and psychological turmoil. Sensitive. Recommended for older teens and up."
So says Library Journal of Why I Killed Peter about the author's experience with abuse at the hands of an otherwise cool priest.
This only adds to the great press this book had gotten, including The Onion, a starred review from Publishers Weekly, the Miami Herald and many prominent websites.
It should be noted there is little in this book that could prove visually offensive.
---
May 25, 2009 by Ted Rall
---