April 30, 2009 by NBM
So here's what we got coming up in July as solicited for in comics stores now and Diamond's Previews.
First up, Neil (Brownsville, 90 Candles) Kleid's next book with an absolutely brilliant story. At first, you'll think it's a comedy but it ain't. Best part is it's quite serious, questioning the very nature of faith, read up:
THE BIG KAHN
Neil KLEID, Nicholas CINQUEGRANI
Rabbi David Kahn has lived a forty-year lie: he is not, nor has he ever been, Jewish. When at his funeral, the "rabbi's" grifter brother reveals the truth, it forces the Kahn family to struggle with grief and betrayal as their congregation examines their every move and question their very faith. His son, Rabbi Avi Kahn, the heir apparent, spirals down in an affair with his rebellious sister Lea's non-Jewish roommate. Lea rethinks the religion she's run from, strong enough to alter her father's life, while Eli — the youngest Kahn — inherits his father's long-forgotten legacy. Somehow, with the help of the uncle he never knew and his slowly re-awakening sister, he attempts to return faith and order to his family and community and reinstate his father's good name. Neil Kleid, Xeric Award winning author of Ninety Candles and NBM's Brownsville, and illustrator Nicolas Cinquegrani offer a drama about loss, lies, belief and renewal in this dramatic graphic exploration of a family secret so well-hidden, it questions the very nature of faith.
6 x9, 176 pp., trade pb., B&W with color cover, $13.95
ISBN 978-1-56163-561-0
Here are previews.
Eurotica presents this month:
HONEY LICKERS SORORITY, Vol. 2
Christian ZANIER
Bombshell she-male Tammy recollects some earlier delicious days when she went to visit a whole party full of 'em. This time, she gets it as opposed to giving it… By the best-selling breathtaking artist of Banana Games.
81/2x11, 48pp., full color trade pb., $11.95, ISBN 978-1-56163-562-7
Go to Eurotica and see the banner for Coming Up July for more on this.
---
April 30, 2009 by Jesse Lonergan
So here's what the cover for my Turkmenistan book ended up looking like, which is a bit different from what I originally intended. The drawing I'd posted earlier turned out to be too busy, so it became the basis for the background. Also as you can see Terry won me over on the title and the book will be called Joe and Azat, not The Golden Age.
And I think that means I'm done. For real. Not that fake done I mentioned a month and a half ago, but a real done. It feels good. Real good. In so many ways. I'm happy with how the book came out. The story feels good. The drawing looks good. And I'm done with Turkmenistan! I got back two years ago! I can't believe I've been working on this thing so long.
And it's perfect timing because I'm leaving the peace and quiet of Vermont and moving back to Boston this weekend. 
I've got to get packing.
---
April 27, 2009 by Terry
George Khoury has posted a great interview of the wonderful Spanish artist Miguelanxo Prado on Comic Book Resources by whom we've published quite a few books over the years. Besides his remarkable comics, Prado went on to put a touch of class into the animated version of Men in Black.
I still love his Streak of Chalk and if pressed, probably would put it in my top ten GNs of all time. Can't wait to see that new GN he's cooking up now, it's been a while!
When you go over to our Prado page, you'll see all his books can be had for free with an order of 4 other books, btw.
---
April 21, 2009 by NBM
From Comics 212:
"I haven't yet gotten around to publishing my Best-Graphic-Novels-of-2008 List, but the first collection of Lewis Trondheim's Little Nothings is most assuredly on it. Little Nothings is the series of collections of Trondheim's diary comics–moments from his days being one of the most respected cartoonists in the world, and the international travel and sightseeing accompanying that recognition. Trondheim is kind enough to bring us all along with him through beautifully rendered drawings and paintings done right in his sketchbooks, mixing live- and life-drawing with after-the-fact recollections of his day–although a brief segment in the middle of the book shows just how unreliable a narrator he can be.  I admit that I'm a fan of journal and diary comics anyhow, but even if they've never been for you I think Trondheim is an interesting character with a relaxed cartooning style and these comics will appeal beyond the subject matter; Trondheim tackles personal and introspective themes, the larger comics industry, politics and the world at large, and even breaks the fourth wall to comment on the nature of the work you're reading–a little something for everyone. I feel quite fortunate when I see new books like this released into stores, and have specifically enjoyed the recent wave of material from Trondheim that NBM (and First Second) have brought us over the past few years.  There's a huge potential audience for this material–what family man wouldn't want to be internationally respected in his field and travel the globe drinking with friends?–and I hope that Little Nothings finds it. Pick up your copy today."
From Comics Waiting Room:
"Anyone who's read CWR long enough knows that I consider Lewis Trondheim to be one of the greatest living comics talents, a man whose work is almost always transcendent ins some way. In 2008, NBM published the first collection of works from Trondheim's art blog, and it was easily one of the finest books of the year. Now they've graced us with a second volume, and that's some of the best possible news you could ask for on the graphic novel front.
THE PRISONER SYNDROME follows Trondheim on a succession of trips abroad, both for vacations and for comic conventions. What jumps out immediately is the focus on the minutiae at these stops; we open on him simply trying to avoid burning his feet on beach sand, a universal problem that Trondheim takes from the banal to the epic, laughing at his own (lack) of bravery and toughness. It's an amusing burst of normal humanity, setting the tone for the funny stuff ahead.
What stood out for me here overall, though, was the observational quality of the writing. Trondheim is one of the most accomplished artists in the world, but he has a poetic soul with the pen. When he ruminates on what it feels like to see the moon while the sun is shining, or the certain death that awaits him if he makes one bad step to the left on the mountain trail he's walking, or being somewhat vengeful towards a hotel that didn't deliver on promises made, he gives you an opportunity to see who he really is as a person. The author is giving the reader a gift here; it would be rude not to accept it.
There wasn't a single thing about this second volume of LITTLE NOTHINGS that didn't work for me, except for the fact that there's likely to be a wait for a third volume. Excellence."
---
April 21, 2009 by NBM
"Being that this is my first time reviewing for Tart, I found the title on the cover of First Time entirely appropriate. I never thought I'd find erotic entertainment to be fancy, seductive, thought-provoking and titillating. After years of exposure to hentai (which makes me giggle like a little girl at all the tentacular penises waving about), too many erotic novels, and a brief stint as a DVD porn reviewer, I wondered if I was truly too jaded to review this.
Oh, ever so wrong I was. After caressing the cover (yes, the dust cover is soft and almost velvet-like in the touching), I opened up my new little guilty pleasure. Ever get a box of Godiva chocolates at Valentine's, in the lovely, red, velvety, heart-shaped box? Yeah, it was totally like that. 
So, inside the book? Ten little gems of naughty visual pleasure. The stories range from losing virginity to a first-time affair to the joys of buying a first sex toy. Each one has a story to tell and a small twist. Each one has an emotional context. All of them have beauty and some even show us an ugly side. 
All of the art, rendered in black and white, is suited to each story, each line and curve rendered with what looks like loving detail. 
On the whole, a very … satisfying read."
"The art is always interesting. Three out of five Tonys."
Tony Isabella, Comics Buyers Guide
"The book opens with one of the strongest pieces, "First Time" as drawn by Why I Killed Peter's Alfred. A woman tells her lover about her very first time she has sex, and the result is touching and sweet. From her plans on bringing the guy over, to how he (and she) reacts afterwards, it's a heartfelt story with a nice ending moment. Alfred's art is in fine form here, too; there's a panel where she's lying on her current partner's chest and idly scratches it that just feels very familiar and comfortable, and the panel where her arm and hand holding a wine glass is overlaid six times does a great job of showing nervousness and speed and quantity all at once.
 "Fantasy" drawn by Jérôme d'Aviau is certainly the steamiest of the stories here—in fact, I'd go so far as to say it's the only actual steamy story in the entire book. This helps in part because of d'Aviau's crisp, clean art; I love how he draws both of the main characters here, in an attractive manner (both physically and also just general art style). For a story about dominance and fantasies playing out, Sibylline hits the pacing just right, slowly amping up the tension and bringing the climax of the story (no, not that kind) at just the right moment."
---
April 21, 2009 by Naomi Nowak
A strange thing happened on saturday night. I've been working on the last chapter of Graylight over the last two or-so weeks, but I got stunted because I couldn't figure out what I wanted on the very last spread. I'd been focusing on the three main characters. Which ones to show and in what context? I was about to panic when I decided to let it go for a while and just be silly with my colleagues (yes, i spend saturday nights at the studio. bars? clubs? i don't know what these things are) when i finally KNEW how to do it! Of course I'd been focusing on the wrong thing and the wrong characters. So I finished it. Does this happen to you? You let your brain grind to no end and with no result only to come up with a great solution the minute you relax. So easy to say, yet so hard to implement. Now to colour the last 20 pages + do the cover. I'm going to start on the cover tomorrow… Crazy. In the meantime, here's our players.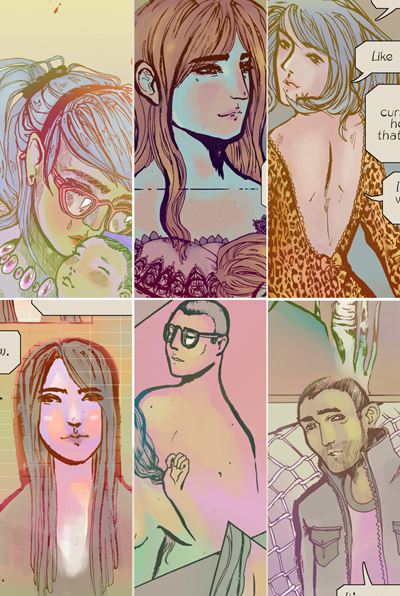 This is the week from hell, by the way. I may have gotten in too deep when i decided to organize an art show with 13 people exhibiting and 100 or so visitors (on sunday). Better go get that wine&candy. Guh… Wish me luck!
---
April 20, 2009 by NBM
The reviews are coming in for our newly released latest Volume 3 of Dungeon Zenith:
"Hysterically funny. Endlessly inventive"
"Ah, Dungeon, what pleasures you bring me. Boulet is comfortably upholding the artistic standards of previous forays into Dungeon. Joann Sfar and Lewis Trondheim … man, these two guys can seemingly do no wrong. They're leading lights in France's comics scene, and it's obvious why. Dungeon: Zenith vol. 3: Back in Style is witty, fun and adventurous. Readers of fantasy, of humor, of unapologetically fun comics are going to love it."
"The Sfar/Trondheim duo did not disappoint in this latest volume, taking crazy story risks and throwing in plot twists and character reversals at the drop of a hat. DUNGEON remains my favorite genre-related series of all time."
---
April 16, 2009 by Jesse Lonergan
So I think (I think) my Turkmenistan book is pretty much done. Terry's read it, mentioned some changes. I've made the changes. I still need to put the cover together, the end feels close. I think Terry and I have settled on a title of The Golden Age: Two Years in Turkmenistan. And along with the work on the book coming to an end my time in Vermont is also ending. I'll be moving back to Boston (Cambridge, Somerville) in the beginning of May. Last weekend I was down looking at apartments and it's the same plan for this weekend.
And then once I get settled there I guess I'll start on the next book. I'm weighing two ideas… a reality based book about travelling back and forth across America or a post-apocalyptic romp (something like Beach Blanket Bingo plus Mad Max divided by Candide).
---
April 16, 2009 by Terry
Well, we're putting to bed the next great entry in our Forever Nuts collection of classic comic strips, Bringing Up Father, and it looks gorgeous. The strips have been meticulously restored and we end up with a colorful foreword by Bill Blackbeard, short but quite sweet, and a great intro by R.C. Harvey who gives us all we could want to know about McManus and this seminal strip in the history of comics.
And if that weren't enough, we have quite a few annotations/footnotes at the end of the book that explain references in the strips. Allan Holtz, who worked on this with us did painstaking research. His full set of notes even beyond what we culled for the book will be posted up online when the book is out.
We will be a little late with the release, mid-June shipping instead of May but worth the wait, believe me.
---
April 14, 2009 by Terry
Well it's out on blogs, especially Heidi McDonald's The Beat.
Veronique Tanaka of Metronome that we published is in fact… Bryan Talbot. Yes, that Bryan of Luther Arkwright, The Tale of One Bad Rat (which I personally think is his magnum opus) and more recently Alice in Sunderland.
And of the Art of Bryan Talbot which we also published.
Turns out Heidi's post is creating quite a controversy, JT Leroy has already been mentioned and two famous comics bloggers have knives drawn as we speak.
Haaaa, Bryan, you're a genius, I luv ya. Except you could have given me some warning, ya know?
And if this makes you check out the very arresting work that is Metronome -and is absolutely unrecognizable as Bryan's work, btw, that's the REAL genius- then great! 'Cause it's another GN we're very proud of having in our catalog. JT Tanaka or not.
---