April 1, 2009 by Naomi Nowak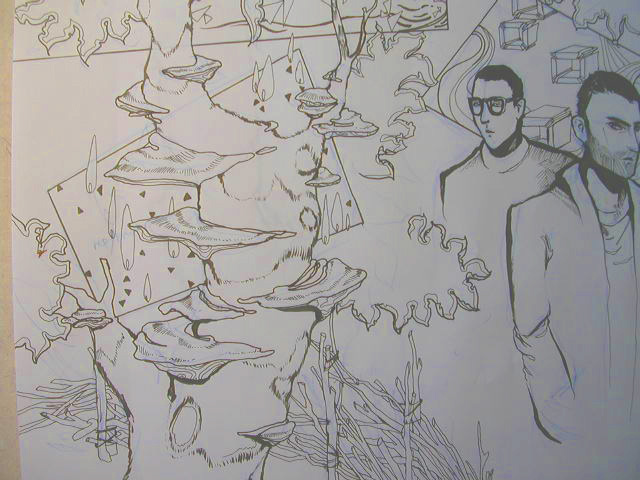 in regards to terry's comment on my latest entry … the last chapter of graylight seems to have a different type of mushroom on every page (here, featuring page 126 with tree shrooms). i didn't consciously make it so, but the two male leads are walking through a forest, and shrooms being one of my favourite elements of forests i guess it's natural.
i sat on the ground outside of the studio today, drawing. it's so sunny and bright my head hurts. that's how scandinavia is … we're all awake through the winter but with spring sun it's still as if hibernation is finally over and there's all this vigorous talk and experience of everything sensual. beauty.
---
March 31, 2009 by NBM
The Boston Globe on Sunday had a great roundup by Carlo Wolff of graphic novels and amongst the books reviewed, David B's Nocturnal Conspiracies:
"Teeming with animals, corrupt politicians, alluring women, his own malleable consciousness and other shape shifts, this scans like a dream."
And Miss Don't Touch Me:
"A more orthodox piquancy infuses Miss Don't Touch Me, a charming, Gallic twist on the murder mystery… and anything but prudish."
Some other GNs reviewed: The Beats by Harvey Pekar, Alan's War and The Photographer by Emmanuel Guibert.
---
March 30, 2009 by Terry
We're looking for someone with good experience with social networks to help us expand our presence there. We're presently on MySpace but need to be on Facebook and others with all this better interlinked. Like NBM's books? Good at this sort of thing where you can show what you've done in those spaces?
Then be in touch with me at tnantier at nbmpub.com.
Hope to hear from ya!
---
March 30, 2009 by NBM
Japan's English language newspaper, The Daily Yomiuri, had some kind words on Metronome:
"Offers a surprisingly engaging story that, without the hindrance of language, anyone can understand. Tanaka makes good use of rythmn, themes and cadences to set the scene and mood."
---
March 26, 2009 by Jesse Lonergan
I always seem to be coming to this realization that nobody looks anywhere near as closely at my work as I do.  
And here are some pencils of the cover for my Turkmenistan book (it's a little cut off)(it does go around in a complete circle)(but you get the idea). I'll probably being adding a few more details before inking. I want to get as many Turkmen thing as I can in there: flags, watermelons, camels, a bust of Turkmenbashy, a good Turkmen hat, carpet designs, a five headed eagle. There should be an inked version for next week.
And in response to Naomi's question about favorite graphic novels I have to say I really like Hate by Peter Bagge. It's not really a graphic novel, but I always end up reading all my old issues all in a row. In fact, I think I might go dig them out right now.
And feel free to check out my personal blog.
---
March 25, 2009 by NBM
Comics Waiting Room. com has this to say about Little Nothings 2
What stood out for me here overall, though, was the observational quality of the writing. Trondheim is one of the most accomplished artists in the world, but he has a poetic soul with the pen. When he ruminates on what it feels like to see the moon while the sun is shining, or the certain death that awaits him if he makes one bad step to the left on the mountain trail he's walking, or being somewhat vengeful towards a hotel that didn't deliver on promises made, he gives you an opportunity to see who he really is as a person.
There wasn't a single thing about this second volume of LITTLE NOTHINGS that didn't work for me, except for the fact that there's likely to be a wait for a third volume. Excellence.
And this about First Time (go to Eurotica):
There's a difference between erotica and porn. For those who want a definitional difference, here is mine: porn is nothing but pure sex, a visceral jolt meant for immediate arousal. Erotica, while flush with sex, has more; more story, more character, more than just the base drive for arousal and orgasm. Erotica engages the mind as well as the body.
FIRST TIME is damned fine erotica.
French writer Sibylline joins with ten amazing artists to tell stories of deep sensuality, arousing moments, and hot sexuality, all revolving around the theme of the first time each character has engaged in that behavior. From the loss of virginity, to visiting a sex club, to a threesome, to a couple viewing pornography together, she covers an extraordinary spectrum of topics and moments, and each is wildly different. Some are joyous; a couple are heartbreaking; which keeps FIRST TIME real, really. Sex, while great, can be painful and disappointing, and she never loses sight of that. Which, again, points out the difference between pornography and erotica; porn is rarely full of anything you could consider "real" on an emotional level.
---
March 24, 2009 by Naomi Nowak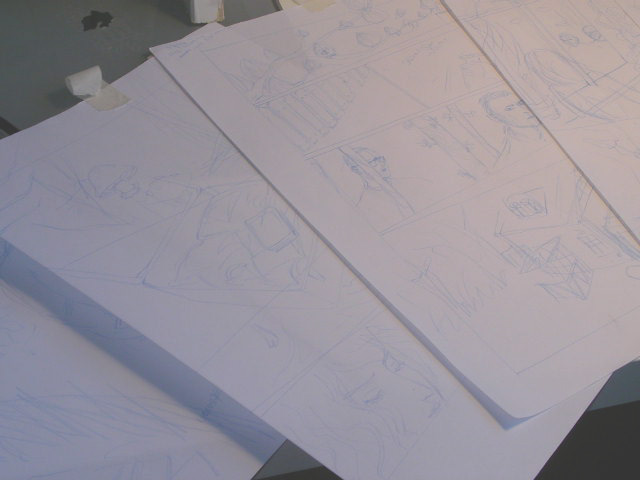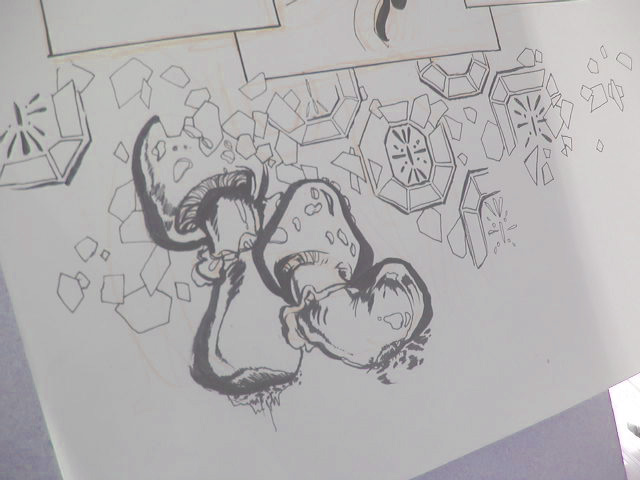 some snippets from chapter 10, the last chapter! crazy. i have a lot of edits and talking back and forth with terry to do and then the cover, so still a lot of work and i'll be doing full time at my day job for a while yet. saving up for paris and nyc… or maybe just for living like a free person again. there's always lots more progress photos, drawings, paintings and photos of me/my life over at my blog, just in case you wanna.
a question for everyone … your favourite graphic novels? here's one that's very dear to me(click it for some info):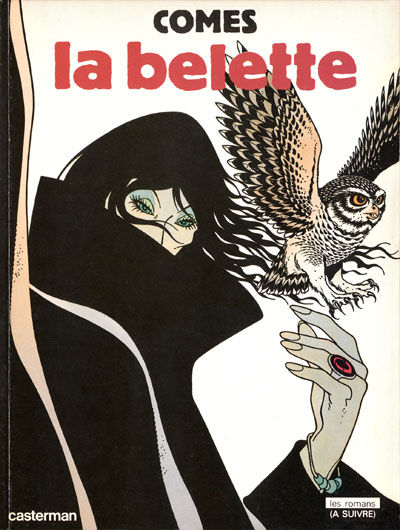 ---
March 23, 2009 by NBM
Trondheim appears determined to guarantee himself a place on everyone's Best Of lists on an annual basis. Everything about the strips, the humor, the coloring, the observations about our cultural standards, is warm and inviting. Trondheim's self-effacing wit remains strong. Little Nothings has become the most welcome, positive and anticipated book of the year. Trondheim's established himself as one of the world's great cartoonists, and this volume can only grow the legions of fans he'd earned around the world.
It's breezy, delightful, makes the heart glad, and has nothing much more on its mind than drinking in everything around it. Little Nothings is composed of small moments that can at times seem apropos of, well, nothing, but that build into a compelling, quietly humorous, and satisfying series of observations. Trondheim's brilliance as an artist is on full display, as he renders various settings in meticulous detail, retaining a fluidity largely created by an instinct for color choices that makes the art light yet grounded.
He's hilarious and a master at framing small moments into punchlines. his style, depicting characters as anthropomorphic animals, is enormously expressive & clever. Trondheim is a master of connecting micronarratives and simultaneously embuing them with a wide range of emotional possibilities. He's a born storyteller.
---
March 19, 2009 by Jesse Lonergan
I just got told that my drawings of myself make me look like a grizzly monk. Is that so? Grizzly?
Not too much news on the Turkmenistan book. At the moment a copy is USPSing its way to Terry in New York. I've been working on the cover which is coming out pretty well. Hopefully I'll at least have some finished pencils to post next week.
---
March 18, 2009 by Terry
We're shipping now the next installment of the main branch of Dungeon, one we hadn't published anything new in for a while. It has a new artist who does a great segue from Trondheim/Sfar's art. Generally now these 2 guys are so busy they're only writing the Dungeon books together and passing along the art to others.
Btw, Lewis will be in San Diego as a guest this year! Sumthin to look forward to.
You can order from us or look for it in stores soon!
---