May 22, 2009 by shane white
Whether I'm writing or drawing I tend to take my characters for a walk to see how they interact with their environment. It's the quickest way for me to get an idea of their personality. I'll do little vignettes and see what they see and how they may act given the perception of who I think they might be.
Eventually with enough perseverance they're telling me where they want to go.
It's important to me to have backstory and a lot of side elements that won't go in the final product, much like when preparing for an acting role. Everything informs the characters decisions of how they'll act and react. Then the hard part really is getting the dialogue to sound natural and consistent with who they are.
So I don't forget to mention it, Things Undone will be out in August at your favorite local comics shop…and the general public I believe by October/November. If you like what you see ask your favorite store to order it ahead of time.
---
May 20, 2009 by NBM
A slew of reviews of late over at Precocious Curmudgeon!
First David Welsh, the author of this blog has some good words about us:
"I don't think I've ever sat down and considered just how much reading pleasure I've gotten out of NBM's catalog. Maybe it's because they have a very restrained publishing schedule, only a few books a month. Still, it's remiss of me, because they're one of those publishers like Drawn & Quarterly and Fanfare/Ponent Mon with an excellent rate of return for my comics dollar. I can't think of many NBM books that I haven't really loved, or at least appreciated for their ambition and craft. So while I wait for Mijeong, I thought I'd run down memory lane and revisit some of my favorite books from NBM."
Then he goes on to point out some of our recent best books: Glacial Period, Little Nothings, points to the Murder of Abraham Lincoln as his fave Geary book, and, while waiting for Mijeong, extolls author Byun Byung Jun's previous Run, Bong-Gu, Run!
---
May 19, 2009 by Terry
This remarkable graphic novel by the talented Korean artist Byun Byung Jun is moving, at times melancholy and quite lyrical. We brought out his Run, Bong-Gu, Run! a couple years ago to good acclaim. This continues our little Manhwa department which also has Buja's Diary by an old Korean master.
Check it out, it's in stores now! And if you like it, tell people, hey, tell me right here in a comment. Would love to hear what you think.
---
May 18, 2009 by Naomi Nowak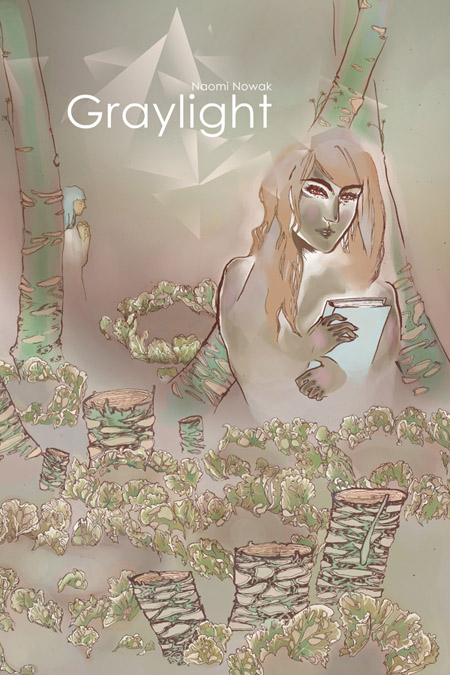 this is the cover and i'm spending the night at the studio colouring the very last pages. after this it's three days out in the countryside before i start editing the whole thing. surreal! i can't believe i somehow thought i would finish this project in 2008. my year has been way too turbulent for that, i guess if life was more boring i could've done it. i'm hoping it's later but better.
---
May 16, 2009 by shane white
Ask any artist about the evolution of an idea and hands down you will get a longer answer than expected. So I'll apologize now for keeping you from your work. I for one have a tendency to let ideas gestate for years at a time taking shape on the subconscious back burner of my mind.
However that's only partly true for my next graphic novel, Things Undone. The story came to me relatively quickly, mainly as a reaction to a comic gig I turned down (it was a poorly conceived zombie-story in case you were wondering). But the character I had in mind was living in my brain with nothing to do.
I wanted someone cool, someone I think people would react well too whatever the situation I put them in.
His first incarnation was a character called Beatnik Billy, a tough grade-schooler who was brought up on Kerouac and Lenny Bruce. Admittedly these were both authors I've never read…but if you've been around long enough you get who they are and how they impacted culture. Imagine that same force impacting PS 121? I did a few strips that amounted to one joke and a pastiche of 50s hepcat patter and it died on the vine.
A few years later I brought him out again, trying this time to make a brand for EXTREME sports. I was working for a t-shirt company at the time and was tasked with coming up with lines of shirts for various markets. The direction went a lot more EXTREME and I abandoned this design as well.
Then the story hit me one day while working on The Overman series. I wanted to start a project that I could really burn through quickly once I was finished. Something simpler in line weight, stylized and shape-driven. I was hungry to express myself through character rather than story. A storyboard gig that I had done recently had used a similar cartooning style and it was this atomic collision of ideas, hunger and line that pushed me in this direction.
NEXT TIME: I'll show more development sketches from finding character to choosing an appropriate line.
---
May 15, 2009 by NBM
Giving it 4 1/2 stars (out of 5) ICv2's Tom Flinn, in their latest printed Insider's Guide, says of Rick Geary's forthcoming book (ships in June):
"Geary does an admirable job of illustrating the intricacies of the case."
And he goes on to detail the facts, as well as the scandals that started to rack the Hollywood scene, as Geary presents them in his usual fun juicy way.
By the way, watch for a Geary special we'll be spreading around the social nets…
---
May 11, 2009 by NBM
The latest issue of Comics Buyers Guide makes Why I  Killed Peter a pick of the month, gives it a full 4 stars and calls it "One of the best autobiographical graphic novels. In fact, it may actually be the best."
If you haven't checked this out yet, it's a very sensitive rendering of a fairly shocking experience.
---
May 10, 2009 by Jesse Lonergan
So this weekend I finally had some time just to sit and think. I moved back to Boston last Sunday: packing unpacking, organizing, making lists of all the things I need, finding out where I can buy all those things that I need, figuring which combination of walking, bus and subway gets me to work the quickest. Then on Tuesday I was back at work teaching ESL and coming up with lesson plans and figuring out how to explain the present perfect progressive tense to a class of Brazilians (plus one Korean student and one Chilean student). Then on Thursday it turned out a friend of mine from the Peace Corps had a ticket to the Red Sox game. Then on Friday I went to the bar after work and didn't leave until it closed (but I wasn't drinking alone)(it was just the first Friday night back in the city). Saturday was spent… well, I got out of bed pretty late.
But now it's Sunday and I find myself with a little time on my hands.
And my mind asks, "what's next?" now that the Turkmenistan book is completed. Do I launch into another graphic novel? If so, do I do that book about baseball I've been thinking about, or that road book I've been meaning to do, or do I make a complete left turn and do some sci-fi silliness? Or do I forget graphic novels for a little bit and focus on smaller things? Or do I just sit on my porch for a bit with my guitar and sing songs while girls walk by in their summer dresses?
Writing the options down it seems obvious what I should do.
Which means I need to tune that guitar.
Anyway, I'll still be posting comic about comics here and if you want to check out the random drawings I do you can head over to my blog.
---
May 8, 2009 by NBM
It's true, we haven't made that much about it, but with Dungeon Zenith, vol.3, we reached a milestone: 10 volumes, 5 years of publishing the series.
Omnivoracious, the book blog on Amazon is good to right that wrong with columnist Jeff VanderMeer saying:
"One of my great reading pleasures this decade has been the discovery of Dungeon in the lovely little volumes from NBM Publishing, which provides English translations of this near-iconic series originally released in France. This month, you could do worse than check out the whole series, as NBM is celebrating five years of Dungeon with the tenth volume, Zenith: Back in Style.
Dungeon is the brainchild of French geniuses Joann Sfar and Lewis Trondheim. Part of their brilliance in creating these books is to both send-up the heroic fantasy genre and provide one of the most compelling arguments for its relevance.
I'd be content just to have the next ten translated in, oh, I don't know, the next six months. Short of that happening, I'll have to console myself by re-reading the existing ten…"
Oy, go easy on us.
---
May 7, 2009 by Terry
Arlene's Heart has shipped and should have reached stores by now. Look for it, it's a moving fantasy fairy tale for adults and a tribute to surviving personal loss and rejection.
Beautifully painted. See previews here.
---