April 8, 2009 by NBM
The newest Dungeon book is out! After quite a lapse where we brought out various other branches of this vast epic, we're back to the main storyline, Zenith, with volume 3 which, as we've always done, collects together 2 of the original French volumes, numbers 5 and 6.
In this one The Keeper gets himself into such hot water he even manages to lose the Dungeon entirely to a wiley schemer!
This marks the 10th volume we have out in this series, btw! And of late, we've brought the price down on recent volumes to $12.95.
It's at stores now and we have stock of every volume out.
---
April 7, 2009 by NBM
Not sure how they misunderstood our release but contrary to the bit of news they ran in their PW Comics Week out today and in their Comics Briefly, Diamond will most certainly be making available his new Famous Players volume in the Treasury of XXth Century.
What Diamond does not have in Previews, however, is the capacity to order previous volumes of his, especially including the Lindbergh Child.
---
April 6, 2009 by NBM
The review site Curled Up with a Good Book reviews Ted Rall's Silk Road to Ruin:
"Although you may think that a book which deals with political subject matter and a part of the world whose nations most Americans know little to nothing about (and have a difficult time even pronouncing correctly) might be dull and boring. Instead, Rall has written a very interesting and often LOL humorous account that anyone who wants to learn more about this politically unstable region and anyone who likes travel memoirs will enjoy highly."
And they give it 4 1/2 stars out of 5. Hey, the book may be out for a couple years now but never too late for a review, right? Besides this book remains timely and topical.
---
April 6, 2009 by Terry
Congratulations go to Rick Geary, our author of the always superb Treasury of Murder, whether Victorian or XXth century, for his nominations in the Eisners as best writer/artist and for The Lindbergh Child  as Best Reality Based Work!
If you're a pro getting a ballot, make sure you vote for this still somewhat under-rated artist  (although I have to say he keeps growing in awareness out there) with such a personal style.
Lindbergh, by the way, along with his next Famous Players book, out in June about a famous murder in the early already scandalous days of Hollywood, are Junior Library Guild selections. Print runs on these are now surpassing 10,000.
---
April 2, 2009 by Jesse Lonergan
Looking back, this may be a little bit of an exaggeration. I did have some ideas of the kind of story I wanted to tell. I'd seen Turkmenistan mentioned in a number of books and I'd seen a number of news articles about the country, but because most Westerners can only get a two week visa to travel in Turkmenistan there were definite limits on what kinds of stories the authors could tell. I wanted to tell a story that could only be told by a person who had lived in the country. That was my starting point and everything else flowed from that.
And here is a detail of the inks for my cover.
I'm planning on flat colors, maybe only five or six. All the black lines will probably be a dark green, but I'm not sure yet. It'll take shape as I start working on it. For the title I'm thinking of having it in a bar of color across the top of the book (it would be something like the cover of one of those old Blue Note jazz albums)(only with a broader band for the title). And Terry is probably going to hate this but after reading the book one of my friends was so adamant that it should be called The Golden Age that he sent me a list of reasons justifying it. I was convinced. So Terry and I will be talking about that again.
---
April 2, 2009 by NBM
"The concise narrative incorporates diverse threads and is packed with details that will mesmerize readers—Lincoln's prophetic dream of his own death, John Wilkes Booth's careful and cold-blooded preparations, the identification of the perpetrator's body after his death by the initials he had carved into his right hand as a child. Geary also raises questions that still go unanswered, such as the fate of pages missing from Booth's journal. Filled with crystal-clear maps and realistic architectural renderings, the precise pen-and-ink drawings depict the events with drama and a chilling sense of realism. Readers will find this book impossible to put down and may just head to library shelves for more information (Gr 7 Up)."
So says Joy Fleishhacker of School Library Journal of our bringing back both editions of Geary's The Murder of Abraham Lincoln. (scroll down) on the occasion of Lincoln's 200th anniversary.
---
April 1, 2009 by NBM
In conjunction with 'Previews' from Diamond at your local comic bookstore, here's what's being solicited for June from NBM:
The main news is the next Rick Geary TREASURY OF XXth CENTURY MURDER:
FAMOUS PLAYERS
The Mysterious Death of William Desmond Taylor
Rick GEARY
It's the early days of Hollywood, movies are just starting to come of their own and gain in popularity. New Stars are made. The movies are still silent but their stars certainly are not, in the scandal sheets. Amidst this new boiling cauldron, William Desmond Taylor, a successful director at the 'upscale' Famous Players Studio is found shot in his home.. Could it have been the star Mary Miles Minter or a former butler? But then, what about that strange past Taylor had? Another delectable mystery as only Geary can tell 'em!
6×9, 80p., B&W, jacketed hardcover, $15.95,
ISBN 978-1-56163-555-9
And of course, don't forget the over ten other titles in this series (including the initial Treasury of Victorian Murder). Besides, Rick is a contributor to this blog and has posted some initial views of the art from this book but also of his next one!
New from Eurotica, the next Peanut Butter book, one of our best-selling series:
Peanut Butter presents:
THE CONFESSIONS OF SISTER JACQUELINE
Cornnell CLARKE
Remember Sister Jacqueline, headmistress of the high school Molly went to in volume 1? Well, then you might remember what an orgy she was forced into at the prom… and loving every minute of it. Now she must confess to her sins and face how she loves being taken vigorously, even if she has become pregnant! A shockingly arousing side-story to this best-selling series.
81/2x11, 48pp., full color trade pb., $10.95, ISBN 978-1-56163-558-0
There too, there's a whole series with three volumes already available to look for.
On PAPERCUTZ' side the main news, beside new volumes of the Hardy Boys and Nancy Drew, is the Tales from the Crypt will have an edgy spoof: Diary of a Stinky Dead Kid, go check it out!
---
April 1, 2009 by Naomi Nowak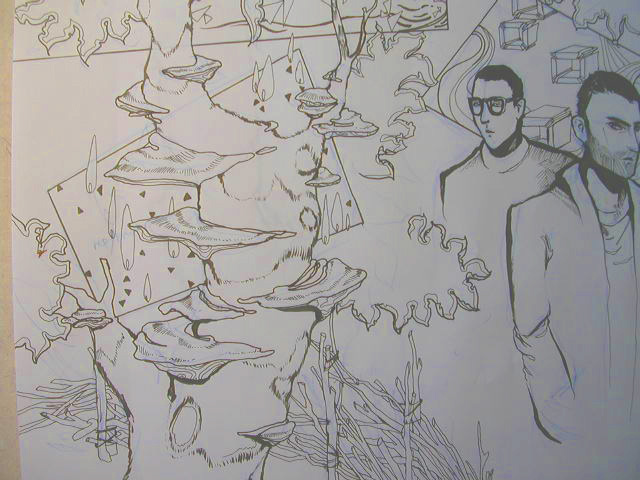 in regards to terry's comment on my latest entry … the last chapter of graylight seems to have a different type of mushroom on every page (here, featuring page 126 with tree shrooms). i didn't consciously make it so, but the two male leads are walking through a forest, and shrooms being one of my favourite elements of forests i guess it's natural.
i sat on the ground outside of the studio today, drawing. it's so sunny and bright my head hurts. that's how scandinavia is … we're all awake through the winter but with spring sun it's still as if hibernation is finally over and there's all this vigorous talk and experience of everything sensual. beauty.
---
March 31, 2009 by NBM
The Boston Globe on Sunday had a great roundup by Carlo Wolff of graphic novels and amongst the books reviewed, David B's Nocturnal Conspiracies:
"Teeming with animals, corrupt politicians, alluring women, his own malleable consciousness and other shape shifts, this scans like a dream."
And Miss Don't Touch Me:
"A more orthodox piquancy infuses Miss Don't Touch Me, a charming, Gallic twist on the murder mystery… and anything but prudish."
Some other GNs reviewed: The Beats by Harvey Pekar, Alan's War and The Photographer by Emmanuel Guibert.
---
March 30, 2009 by Terry
We're looking for someone with good experience with social networks to help us expand our presence there. We're presently on MySpace but need to be on Facebook and others with all this better interlinked. Like NBM's books? Good at this sort of thing where you can show what you've done in those spaces?
Then be in touch with me at tnantier at nbmpub.com.
Hope to hear from ya!
---