March 24, 2009 by Naomi Nowak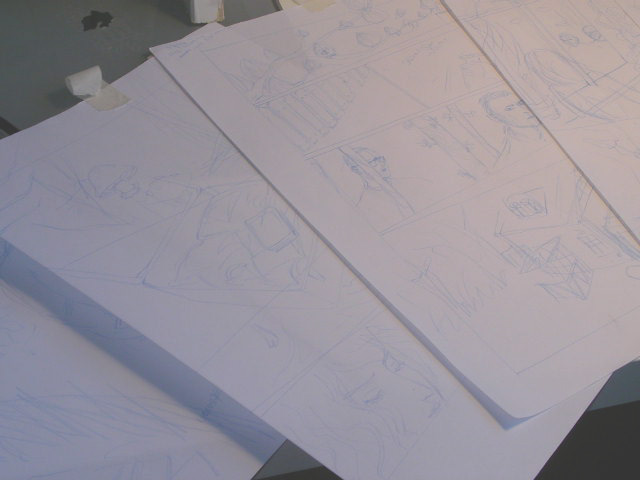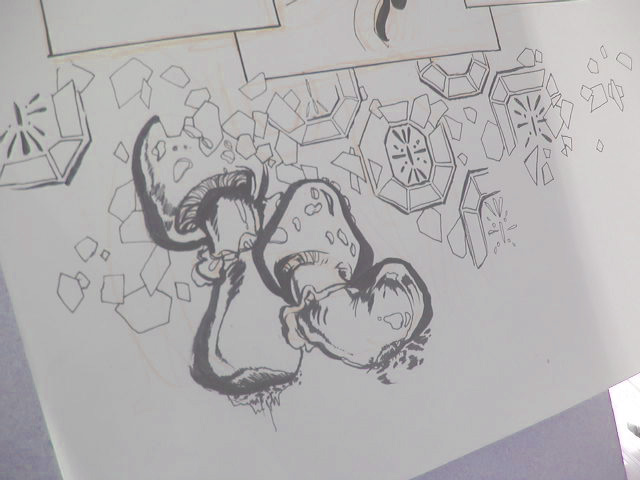 some snippets from chapter 10, the last chapter! crazy. i have a lot of edits and talking back and forth with terry to do and then the cover, so still a lot of work and i'll be doing full time at my day job for a while yet. saving up for paris and nyc… or maybe just for living like a free person again. there's always lots more progress photos, drawings, paintings and photos of me/my life over at my blog, just in case you wanna.
a question for everyone … your favourite graphic novels? here's one that's very dear to me(click it for some info):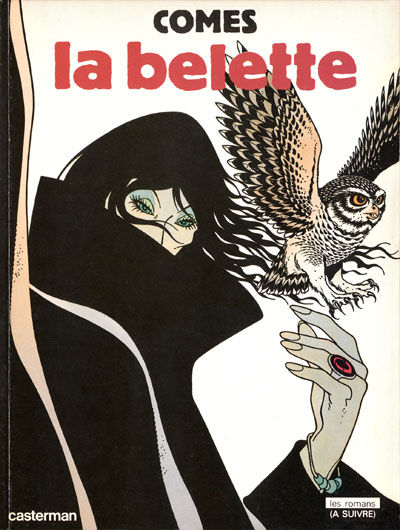 ---
March 23, 2009 by NBM
Trondheim appears determined to guarantee himself a place on everyone's Best Of lists on an annual basis. Everything about the strips, the humor, the coloring, the observations about our cultural standards, is warm and inviting. Trondheim's self-effacing wit remains strong. Little Nothings has become the most welcome, positive and anticipated book of the year. Trondheim's established himself as one of the world's great cartoonists, and this volume can only grow the legions of fans he'd earned around the world.
It's breezy, delightful, makes the heart glad, and has nothing much more on its mind than drinking in everything around it. Little Nothings is composed of small moments that can at times seem apropos of, well, nothing, but that build into a compelling, quietly humorous, and satisfying series of observations. Trondheim's brilliance as an artist is on full display, as he renders various settings in meticulous detail, retaining a fluidity largely created by an instinct for color choices that makes the art light yet grounded.
He's hilarious and a master at framing small moments into punchlines. his style, depicting characters as anthropomorphic animals, is enormously expressive & clever. Trondheim is a master of connecting micronarratives and simultaneously embuing them with a wide range of emotional possibilities. He's a born storyteller.
---
March 19, 2009 by Jesse Lonergan
I just got told that my drawings of myself make me look like a grizzly monk. Is that so? Grizzly?
Not too much news on the Turkmenistan book. At the moment a copy is USPSing its way to Terry in New York. I've been working on the cover which is coming out pretty well. Hopefully I'll at least have some finished pencils to post next week.
---
March 18, 2009 by Terry
We're shipping now the next installment of the main branch of Dungeon, one we hadn't published anything new in for a while. It has a new artist who does a great segue from Trondheim/Sfar's art. Generally now these 2 guys are so busy they're only writing the Dungeon books together and passing along the art to others.
Btw, Lewis will be in San Diego as a guest this year! Sumthin to look forward to.
You can order from us or look for it in stores soon!
---
March 13, 2009 by Naomi Nowak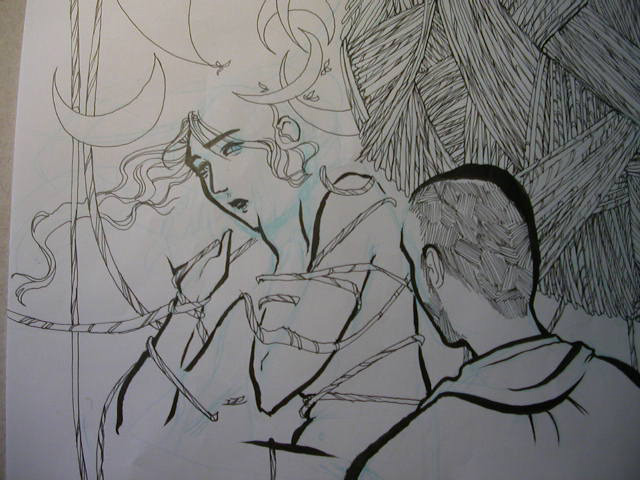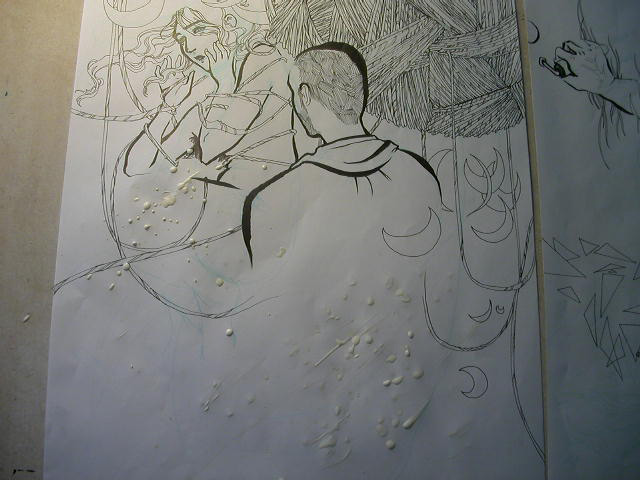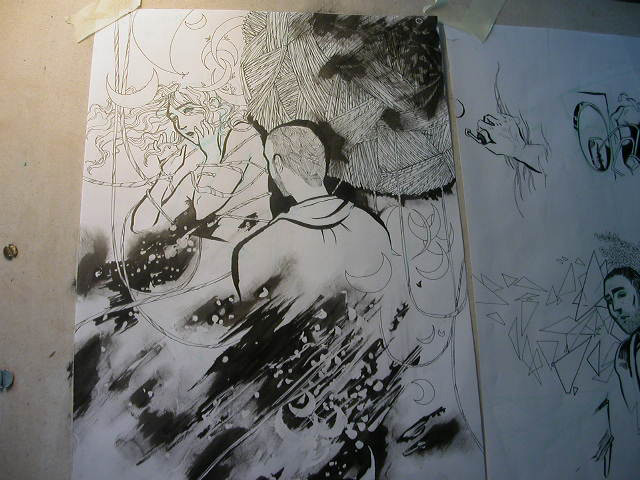 i'm finishing up chapter 9 right now, and it's the next-to-last part! just like jesse i badly want to say that i'm done even though i'm not. and just like him, i have a landmark birthday coming up – i'll be 25! i have no particular feelings about this, even after doing some soulsearching (is it the new 15?). unlike jesse i never had a problem talking to girls though ;P
i finally have an idea for the graylight cover, too – i was waiting and waiting for it to come and hoping i wouldn't have to force it, and it turns out i won't. i'm really looking forward to it. it's hard to juggle a full time job, comics, boyfriend, friends/family + trying to stay healthy and not forget food or exercise. i do really well most days, but for me a busy lifestyle almost inevitably leads to a small breakdown every once in a while. it's allowed to feel pathetic and then move on, right? i wonder sometimes if i take things too seriously. luckily i have everyone at the studio and we back each other up
---
March 12, 2009 by Jesse Lonergan
It's been kind of a busy week. I managed to get the bulk of the Turkmenistan book done (there is still the cover and some editing to do)(so maybe I shouldn't use the word done)(but I want to). I also managed to turn thirty, which someone told me is the new twenty. All I can say about that is I hope not. I don't remember twenty being any great shakes. In fact I seem to remember having to hunt down people to buy me beer and being extremely clueless around girls.
Now I can buy my own beer and I'm only moderately clueless around girls.
---
March 10, 2009 by Neil Kleid
Hey, all! Been working pretty hard to get THE BIG KAHN ready for the printer over here, but wanted to duck in and add to the chorus of working studio photos. Here are two quick snaps of my fairly cluttered drawing table… usually, I script on my laptop from any point around the studio, but when I sit to draw I'll bring it here:
Items of note:
• Promo poster for Ursa Minors!, the comedy-action-robot bear book I did for Slave Labor Graphics.
• Framed copy of X-Men Unlimited #14, the first Marvel work by yours truly
•  A check from Marvel (not for the aforementioned X-book
• A poster for the MoCCA  "Who Wants to be a Superhero" costume gala, signed by some of the "superheroes."
• A postcard invite for the Ninety Candles/Jigsaw book release party.
• Baby wipes. For my baby. Not for me.
• Long-arm stapler for cobbling minicomics and ashcans
---
March 10, 2009 by NBM
We need to sell off the few remaining copies of Will Eisner's series of charming adaptations he had done of various classics. All books remaining are discounted from 7.95/8.95 to $3.95 for paperbacks, $15.95 to $8 for hardcovers and even the signed and numbered editions, limited to only 300 are now at $19.95 instead of $50!!
Come and get 'em before they all fly out of our warehouse!
Also, don't forget to check out our sales where many other books of ours, as well as some from other publishers like Acme Novelty Library and the 9/11 report are on quite a sale as well!
---
March 10, 2009 by NBM
"Sibylline imbues each short with a clear and strongly realized emotional core. Most enjoyable, nearly every story paints sex as a positive, joyful experience. There's no shame or humiliation here, as nine of the women (unfortunately, not the doll) are willing partners in each act, and everyone comes out of their experiences richer for it.
A book like First Time doesn't compare to something like Alan Moore and Melinda Gebbie's Lost Girls. For one thing, the grandiose literary ambition isn't here, and in many ways, that's really a positive thing. Lost Girls was many things, but arousing wasn't really one of them. First Time focuses intently on the sexual experience rather than any literary parallels. It has a visceral quality that goes hand in hand with the emotional pleasure the women in each story experience, and that directness and bald humanity make it a much more stirring book.
It's frank, it's fun, it's a little messy and awkward; in short, First Time is a little like its subject matter. Apparently, comics are the vanguard of quality porn – which is cool, because honestly, porn never suffers in any economy."
So says Newsarama. Why, that's just what we thought ourselves!
To see First Time, go to Eurotica on our home page and then in Author Gallery to Sibylline. Sorry, can't link directly here due to adult content.
---
March 10, 2009 by NBM
Johanna Draper Carlson's ComicsWorthReading has just reviewed 4 of our recent books, besides Miss Don't Touch Me which she calls "thrilling escapism with naughty touches", Why I Killed Peter and First Time, she has this to say about Trondheim's latest Little Nothings:
"The work is gorgeous, due to the artist's skill, observations, and especially watercolors.
Material includes the goofy things Trondheim's bird-headed alter ego does on vacation, as well as simple observations about everyday life. I found them fresh and funny, showing me new ways to look at simple events. The different places around the world he visits are beautifully captured, putting me with him while rock climbing or scuba diving. "
---