March 11, 2014 by Jesse Lonergan
I listen to music while I'm drawing, and I'd like to think that the music that I listen to has some sort of effect on the lines that I put on the page. With All Star being set in the 90s, it seemed natural to have a 90s playlist for the occasion. What I found was that the songs that took me back the most were not the songs that I liked the most at the time. The songs that really brought me back were the songs that didn't make it out of the 90s. I loved Weezer's blue album in high school, but it's an album that I have listened to a great deal since then, and so it doesn't necessarily pull me back. But Deep Blue Something's Breakfast at Tiffany's takes me back, because I only heard it in high school and never again.
Here are some others:
Here in Your Bedroom – Goldfinger
Pepper – The Butthole Surfers
Closing Time – Semisonic (be careful: this song gets stuck in your head super easy)
Standing Outside a Broken Phone Booth with Money in My Hand – The Primitive Radio Gods
Lovefool – The Cardigans (my secret anthem)
Lump – The Presidents of the United States of America
The Freshman – The Verve Pipe (I hated this song and I can't say I care for it much now, but it takes me back to talking with friends about how much I hated it)
In the Meantime – Spacehog
No Rain – Blind Melon
These songs are the songs that take me back. I don't love them necessarily, but they lock me into a place and time. How much effect does this have on the lines that get put on the paper? I don't know, but I'm not sure if that Alanis Morrisette joke would have gotten in there without them.
---
March 10, 2014 by NBM
Here's what being solicited for in comics stores this month.
In our Louvre collection, which now hits the half dozen mark, two bits of news. One is superstar fantasy artist Enki Bilal is the next featured author and the other is we bring back  Glacial Period in full size as a handsome hardcover. Now that things have evolved in graphic novel publishing to the point where such a format works, we're taking advantage!
The Louvre Collection: Phantoms of the Louvre
Enki Bilal
Superstar European SF and Fantasy comics artist Enki Bilal revisits the Louvre in twenty-two portraits… He imagines 22 fates of men, women and children whose lives have been affected by a work of art. 22 portraits for 5000 years of creation. They haunt the halls of the Louvre … they are long dead, often violently … they are a Roman legionary, a muse, a painter, a German officer … Each, one day, met a painter or a sculptor and was their model … Bilal felt them, wandering the corridors of the Louvre, close to the work that tipped their life: Mona Lisa, the Victory of Samothrace, Christ reclining, an Egyptian mask …Bilal startlingly brings them back to life. Both a work of Fantasy and a masterful homage, this was presented in a special exhibition in the Louvre in early 2013. 9×11 ½", 144 pp., color POB, $29.99, 9781561638413
New bigger hardcover edition of the out of print paperback:
GLACIAL PERIOD
Nicolas De Crecy
With this graphic novel, for the first time in the US, ComicsLit brings over the latest enfant terrible of European comics, a mad genius, and for the first time, The Louvre museum is involved in a co-edition of a series of graphic novels, each a vision of this great museum by a different artist. De Crecy, at the sight of the incredible richness of the museum's collection was overwhelmed and felt small and ignorant. The result is a story set thousands of years hence in a glacial period where all human history has been forgotten and a small group of archeologists fall upon the Louvre, buried in age-old snow. They cannot begin to explain all the artifacts they see. What could they have meant? Their interpretations are nonsense, absurd, farcical.
"De Crecy is one of the brightest talents in French comics, not only because of the breadth of his whacked-out imagination and his penchant for absurd humour, but also for the detail of his beautifully coloured panels." -The Guardian
"Mischievous humor. A great find." -Library Journal
"A clever upending of the resilient myth that masterworks of art preserve the history and spirit of their era; the meaning of art, De Crecy suggests, belongs to the people who experience it." -Washington Post
8 ½ x11 , 80pp., color hardcover, $22.99, ISBN 9781561638550
See the other books in the Louvre collection:
---
March 8, 2014 by Margreet de Heer
It's International Women's Day and I'm working on my Super-feminine comic character Minnie, translating her early stories for an upcoming digital release later this year at Northwest Press.
---
March 5, 2014 by Margreet de Heer
A long time ago, following in the footsteps of my parents, I chose to study theology, and I even graduated – so it's only by a happy quirk of fate that I'm a comic artist now and not a minister in some faraway parish… Thank God!
Maybe somewhere, in a parallel universe, I DID become Reverend De Heer after all. I'm exploring the alternative life I could be leading in this comic I'm making for the Dutch Protestant Church Ministers Union Magazine:
(The "picturesque parish of Brokkenhoek" is a spoof on the actual village of Okkenbroek, where I grew up. The church and rectory as I draw them are exactly the same as the church my father was minister of and the house we lived in – only mirrored)
I'm actually quite enjoying drawing my parallel life.
Although, if I had become a minister, my title would probably rather be: "Irreverend De Heer".
---
March 5, 2014 by Jesse Lonergan
As a bit of research for my very very soon-to-be-released book, All Star, which is set in the late 1990s (my high school years), I revisited some of my yearbooks from high school. Sadly my senior yearbook has disappeared. I believe it was taken when someone broke into the storage facility where it was kept. I imagine they were somewhat disappointed with their haul.
Anyway, that's me, sophomore year, 1995. Yes, it's a denim shirt. With a tie. An Incredible Hulk tie.
And remember: If you love something, set it free. If it comes back, it's yours. If it doesn't, it was never meant to be. Also, Don't ever change… YOUR UNDERWEAR! And hang on to sixteen as long as you can, changes come around real soon, make us women and men.
---
March 3, 2014 by Eric Hobbs
So this is a question I get a lot: why would anyone set a crime thriller in Alaska? Of all places, right? Well, there are a couple reasons…
The first is easy: I used to live there. Just as The Broadcast takes place in my backyard of Indiana, Family Ties takes place in a locale I know  well. I spent most of high school and my first year of college in a small town just outside of Anchorage. Just like Indiana, Alaska played a huge part in my life and is still the place I think of as "home." There's an old saying that authors should "write what they know." Well, other than worlds of my own creation, I've never known a setting better than the two used in these first books with NBM.
Beyond that, Alaska is a great location for any story. But it's particularly good for crime. Sound crazy? Well, stay with me. You see, the sixties in Alaska were a wild time. The closest thing to the Wild West since… well… since the Wild West. The oil boom brought people to Alaska in droves. They were promised a good living, and that's exactly what a lot of them got. The city's population exploded with hardworking men and women who suddenly had money to spend. But here's the rub —  unless you're an avid outdoorsman, there isn't a lot to do in Alaska, especially come winter. Luckily, criminals were there fill the void. Gambling, prostitution, drugs — they were all prevalent in those boom years. In fact, there's a great non-fiction book called Johnny's Girl by Kim Rich that details the Anchorage underworld in the 1960s that I can't recommend enough.
Now, Family Ties doesn't take place in the 60s. Instead, it's about a man who prospered in those years but struggles to find his way now that he's behind the times and "Alaska went and got herself civilized." But that doesn't mean the location doesn't play a vital role. In most good crime stories, the location becomes a character itself. Think about The Sopranos? Can you imagine that story unfolding anywhere but Jersey? What about the great crime movies Ben Affleck has directed over the last few years? Do any of those work outside of Boston? When you watch a movie like Untouchables you actually feel like you're living in Chicago for those two hours. Hopefully, that's what will happen as you read Family Ties. Hopefully you'll put the book down and feel like Family Ties couldn't have taken place anywhere else. Hopefully you'll feel like you've been there…
*******
About the book:
Family Ties: An Alaskan Crime Drama
By Eric Hobbs and Noel Tuazon
Hoping to secure a future for his children, an aging Alaskan crime boss looks to retire and divide his empire amongst his three heirs. But when his idealistic son refuses the inheritance, the old man disowns him. This turns out to be a fatal mistake when he sees his cold-blooded daughters use their new-found power and influence against him. Inspired by the classic play KING LEAR, THE GODFATHER meets Shakespearean tragedy in this epic tale of betrayal and loss.
---
February 25, 2014 by Jesse Lonergan
Process. Wouldn't it be nice if you could find some quick and easy explanation for how to do anything? Something as easy as ABC or 123 or do re mi. How do you make friends? Follow this easy process. How do you get someone who doesn't even know you exist to be attracted to you? All the answers are here in this simple pamphlet. How does one face the prospect of death with dignity? Just follow these simple instructions.
I've never been much of one for instructions. And when it comes to my creative process, I have very little to say about it. I think the only thing that I can say that I truly believe in is that you have to sit down every day and do a little bit of work.
Everything else I prefer to remain a bit of mystery.
That being said. There were a few key stages in All Star, and I'll show one sequence in each of these stages.
There is the idea phase, which with All Star began sometime around 2003 or 2004. That's when I first had the idea for the book that would become All Star.
Then there was an outline, which was written sometime in 2010 (the part circled in red is our sequence).
After the outline, I drew a rough draft version of the book. This was probably the fastest part of All Star and was done mostly in 2011.
From sometime in late 2011 until late 2013 I was drawing the finished pages of All Star.
And then sometime last year.
---
February 23, 2014 by Margreet de Heer
Today it is 87 years ago that German physicist Werner Heisenberg wrote a letter to fellow scientist Wolfgang Pauli describing his Uncertainty Principle – the principle in Quantum Theory that you can measure an electron's position or its speed, but not at the same time: one of these, position or speed, will necessarily remain uncertain. In my book Science: a Discovery in Comics I included it like this:
Heisenberg's Uncertainty Principle has spawned many jokes in theoretic physicists – maybe you've seen Sheldon referencing it on the Big Bang Theory! Here are a few good ones:
A quantum physicist is stopped on the highway by a police officer who asks "Do you know how fast you were going, sir?", to which the physicist responds, "No, but I know exactly where I am!".

Have you heard of the Heisenbergmobile? It was a big flop. As soon as you looked at the speedometer, you got lost.

Why are quantum physicists a disaster in bed? They either have the position, but can't find the momentum – or they have the momentum, but can't find the position!
Cartoonist Aaron Diaz made this brilliant cartoon in 2005, commenting on Heisenberg's relationship with the nazi-scientists:
Heisenberg's Uncertainty Principle caused the famous though experiment of Schrödinger's Cat – the cat in a box with radioactive poison who lives in exactly such an Uncertainty State. In 1997, when I was working on my thesis on Religion and Science, I drew this:
Unfortunately, the comic never got continued. Although you can never be certain if it won't be, some day in the future…
---
February 15, 2014 by Stefan Blitz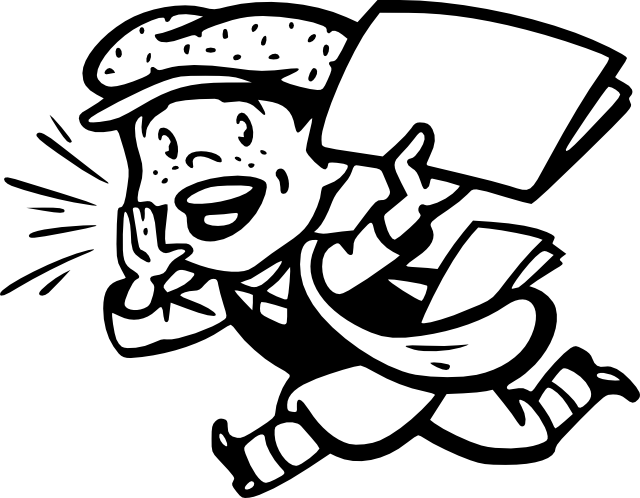 ---
February 14, 2014 by Margreet de Heer
It's Valentine's Day! I went through my archive and looked up a few comics I made over the years with a Valentine theme. These two appeared in H/Link, student magazine of the Haagse Hogeschool, in 2012 and 2013:
A year later, they were a couple:
---