August 30, 2012 by NBM
Two more up this week at Comixology:
Our brand new Philosophy, a Discovery in Comics which is getting raves everywhere now…
And Rick Geary's very first volume of the Treasury of Victorian Murder.
All our books up with Comixology have 10 page free previews! And a couple of those have been added this week: for Kinky & Cosy and for Stan Mack's Taxes, The Tea Party and Those Revolting Rebels.
---
August 29, 2012 by stan mack
Have you noticed how politicians today are always telling us what The American People want, care about, believe in? (It's curious that Republicans and Democrats often hear opposing beliefs from the very same American People, but that's probably just a glitch in the satellite transmission.)
They make it sound like The American People are needy pod people who require politicians to both speak for them and to know what's best for them.
Really, does that description match the people you know? Maybe The American People, as defined by our politicians, are a convenient fiction. And maybe the pols' hot air has lulled real American People into forgetting who they are.
Have a look in my book and meet the (future) real Americans. Here they are arriving on these shores in the 1700s.
Even after the difficult crossing (slimy water and half a rat for dinner), don't they seem more like the people you're familiar with than the cardboard cutouts described by politicians?
If we zoom in to get a closer look at these new Americans, we discover that they, like us, are mainly governed by self-interest. About the only time most people think about national issues is when it becomes personal.
During the Revolutionary War, George Washington had to convince Americans to set aside their personal prejudices and march together. And they did. The American People united in common cause against bad King George.
They held on to their ideals, and won their independence against the most powerful country in the world. Then they made sure the Founding Fathers guaranteed them the liberties they'd fought for.
So a reassuring picture emerges. At a critical moment, The American People stood up for what was right, protected each other's backs, and fought for real change.
If the American Revolution is any  guide, once The American People realize they are being used by their so-called leaders, they will set aside their differences, join together, and toss the bums out. Our politicians should keep the following picture in mind.
end.
---
August 24, 2012 by Steve Weiner
Since 2002, comic book related movies have come out on an average of one every 2 months for 10 years.    Hollywood has always had some interest in adapting comics for the big screen. In the 1970s, the comics' field & the movie studios borrowed heavily from each other.  Star Wars: A New Hope hit the big screen in 1977, and spawned several comic book spin-offs, the most visible one being the Marvel version which ran from 1977-1986.  The reverse also happened, a short-lived live action Spider-Man TV series hit the small screen in the late 70s, but the audience wasn't really ready for it.  The Incredible Hulk, starring Bill Bixby, was more successful, running from 1978-1982.
But the strongest Hollywood statement in support of comics in the 1970s was the feature film franchise Superman, starring Christopher Reeves. Beginning in 1978, the Superman franchise ran 4 films, and was witty and sophisticated, a new hope for fans of superheroes.    In order to reach mainstream audiences, each Hollywood vehicle had to present these characters in a more mainstream light in order to bring in larger audiences. The trend that continued in the Batman movies of the 1980s and 1990s, turned into infatuation with the movie Spider-Man in 2002.  Hollywood gave the comics industry a boost and it raised the visibility of comics, but it did very little to increase the credibility of serious graphic novels, although movie versions of graphic novels such as American Splendor & Ghost World were made.  Although movies like these were well received, mainstream audiences weren't necessarily aware that these movies were originally graphic novels.
To learn more about the history of graphic novels, read my book, Faster than a Speeding Bullet: the Rise of the graphic novel, being solicited now
---
August 24, 2012 by Margreet de Heer
There was no festive presentation for 'Philosophy: a Discovery in Comics' – but the launch of the original 'Filosofie in Beeld' in March 2010 made more than up for that. It still reverberates – so here are some impressions:
The book presentation was held at my favorite haunt: comics store Lambiek in Amsterdam – the place where I worked for five years and which still feels like home to me. The symbolic "first copy" was given to a representative of Philosophy in the person of "philosophy babe" Stine Jensen who is famous for her wonderful accessible books and TV programs on all kinds of philosophical subjects.
There were four speakers: first, Klaas Knol of Lambiek opened the festivities and handed the book to the publisher, Kees Korenhof of publishing house Meinema. This is extra poignant to remember, since he unexpectedly died last week, 63 years old. He was a gentle, humoristic, professional man. He was the kind of publisher who would approach writers and suggest a book for them to write – instead of waiting behind his desk for manuscripts to come in. He really knew how to get the best out of people, and it is thanks to him that I became a published author – the first comic artist ever to be published at Meinema, which is mainly a publishing house for philosophical and theological texts.
Kees Korenhof reminisced about meeting Yiri and me for the first time in Café Luxembourg, a luxurious establishment in the center of Amsterdam, which I had suggested as a bit of a bold statement: many famous writers meet there with publishers and journalists, so it was a bit pretentious of me – but I think he saw the humor in that. He also shared memories of my grandfather, who had published theological works at Meinema in the eighties, and who he had met then. My grandfather has been dead since 1995, so I found it quite touching that Kees "united the generations" in this way. I often regret not being able to show my grandfather my work and imagine he would have liked it.
Kees Korenhof passed the book to me. I don't remember what I said exactly, I hope it was brief and something like: I will now pass on this book to Stine Jensen. Oh, I thanked some people, especially Martijn Meijer who had given feedback throughout the project – and Yiri, who was tucked away in the corner and got well-deserved applause when I stressed how I couldn't have done this without him. Not just for the coloring, but also for the immense moral and physical support he continues to give me.
And THEN I gave the book to Stine Jensen and she said a lot of nice things – not just about the book, but also about how her and me could have been twin sisters in many ways: both from 1972, both into philosophy, both connections with the same cities. She was really warm and generous and made me blush.
And then there was beer, and merry-making.
Last week, I went to Lambiek to check if the english 'Philosophy' had arrived yet. What a contrast with 2010!
"Yeah, yeah, your book is in – here it is – now buzz off – we're working!"
(Just kidding, kind Lambiek guys! Although the fact that they are working hard is no joke: recently, finally, comics store Lambiek opened its online store full of great comics, original artwork and rare and special comic-related stuff. Go take a look! The site is almost as exciting and quirky as the real store!)
---
August 23, 2012 by Stefan Blitz
---
August 22, 2012 by NBM
Volume 5, the latest one, was just added today to NBM's catalog on Comixology, get it here, and see the free preview. Volumes 1 and 4 are also available.
Comixology's catalog of NBM graphic novels has been growing quite handsomely, check it out!
Recently added too: Stan Mack's GN on the American Revolution. The hardcover is $15, the e-book only $9.99.
---
August 21, 2012 by Margreet de Heer
Curious about the book but don't want to spend 17 bucks on it?
Now you have a chance of winning a free SIGNED COPY! All you have to do is enter the GiveAway on Goodreads.com. Which is a nice site to be on anyway when you're a book lover, so it's win-win no matter what.
Just click this picture to enter:
---
August 19, 2012 by Margreet de Heer
'Philosophy: a Discovery in Comics' is out! This calls for a Big Wave of Promotion! And the fun thing is, I can do it from the comfort of my own bed. Which is a very aristocratic thing to do, I recently learned – kings and queens used to conduct all their affairs, including receiving important guests, from their bed. So there – I'm not lazy, I'm royal.
The book has its own Facebook page you can like to keep informed about mentions, reviews and blog updates.
I am on Twitter now, delivering random tweets about all kinds of subjects.
I signed up on GoodReads.com, where I have an Author Profile – you can check out my other books, see which books I read and join me in discussion groups. At some point, there will be a GiveAway, where you can win a signed copy of the book!
I'm also working on an Amazon Author Page, where I can monitor the (hopefully) worldwide sales.
And then there's always my own Facebook page, where you can befriend me and laugh at some of my Dutch status updates (about half of them are in Dutch, the others are in English).
—
Confused yet? Want to be my fan but don't know where to start? Well, you're on the right way by reading this blog, because this is where I'll post the most important stuff. If you want to be a little more intimate, I'd recommend joining me on Facebook - I do post some doodles & jokes there that don't end up in the blog. And if you're already on GoodReads, I'd really like to connect there too, because I'm still exploring it.
And – I almost forgot – the purpose of all this promotion: BUY THE BOOK! You won't regret it! It's fun and informative!
What book, you ask…? Well: this book – here's a link to the information page on my website, margreetdeheer.com.
---
August 17, 2012 by Steve Weiner
As far back as the 1940s, trade publishers experienced success publishing graphic novel like books, collections of newspaper comics, and early book length comic stories by recognized children's book author-illustrators Crockett Johnson and Don Freeman. Pogo collections by Walt Kelly published in the 1950s and early 1960s paved the way for the book length graphic novel, Prehysterical Pogo (in Pandemonia) released in 1967. The Tintin books started appearing in the U.S. under the Little Brown imprint as early as 1962, so it's clear that trade publishers had no problem with book length comic stories that they found acceptable. Trade houses were not comfortable with the type of comic stories that had come under attack in the 1950s—horror and crime comics as well as superhero comics, although sales of these types of books were lucrative.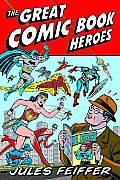 This began to change with the publication of Jules Feiffer's The Great Comic Book Heroes, in 1965. Feiffer's book extolled the value of superhero comic books and examined them as symbols of childhood innocence as opposed to childhood contamination. The book included early stories of heroes that Feiffer admired and it sent out a signal: the comic book people were ready to fight back against the charges of Dr. Wertham, and by publishing with a trade house, Feiffer's book gained respectability. In 1979, Feiffer published his own graphic novel, Tantrum, about a couple going through a mid life crisis. Tantrum was released by a trade house. In a period of 15 years, Feiffer had argued that comics were good for children and then created a graphic novel that could interest adults.
To learn more about the history of the graphic novel, try my book, Faster than a Speeding Bullet: the Rise of the Graphic Novel, being solicited now.
---
August 16, 2012 by NBM
You can find at your better comics bookstore this week two of our books just in:
Rick Geary's latest "Lovers' Lane"
and "Philosophy: a Discovery in Comics" by Margreet de Heer who's been holding a wonderful blog here.
Check 'em out at your comics shop and if they  don't have them, they can order easily from Diamond.
General bookstores will have Geary's book by now as well, the philosophy book and Stan Mack's fun look at the American Revolution next month.
---