June 29, 2013 by Margreet de Heer
I'm experimenting with animating bits of my comic books. This is a movie I made of the anecdote of Socrates and the Three Sieves, as drawn in Philosophy: a Discovery in Comics – click on the picture to see it move on YouTube:
---
June 23, 2013 by Dara Naraghi
When creating and writing Persia Blues, I drew from a lot of sources, including my own memories of growing up in Iran, pre and post revolution. I also incorporated bits and pieces from my parents' experiences, stories told by family members and friends, and my 2 visits back to Iran as an adult. The first of those was in the summer of 2000, and unfortunately the pictures I took were of the old school variety, i.e. not digital. One day I'd like to scan them all in and be able to share them more easily.
But on my second trip I had a digital camera, and although we spent all of our time in Tehran, and not some of the locations depicted in the book (Shiraz, Persepolis, etc.) I thought it might be fun to share some of those pics. Think of these as references, inspiration, or supplementary material used by Brent and I during the creation of the book.
Here's a shot of north Tehran, nestled at the base of the Alborz mountain range. This isn't a setting used in the book, but I just wanted to share this pic of where I grew up as a kid. Of course, when I was living there, most of those high rises didn't exist:
This is a small bazaar in north Tehran. The one depicted in the book is the much larger, historical Vakil Bazaar In Shiraz, but you get the idea. By the way, the stylishly dressed woman in the foreground is my mom:
There's a scene at the beginning of the book that shows Minoo navigating her way expertly around the challenging act of driving in Iran. This picture shows what's considered light traffic in Tehran. And this is in the suburbs, not the heart of downtown:
There's another scene at the beginning of the book where Minoo gets into an altercation with the Morality Police. Here's one of their vans:
I was admonished by the "officers" who, unbeknownst to me, were standing behind me when I took this shot. They said I shouldn't be taking pictures of state vehicles. I played the dumb tourist role and apologized, saying I was taking a picture of the public art sculpture in front of their car.
Next: pics from the Museum of Fine Arts, depicting some of the historical elements used in the book.
---
June 22, 2013 by Margreet de Heer
Last week I visited the island of Terschelling, where the annual Oerol festival took place, full of art, theater and music. The festival turns the whole island into a stage, or canvas – and it invited me to draw these pictures on the beach:
Then I was joined by a couple of kids, who made these amazing creatures:
Our gracious host Mathilde de Graaff photographs a Yiri of sand:
---
June 19, 2013 by Terry
Kim and I were friends. I can say that proudly. His passing is a complete shock and so sudden, I am flabbergasted.
Way too young.
He could have given the comics world so much more.
We had somewhat similar roots, growing up in Europe and especially with French comics. We compared notes frequently on those, Gil Jourdan a good example. Like him, I was breathlessly reading that series as a kid, emulating it in early comics writing I would do, making sure to meet author Maurice Tillieux at every occasion, my signed 'albums' remaining a proud piece of my collection. Like him, I was a huge fan of Spirou and developed an early almost encyclopedic knowledge of its history.
I told him he was crazy to even try to publish those here. I mean, they're just so French, really.
For a few years, we shared booths in Frankfurt and we would hang out. One could see quickly he was an unusually intelligent and grounded person. He may not have necessarily been the most warm and approachable but, as for Gary Groth, you could not but respect the breadth of his knowledge, the good sense he applied in co-running Fantagraphics.
Gary, you two were a remarkable pair and you two led your publishing co. to amazing heights of cultural significance and influence.
---
June 17, 2013 by Stefan Blitz
NBM PUBLISHING ANNOUNCES RELEASE SCHEDULE FOR 2013
Includes New Books From Rick Geary, Renaud Dillies, Margreet de Heer and
Final Volume of Groundbreaking Underground Classic, OMAHA THE CAT DANCER

NBM Publishing has announced their upcoming publishing schedule for releases for the remainder of 2013, continuing their tradition to showcase some of the most diverse and acclaimed independent graphic novels from North America and Europe.
JULY
The Complete OMAHA THE CAT DANCER, Vol. 8
By Reed Waller, Kate Worley & James Vance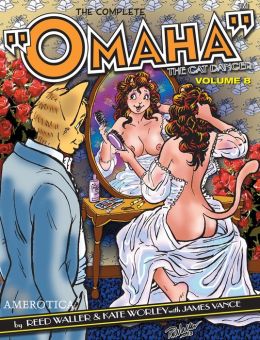 Omaha and Chuck struggle to put the tangled past behind them while political corruption and a tightening police investigation threaten to destroy their future and ensnare their loved ones. This volume contains the long-awaited conclusion to the internationally acclaimed sexy soap opera for adults, in which mysteries are solved, painful sacrifices are made and the lovely cat dancer takes a final turn on the stage. All-new and never before collected, Volume 8 was drawn by legendary Omaha creator Reed Waller and written by his beloved late co-creator Kate Worley, in collaboration with James Vance.
8 ½ x11, 160pp., B&W Trade pb., $15.99, ISBN 9781561637546
AUGUST (Shipping To Direct Market in June)
ZOMBILLENIUM
Vol.1: Gretchen
By Arthur de Pins
Francis von Bloodt, vampire, a good family man, manages the theme park Zombillenium. They don't just hire anyone, at Zombillenium: mere mortals need not apply, the park works only with genuine werewolves, vampires and zombies. This is what Aurelian gets to discover as, burnt out, deceived by his wife, he finally gets hired in spite of himself in this strange business. Gretchen, a plucky trainee witch, helps him get around…
9×12, 48 pp., full color hardcover, $14.99, ISBN 9781561637348
SEPTEMBER (Shipping To Direct Market in July)

SCIENCE – A Discovery in Comics
By Margreet de Heer
Science: dull or hard to understand? Not if you read this book! The creators of Philosophy – a Discovery in Comics take on a new challenge, and explain the different scientific disciplines in clear, colorful chapters.
Who exclaimed "Eureka" and why?
Why did Galileo get into a fight with the Church?
What happens when you have your DNA tested?
All these questions and more are answered in a chronological journey from ancient times to modern Quantum Theory, with creators Margreet and Yiri as your witty guides.
A great comic book for anyone who wants to learn in a fun way the bigger framework of science, or brush up on what they learned in school.
8×8, 192pp., full color hardcover, $19.99, ISBN 9781561637508

OCTOBER (Shipping To Direct Market in August)
P. Craig Russell's Opera Adaptations Hardcover set
By P. Craig Russell
The great P. Craig Russell (Sandman, Coraline) adapts in stunning comic art The Magic Flute, Parsifal, I Pagliacci, Pelleas & Melisande, and Salome amongst others. A banded set of 3 beautiful volumes at a special price. Normally $75.
8x 11 1/2, 440pp. full color set of 3 jacketed hardcovers, $59.99 9781561637553
NOVEMBER (Shipping To Direct Market in September)
BETTY BLUES

By Renaud Dillies

By the author the Eisner-nominated Bubbles & Gondola and Abelard! Little Rice Duck has built himself quite the reputation around the West Wood, playing his trumpet in bars with their smoky, sweaty ambiance, tequila sunrises, and jazz. But between his trumpet and his flame Betty, things are going astray. Betty is drowning her need of him in expensive champagne, something someone else is more than happy to provide… something he'd much prefer, like her, would just stay chilled.

8 ½ x 11, 80pp., full color HC, $18.99, ISBN 9781561637584
DECEMBER (Shipping To Direct Market in October)
A Treasury of XXth Century Murder:
MADISON SQUARE TRAGEDY – The Murder of Stanford Whitey
By Rick Geary
Stanford White is one of New York's most famous architects having designed many mansions and the first Madison Square Garden. His influence on New York's look at the turn of the century was pervasive. As he became popular and in demand, he also became quite self-indulgent. He had a taste for budding young showgirls on Broadway, even setting up a private apartment to entertain them in, including a room with… a red velvet swing. When he meets Evelyn Nesbit, an exquisite young nymph, cover girl, showgirl, inspiration for Charles Dana Gibson's "The Eternal Question" and for the later movie "The Girl in the Red Velvet Swing," he knows he's on to something special. However, Evelyn eventually marries a young Pittsburgh decadent heir with a dark side who develops a deep hatred for White and what he may or may not have done to her, setting up the most scandalous murder of the time.
6×9, 80pp, B&W clothbound, $15.99; ISBN 9781561637621
JANUARY (Shipping To Direct Market in November)
The Fairy Tales of Oscar Wilde Vol. 2: The Young King and The Remarkable Rocket
By P. Craig Russell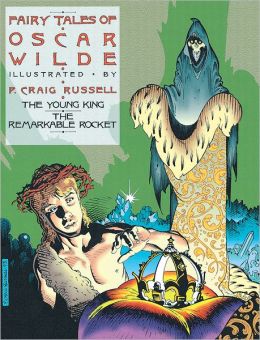 First time in paperback! One of comic art's most respected and pioneering artists, well known for his opera adaptations and beautiful fantasy work, P. Craig Russell is in the process of adapting Oscar Wilde's famous fairy tales in a series of landmark volumes.
In the Remarkable Rocket, a vain little rocket figures itself above all others and still manages to see glory in its dismal end.
The Young King, taken from humble origins, revels in the finer possession of his new lofty position. However, a series of dreams reveal to him the suffering his people must go through to make them for him. Casting them off, he finds paradoxically that he may be alienating the very people he wants to help.
6×9, 8 ½ x11, 48 pp., full color, trade pb., $9.99, ISBN 978-1-56163-771-3
FEBRUARY (Shipping To Direct Market in December)
The Fairy Tales of Oscar Wilde, Vol. 3: The Birthday of the Infanta
By P. Craig Russell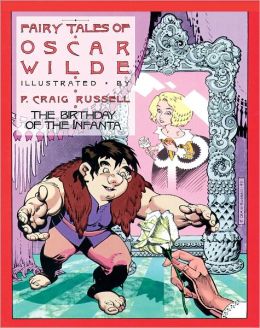 First time in paperback! One of comic art's most respected and pioneering artists, well known for his opera adaptations and beautiful fantasy work, P. Craig Russell is in the process of adapting Oscar Wilde's famous fairy tales in a series of landmark volumes.
A hideous dwarf is captured in the woods and brought in to the court of the beautiful royal infanta for her amusement. He is full of good humor and tricks and becomes quite popular but remains quite unaware of his looks. She has him perform in front of her friends for her birthday. He is very touched and quite proud to receive such attention, until he sees himself in the mirror and realizes their entertainment may be at his expense.
8 ½ x11, 32 pp., full color, trade pb., $8.99, ISBN 978-1-56163-775-1
---
June 12, 2013 by NBM
Here's what we've got being solicited for in comics stores this month, make sure to put in your order!
P. Craig Russell's Opera Adaptations Hardcover set
The great P. Craig Russell (Sandman, Coraline) adapts in stunning comic art The Magic Flute, Parsifal, I Pagliacci, Pelleas & Melisande, and Salome amongst others. A banded set of 3 beautiful volumes at a special price. Normally $75.
8x 11 1/2, 440pp. full color set of 3 jacketed hardcovers, $59.99 9781561637553
AND FROM EUROTICA:
after Omaha, it's Kevin Taylor's turn to finish his Girl Second Coming saga!
GIRL Second Coming, vol.4
Kevin Taylor
In the long awaited final volume of GIRL-The Second Coming, Jaleira discovers that, after infecting her mother and sister, Kasmir is more than she thought he was. In order to save her family, she gets help from her old friends, Daemon and Starr, and travels back to another dimension where she must enlist the aid of a legend. However, she gets some unexpected help and learns what could have been.
8 ½ x11, 52pp., full color trade pb., $11.99, ISBN 9781561637560
Now, volumes 1 and 2 of this saga have been sold out for some time, know that we are reprinting those and will be back in stock by August on these as well!
Go to Eurotica to see more on this.
---
June 8, 2013 by Margreet de Heer
Curious about the upcoming comic book Science: a Discovery in Comics? I made a Facebook page where you can follow its publication, reviews etc. Just click on the picture and then "like" the page.
If you're on GoodReads, you will find a page for the book there as well. When the publication date approaches, I will certainly start a GiveAway there, where you can win signed copies of the book (there's actually one going on now for the Dutch version, ending 19 June). Stars and reviews are highly appreciated!
---
June 3, 2013 by Margreet de Heer
How do you structure a comic book that supposedly covers *all* of Science? Where do you start, and what line do you choose to make it into somewhat of a coherent narrative?
For Philosophy: a Discovery in Comics I chose the historical approach, and that's what I've done for Science: a Discovery in Comics as well. Looking at things in their historic context makes it easier to see connections and understand how science, philosophy, politics, art and economics are all interconnected.
That said, taking this approach for Science still makes for a bit of a roller coaster ride – skipping ahead, rolling around, looping back, lingering at certain topics. Here's the content page, so you see what a long and eclectic journey this book promises to be (in 192 pages!):
Yes, it's a lot – but don't be daunted by the amount of topics, for me and my husband will guide you through:
This way, we hope to provide many opportunities to catch your breath, have a giggle or even a small insight. It's a book you can easily read in smaller installments, or pick up every now and then to read up on a specific topic.
The book will be in stores in September, if you're a shop you can order them now from NBM. If you're not a shop, you can also pre-order at NBM, or at Amazon.
---
May 28, 2013 by Stefan Blitz
Faster Than A Speeding Bullet: The Rise of the Graphic Novel

This book should be in the library of every comic book fan. It provides an excellent history, hitting the high (and view-changing) points. This book will help you speak knowledgably on the subject. Even if you're not an avid comics fan and /or only like a small segment of things under the umbrella of "comics," this history is interesting and insightful.
Lover's Lane: The Hall-Mills Mystery
The book delves into the case and examines all the potential suspects, reading like a police procedural…Don't be put off by this low-key presentation. The events, motives and individuals will leave you trying to solve this mystery.
More like a poem than a story…An Enchantment is an ambitious work and one worth checking out. It's romantic, affecting, charming, fun, and utterly beautiful.

Durieux makes the Louvre a fantasy world, where anyone can be anyone else, and the artwork helps with the whimsical tone he's going for – despite the old man's age and fears, the book never becomes too dreary…It's a charming comic, though, one that gets under your skin more than you might expect, and it's a nice story of two people searching for something new. Whether they find it or not is for you to discover.

– Good Comics Blog at Comic Book Resources

An Enchantment delivers exactly what it promises in a sepia-toned dreamscape exploring the world of the Louvre. Worth a few reads to really absorb the entire work.
This was a very entertaining book, maybe my favourite of the series. It does a great job of evoking the era, outlining the issues involved and keeping it all a good read as well, and Geary's art has been consistently excellent for decades.
It's a great story of two people who willingly decided to venture outside of their comfort zones and find out more about something they knew little about–and as a result, found more in common with each other than they thought possible. It's an examination of how we are when we love something we're dedicated to, and it's engrossing in a way that invites you to just sit, relax, and take it all in after an exhausting day.
---
May 25, 2013 by Margreet de Heer
In February, I blogged about the project 'A Calendar of Tales' that writer Neil Gaiman had started in cooperation with the whole wide world – he wrote 12 short stories prompted by tweets on Twitter, and invited everyone to illustrate them.
I spent an enjoyable fortnight making one illustration a day, one for each tale. It was very inspiring and energizing, and made me think outside my own box. The result was 12 drawings that I have posted on my website, together with the stories by Neil and art by others that I liked.
The project was not a contest per se, more an invitation to create. Even so, I was incredibly gratified to have four of my illustrations shortlisted, and one of them even made it as a "runner-up"! It is featured on the official A Calendar Of Tales website, which launched last week and is a beautiful scrolling experience, so check it out.
Accompanying the month of July, you'll find my drawing:
Philosophical question: since it is all made of words, can it still be called a drawing…? Food for thought.
---