January 12, 2010 by NBM
On Greg Houston's Vatican Hustle:
"The first comic in a long time to make me laugh in public. If you do not enjoy the non sequiturs of Family Guy, you will want to avoid this book. Everyone else is in for a treat of the lowbrow type. Vatican Hustle is one of those comics that you find yourself quoting amongst friends. The plot is so offensive that it quickly turns the corner and becomes funny once again. I highly recommend it. Grade: 9/10″
---
January 11, 2010 by Neil Kleid
Here's a fun essay I wrote for Graphic NYC about the movie ONCE UPON A TIME IN AMERICA and how it influenced my book, BROWNSVILLE.
"Brownsville, the graphic novel I created for NBM Publishing with Jake Allen, counts influences from mafia films and novels, history and transcripts, and comic book creators ranging from Will Eisner and Jack Kirby to Alan Moore and Harvey Pekar. But Leone's epic tale of friends, love, crime and time gets pride of place as the second great influence and inspiration behind the book, sharing the spot with Cohen's book."
Have a read and immerse yourself in one of the finest mob films ever made.
---
January 8, 2010 by NBM
Joe & Azat in the Smithsonian?
Indeed, a nice review of Jesse Lonergan's Joe & Azat at the Smithsonian site:
"Joe's best guide is local Azat, "the computer expert at the education department" – never mind that the entire department has but one computer. Azat, "the greatest dreamer [Joe] ever met" is also his best friend in Turkmenistan. Azat makes sure Joe gets his stolen passport back, tastes the best cooking (including his mother's manty), meets a few of the local girls (at least one of whom Joe should marry), and enjoys every wedding with or without an invitation. In return, Joe puts up with Azat's bully-of-an-older brother, listens to Azat's nonsensical schemes to get rich, commiserates with Azat's yearning for a girl he can't have, and patiently tries to answer one absurd question after another."
Publishers Weekly had six critics round up the best of 2009 and our Story of O and Year of Loving Dangerously made the list. Also, Augie De Bliek, Jr. at Comic Book Resources puts Trondheim's Little Nothings 2 in the top of 2009.
Speaking of CBR, Jason Sacks there says of Royo's newly remastered collection Malefic: "You can't ask for a more beautifully produced collection of fantasy art than Malefic."   And Andrew "Capt. Comics" Smith , syndicated in many papers through Scripps says of it:
"A very beautiful book, both in format and content. Royo is an absolute master of his craft, creating incredibly gorgeous and expressive women (and sometimes men), and switching easily from fantasy to sci-fi to horror."
---
January 8, 2010 by NBM
Here's what we've got being solicited for in comics stores this month, coming out in March:
DUNGEON Twilight
Vol. 3: The New Centurions
Joann SFAR, Lewis TRONDHEIM, KERASCOET, OBION
The next 2 chapters in the decline of Dungeon: Terra Amata has exploded and the Dark Fortress of the Grand Khan needs to master the nitro tech. To that end, they hire Marvin the Red even as others plot malevolently… In the second episode, Marvin the dragon and Marvin the Red are trapped on a quickly revolving piece of the exploded planet, and must constantly run or fall off into oblivion!
6 1/2 x 9, 96pp., full color trade pb., $12.99, ISBN 978-1-56163-578-8
See more about the series
And from Eurotica, one of our best-selling authors today:
4 GIRLFRIENDS, Vol.3
Atilio GAMBEDOTTI
After being used and abused and wrestling with her faith, naïve cutesy little Maria finally comes to grips, lets go and becomes… one hot porn star! Gambedotti continues to portray his sweet lascivious women with such gusto, they're irresistible.
81/2x 11, 48pp. color trade paperback, $11.99,
ISBN 978-1-56163-579-5
See previews on our Eurotica side
---
January 7, 2010 by NBM
Graphic Novel Reporter's John Hogan has posted an interview of Ted Rall over his latest book from us The Year of Loving Dangerously.
---
January 5, 2010 by Naomi Nowak
Hi everyone; happy new year! Holidays are coming to an end and I have no excuse to stay away from the computer anymore (it's -17 c out, that's 1 degree fahrenheit! It's Narnia out there, eternal winter, no christmas. I refuse to stick even the tip of my nose outside the door). Anyway, Graylight is in stores, so let's celebrate with two of my favourite images? Each chapter ends with a two page spread like this.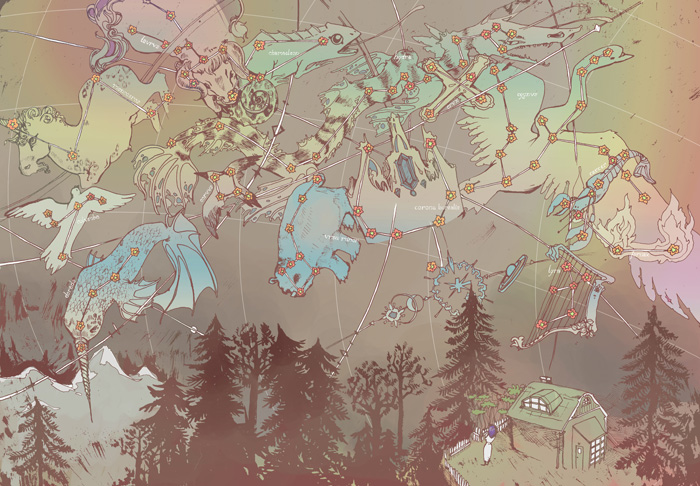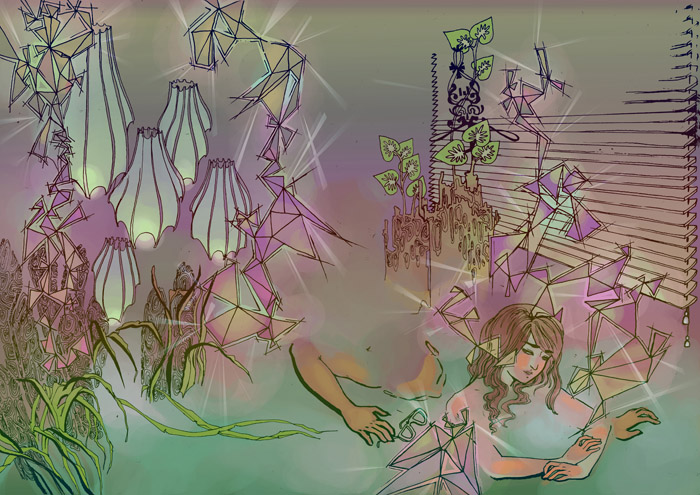 As you've probably guessed if you've been reading my posts here or over on my personal blog (which by the way gets a lot of updates) there's a whole lot more magic going on in this book than the previous ones. In Unholy Kinship, it was there in the shape of madness. In House of Clay it was there as a dainty sort of half-dream twist on a mostly realistic story. I do fully believe in magic though, and witches especially. I remember in the very first interview I did about my comics someone (it was a panel interview) asked how much of my work was inspired by faerytales. I laughed and said that well, faerytales always meant a lot to me but … there's no unicorns or anything. The audience liked my answer… but I've gotten tired of putting restraints on myself for fear of my work falling into a stereotypical "magical girl" genre. While trying not to be a stereotype is a good thing it very definitely takes a back seat to being honest and describing your real passions. You won't see people throwing spells at each other in my comics because to me that's not how it works. That's fantasy and what I would ideally want to do is show how much magic I see everywhere, in this real world. I've met three (older) women I believe to be witches so far in my life. They've fascinated me like no other people I've ever encountered and I've had more dreams about them than anyone else. Here's a strange coincidence: one is from the south (I met her before I started on Unholy Kinship), one from the north (I met her just as I began work on House of Clay), one from the east (You figure…). I guess there may be a fourth in my future. Okay so this probably all sounds ridiculous and perhaps too personal but now that Graylight is out I felt it was time to talk about my inspiration and motive more explicitly. Hopefully it will make someone want to read.
Moving on though, right? I'd like to write about new projects coming up this year … but I can't. True to my partner in crime for one of my juiciest crimes yet (only in part comics related) I can't share any news, but I swear this will be an exciting year… can I write stay tuned or is that cheesy? No, it's cheesy. Ok. But stay with me.
ps. There's gonna be unicorns some day.
pps. My website now has illustration and photography aside from paintings.
---
December 30, 2009 by NBM
"An ultra-broad send-up of '70's blaxploitation flicks, Hustle follows the exploits of private dick Boss Karate Black Guy Jones, who's hired to retrieve a naïve young thing from the clutches of Vatican City porn merchants. The two-fisted tough guy with a yen for Pottery Barn tchotchkes bulldozes his way through an assortment of garishly grotesque thugs, as a razor-brandishing degenerate Pope hits the bars for a night of debauchery.
You haven't seen such gleefully energetic cartoon slander since the glory days of underground comix."
---
December 29, 2009 by NBM
All of our NBM graphic novels are 20% off, including Eurotica, as long as your purchase is a minimum of $25. A great occasion for that Holiday cash you just got! …Maybe?
On our sale page you'll see other special bargains including a number of Pantheon/Random House as well as First Second Graphic Novels we're close to selling out of.
---
December 29, 2009 by NBM
Comic Mix reviews Malefic, which was then picked by the much larger IMDb:
"His art speaks volumes without a single letter. He works predominantly with acrylic and oil on paper and the work is moving and imaginative. There's an undercurrent of sensuality in his compositions regardless of setting or impending doom.
Royo fans will certainly rejoice in having new material and a unified library. More casual art fans are encouraged to check this out and see other worlds and ideas conjured up in a compelling way."
The book is out in stores now.
---
December 24, 2009 by NBM
"Ted Rall is a terrific journalist ("Silk Road to Ruin"), a take-no-prisoners political cartoonist ("America Gone Wild," to name just one collection, and his work runs in many media outlets) and … gigolo?
There's sex, sure, but it's a hard and humiliating way to go, and Rall is brutal as he savages himself and the choices he made."
So says The San Diego Union Tribune on The Year of Loving Dangerously at comics stores and Barnes & Nobles everywhere.
---