January 19, 2010 by Naomi Nowak
Since my last entry was about abstract and out-there stuff like magic, I thought i'd be down to earth this time.
In comics, when you work with another writer (I haven't done this much, but I know people who do) you get a detailed description of each page and each panel of whatever you're working on. The nice thing about being the writer and illustrator all rolled into one is you don't have to do that. I write the text in some sort of loose script form, sometimes as dialogue, sometimes more descriptive. In Graylight I had the whole thing divided into chapters so I would do one of those at a time. Starts out with a sketch: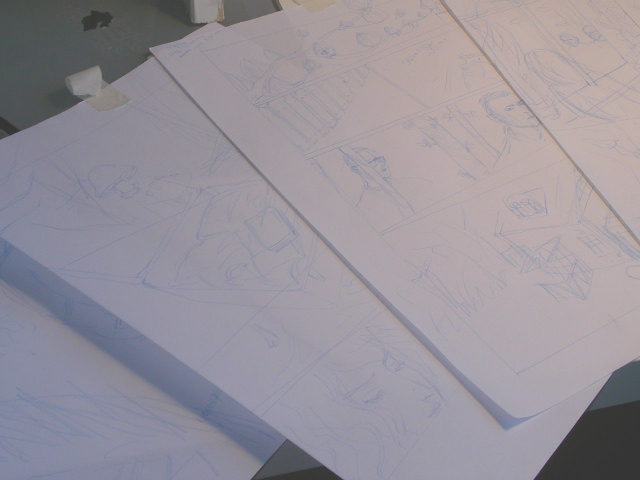 I do these in blue pencil, on regular A4 / letter size paper. Blue saves you time consuming and dangerous erasing (ruins the paper if you're not careful and i'm not really that careful). Normally I don't use photo reference at all while sketching. I learned at a young age that copying is very, very bad and shameful and that is sort of sticking with me, even though I've completely changed my mind about it – I don't think tracing is bad, whatever you do that looks good works. Tracing can look boring if you overdo it though or do it inexpertly because it ends up looking sterile and takes away a lot of the "style" element from the drawings, which is something i very much enjoy. I like to see how a person interprets an image, not how a camera interprets it (unless I'm looking at photos of course). Photographs have messy angles, too, that may work in a photo but not as a drawing. That said, for my next comic I may go a little more manga style and trace a building or two… Still considering. Depends on how much time I'll have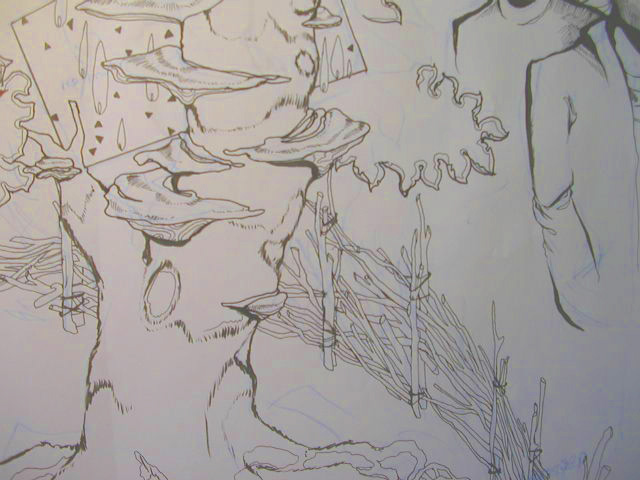 Anyway, after sketching a couple of pages I ink them, first with a brush for the thicker, more flowing lines and then with increasingly tiny technical pens. I usually work on two at a time, just taping them up on my drawing table.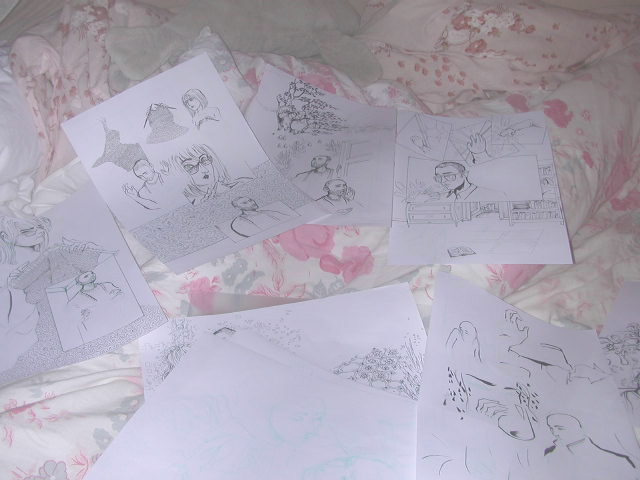 After I have ten or so, I scan them all which takes a while so i usually watch stupid things on youtube in the meantime. I do my colouring in photoshop, normally using about two layers, one for background/larger elements and one for smaller stuff.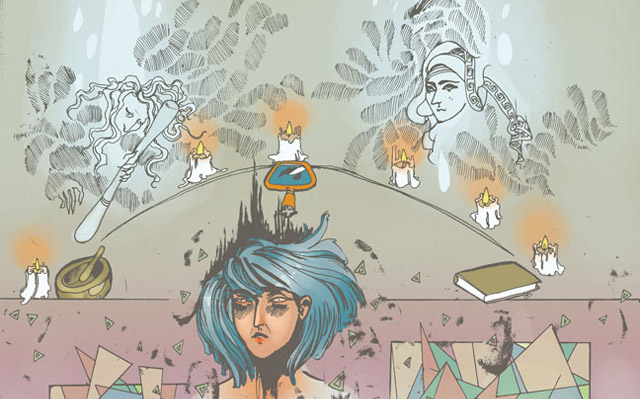 Then i put speech bubbles on the whole thing.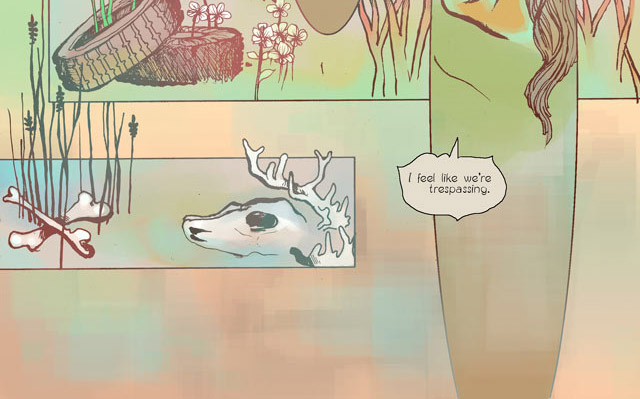 The font is my own – I made it from scratch but since I'm no expert designer I loosely based it on one of my favourite fonts, Century Gothic, so round and lovely it almost looks pregnant. Century Gothic is also the font used on the cover.
This process repeated about 12 times, with many interruptions for activities that involve making money for food & rent and then finally, there it is: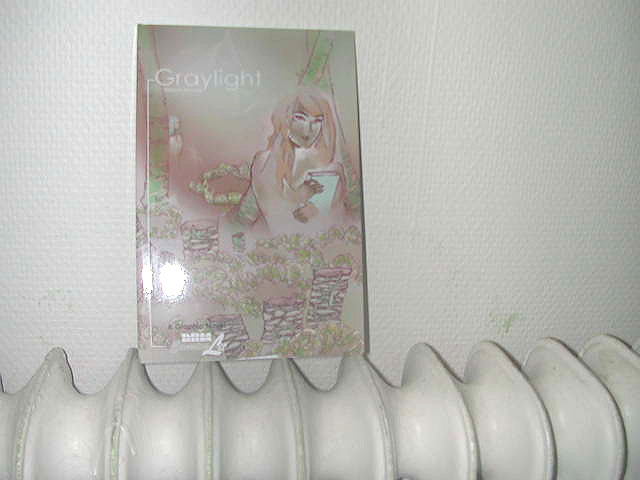 I really like it standing there on the radiator. For some reason.
Thanks to Terry, you can now follow me on amazon author central! pretty neat, it syndicates both my entries here and the ones from my blog.
---
January 17, 2010 by Ted Rall
It's here: a new Animated Editorial Cartoon with David Essman sending up the stupidest aspect of Obama's lame-ass healthcare fiasco: fining people who don't buy private insurance. Enjoy!
---
January 16, 2010 by Ted Rall
It's been a while, but David Essman and I are back with a new animated editorial cartoon! "ObamaCare Made E-Z" sends up the more ridiculous aspects of this lame attempt at "reform."
Probably Monday.
---
January 14, 2010 by Ted Rall
I'm trying to raise travel expenses to go back to Afghanistan via Kickstarter.
I need $25,000 (covers part of the travel, that's all). So far, 41 backers have put up $3,355.
So I need $21,645 more.
My plan is to return to the same places I saw in 2001, now under control of the neo-Taliban, to see how life has changed since then. Also planning to spend time in the most remote part of the country, the southwest desert along the border with Iran, to visit people who never see the foreign press. Best of all for politically-minded people, construction of the Trans-Afghanistan Pipeline is now underway near Herat! I'll go get the exclusive untold story of one of the main reasons we invaded Afghanistan–photos too, natch.
I'll write a book about the experience, blog from in-country, and write columns and cartoons too.
If you'd like to support my project to get the untold story from the frontlines, click the link.
---
January 14, 2010 by Ted Rall
As grim accounts of the earthquake in Haiti came in, the accounts in U.S.-controlled state media all carried the same descriptive sentence: "Haiti is the poorest country in the Western hemisphere…"
Gee, I wonder how that happened?
You'd think Haiti would be loaded. After all, it made a lot of people rich.
How did Haiti get so poor? Despite a century of American colonialism, occupation, and propping up corrupt dictators? Even though the CIA staged coups d'état against every democratically elected president they ever had?
It's an important question. An earthquake isn't just an earthquake. The same 7.0 tremor hitting San Francisco wouldn't kill nearly as many people as in Port-au-Prince.
"Looking at the pictures, essentially it looks as if (the buildings are of) breezeblock or cinderblock construction, and what you need in an earthquake zone is metal bars that connect the blocks so that they stay together when they get shaken," notes Sandy Steacey, director of the Environmental Science Research Institute at the University of Ulster in Northern Ireland. "In a wealthy country with good seismic building codes that are enforced, you would have some damage, but not very much."
When a pile of cinderblocks falls on you, your odds of survival are long. Even if you miraculously survive, a poor country like Haiti doesn't have the equipment, communications infrastructure or emergency service personnel to pull you out of the rubble in time. And if your neighbors get you out, there's no ambulance to take you to the hospital—or doctor to treat you once you get there.
Earthquakes are random events. How many people they kill is predetermined. In Haiti this week, don't blame tectonic plates. Ninety-nine percent of the death toll is attributable to poverty.
So the question is relevant. How'd Haiti become so poor?
The story begins in 1910, when a U.S. State Department-National City Bank of New York (now called Citibank) consortium bought the Banque National d'Haïti—Haiti's only commercial bank and its national treasury—in effect transferring Haiti's debts to the Americans. Five years later, President Woodrow Wilson ordered troops to occupy the country in order to keep tabs on "our" investment.
From 1915 to 1934, the U.S. Marines imposed harsh military occupation, murdered Haitians patriots and diverted 40 percent of Haiti's gross domestic product to U.S. bankers. Haitians were banned from government jobs. Ambitious Haitians were shunted into the puppet military, setting the stage for a half-century of U.S.-backed military dictatorship.
The U.S. kept control of Haiti's finances until 1947.
Still—why should Haitians complain? Sure, we stole 40 percent of Haiti's national wealth for 32 years. But we let them keep 60 percent.
Whiners.
Despite having been bled dry by American bankers and generals, civil disorder prevailed until 1957, when the CIA installed President-for-Life François "Papa Doc" Duvalier. Duvalier's brutal Tonton Macoutes paramilitary goon squads murdered at least 30,000 Haitians and drove educated people to flee into exile. But think of the cup as half-full: fewer people in the population means fewer people competing for the same jobs!
Upon Papa Doc's death in 1971, the torch passed to his even more dissolute 19-year-old son, Jean-Claude "Baby Doc" Duvalier. The U.S., cool to Papa Doc in his later years, quickly warmed back up to his kleptomaniacal playboy heir. As the U.S. poured in arms and trained his army as a supposed anti-communist bulwark against Castro's Cuba, Baby Doc stole an estimated $300 to $800 million from the national treasury, according to Transparency International. The money was placed in personal accounts in Switzerland and elsewhere.
Under U.S. influence, Baby Doc virtually eliminated import tariffs for U.S. goods. Soon Haiti was awash predatory agricultural imports dumped by American firms. Domestic rice farmers went bankrupt. A nation that had been agriculturally self-sustaining collapsed. Farms were abandoned. Hundreds of thousands of farmers migrated to the teeming slums of Port-au-Prince.
The Duvalier era, 29 years in all, came to an end in 1986 when President Ronald Reagan ordered U.S. forces to whisk Baby Doc to exile in France, saving him from a popular uprising.
Once again, Haitians should thank Americans. Duvalierism was "tough love." Forcing Haitians to make do without their national treasury was our nice way or encouraging them to work harder, to lift themselves up by their bootstraps. Or, in this case, flipflops.
Anyway.
The U.S. has been all about tough love ever since. We twice deposed the populist and popular democratically-elected president Jean-Bertrand Aristide. The second time, in 2004, we even gave him a free flight to the Central African Republic! (He says the CIA kidnapped him, but whatever.) Hey, he needed a rest. And it was kind of us to support a new government formed by former Tonton Macoutes.
Yet, despite everything we've done for Haiti, they're still a fourth-world failed state on a fault line.
And still, we haven't given up. American companies like Disney generously pay wages to their sweatshop workers of 28 cents an hour.
What more do these ingrates want?
(Ted Rall is the author, with Pablo G. Callejo, of the new graphic memoir "The Year of Loving Dangerously." He is also the author of the Gen X manifesto "Revenge of the Latchkey Kids." His website is tedrall.com.)
COPYRIGHT 2010 TED RALL
---
January 13, 2010 by Ted Rall
Congress might tax bankers…but they probably don't need to worry.
---
January 13, 2010 by NBM
Specifically, they rave about his Mystery of Mary Rogers Book:
"Roughly once a year throughout the '00s, Rick Geary delivered another of his carefully researched, beautifully drawn "Treasury Of Victorian Murder" books (or lately, "Treasury Of XXth-Century Murder"). All are essential reading for comics fans and history buffs alike, but The Mystery Of Mary Rogers is especially fine.
Geary portrays the culture of New York in the mid-19th century as a hybrid of European sophistication and frontier barbarism, and as he muses on how a case can scandalize a community yet remain an utter mystery, he shows how fiction is born from our unceasing fascination with the lurid."
We might have chosen another volume of Geary's but hey! who are we to quibble?
---
January 12, 2010 by NBM
On Greg Houston's Vatican Hustle:
"The first comic in a long time to make me laugh in public. If you do not enjoy the non sequiturs of Family Guy, you will want to avoid this book. Everyone else is in for a treat of the lowbrow type. Vatican Hustle is one of those comics that you find yourself quoting amongst friends. The plot is so offensive that it quickly turns the corner and becomes funny once again. I highly recommend it. Grade: 9/10″
---
January 11, 2010 by Neil Kleid
Here's a fun essay I wrote for Graphic NYC about the movie ONCE UPON A TIME IN AMERICA and how it influenced my book, BROWNSVILLE.
"Brownsville, the graphic novel I created for NBM Publishing with Jake Allen, counts influences from mafia films and novels, history and transcripts, and comic book creators ranging from Will Eisner and Jack Kirby to Alan Moore and Harvey Pekar. But Leone's epic tale of friends, love, crime and time gets pride of place as the second great influence and inspiration behind the book, sharing the spot with Cohen's book."
Have a read and immerse yourself in one of the finest mob films ever made.
---
January 8, 2010 by NBM
Joe & Azat in the Smithsonian?
Indeed, a nice review of Jesse Lonergan's Joe & Azat at the Smithsonian site:
"Joe's best guide is local Azat, "the computer expert at the education department" – never mind that the entire department has but one computer. Azat, "the greatest dreamer [Joe] ever met" is also his best friend in Turkmenistan. Azat makes sure Joe gets his stolen passport back, tastes the best cooking (including his mother's manty), meets a few of the local girls (at least one of whom Joe should marry), and enjoys every wedding with or without an invitation. In return, Joe puts up with Azat's bully-of-an-older brother, listens to Azat's nonsensical schemes to get rich, commiserates with Azat's yearning for a girl he can't have, and patiently tries to answer one absurd question after another."
Publishers Weekly had six critics round up the best of 2009 and our Story of O and Year of Loving Dangerously made the list. Also, Augie De Bliek, Jr. at Comic Book Resources puts Trondheim's Little Nothings 2 in the top of 2009.
Speaking of CBR, Jason Sacks there says of Royo's newly remastered collection Malefic: "You can't ask for a more beautifully produced collection of fantasy art than Malefic."   And Andrew "Capt. Comics" Smith , syndicated in many papers through Scripps says of it:
"A very beautiful book, both in format and content. Royo is an absolute master of his craft, creating incredibly gorgeous and expressive women (and sometimes men), and switching easily from fantasy to sci-fi to horror."
---