December 16, 2009 by NBM
Vatican Hustle by Greg Houston gets a few awed remarks:
"a love letter to the blacksploitation genre penned in the only manner such a note can successfully be executed: way the hell over the top. Houston clearly had a blast writing and drawing Vatican Hustle, and his joy is infectious."
Brian Heater of The Daily Cross Hatch
Andrew Wheeler on ComicMix gets kinda stuck on the book's helter skelter energy but allows:
"This is definitely the work of a unique talent, and there isn't anything else like it. I'm not sure whether to hope that Houston settles down and learns to modulate his talent to consistently replicate his hits and avoid his misses, or to expect that he'll get even more extreme and bizarre. Either way, Vatican Hustle is like no other book you will read this year, and that's damn impressive."
Comics Bulletin says:
"Houston takes every chance he can to go off on tangents following side characters, exploring the absurd world he's created here and seeing what sorts of antics his bizarre characters get up to. We encounter oversexed porn stars, disgusting white pimps, feral clowns, themed hoboes, a leprous clown butler, and a thug afflicted with "gigantic pieface disorder".
However, other than our hero himself, the best creation might be the Pope, whom Houston imagines as a beefy bruiser that wears leather-jacket versions of the papal robes; uses his position to lure every woman he encounters into sex; constantly consumes booze, cigars, and heroin; gets in violent barfights; and uses his holy influence to cheat at dice."
---
December 16, 2009 by NBM
First, let's point you to a fun interview on Smith Magazine's site with Ted Rall on his recent Year of Loving Dangerously.
Greg McElhatton of Read About Comics sees Rall's book as a bit of an exercise in self-justification but still grants that "This is the kind of glimpse into someone's life that readers rarely get," and especially raves about artist Pablo Callejo's work on this:
"a treat from start to finish; he draws his characters with an innocent look, thanks to rounded faces and clean lines. Callejo draws the young Rall in a way that makes him both recognizably the cartoonist (for those who have seen or met him), but without feeling stiff, posed, or light boxed off of existing photographs. I think it's Callejo's art style that actually makes the book slightly more likable; Rall's narration may not ever come across as warm, but his alter-ego on the page does in places."
And Sequential Tart picks up on this about Callejo:
"a marvel to behold. Callejo is surely an artist to watch and this book specifically demonstrates how versatile an artist he is. How easy it would have been for Callejo, like so many other comic book artists, to make all of the women Ted sleeps with pictorial copies of each other. The fact that there were so many characters, and I never confused any of them and I always recognized the recurring ones, is a great artistic accomplishment.
Rall is obviously an excellent writer. And the book is very funny at times, so don't let the serious premise scare you away. I enjoyed this graphic novel immensely and have been encouraged to check out more of Rall's books. Read this book with an open mind and eye for detail and I think you will enjoy it just as much. 9 out of 10."
---
December 15, 2009 by Neil Kleid
It's the fifth night of Chanukah, so from our yet-to-actually-be shoveled (whew!) relocated home office in New Jersey, Team Kleid wants to wish you and yours a safe and happy holiday season.
Thanks for supporting THE BIG KAHN in 2009, and here's looking to a brand new year filled with health, happiness, success and sequential excellence.
Happy Holidays!
---
December 15, 2009 by Rick Geary
I'm at present finishing up the final inking on "The Terrible Axe-Man of New Orleans," but it's never too late to make small adjustments and corrections.  I just returned from a long-overdue visit to New Orleans, where I immersed myself in the atmosphere of the place.  Below is a comparison of a penciled page (before my visit) and the final inked page, in which I more accurately represented the local architecture.
---
December 14, 2009 by shane white
When I wrote THINGS UNDONE I had no idea it would become a film.
And it still hasn't but the more I see romance and horror mixing the more it makes sense. Then again, it's hard to imagine two zombies making out…or is it?
If there was ever a chance for something so ripe to go so wrong it would be the zombie-love-romance story. It would be messy, just like real life but moreso. Maybe I should have put more of that in there…the destruction of two people based on the proximity of their lives to each other, both rotting from outside in, until their hearts didn't recognize each other. Their only chance at normalcy and regaining their humanity is to leave one another. Naw, that'd be too easy.
Regardless I wrote a more personal story one that deals with life's expectations steamrollering over one's life. It's funny some reviewers who read the book think the main character is "narcissistic" because he's reflecting on a life that is destroying him in ways he can't understand. That giving 110% of your soul to a company that can't get it's shit together is probably not the most sound thing a young 20-something should do. The rewards of insomnia, depression, shitty pay, and being over-worked cloud any reasonable judgment to guide one's life. But I digress…
I guess not everybody can be clear-headed thinkers without a care in the world. Life is messy at every age, and sometimes you can take it too seriously. That's what THINGS UNDONE is about, taking it too seriously forgetting that being 20 only happens once.
---
December 9, 2009 by Naomi Nowak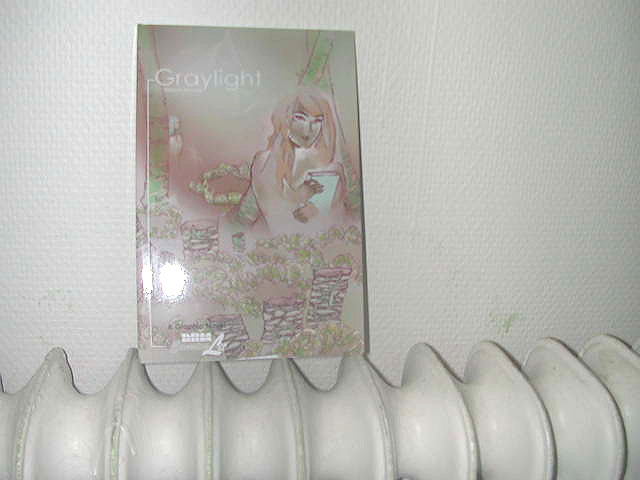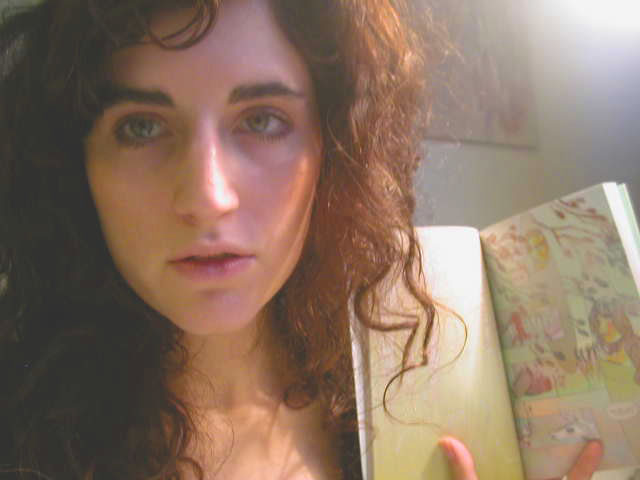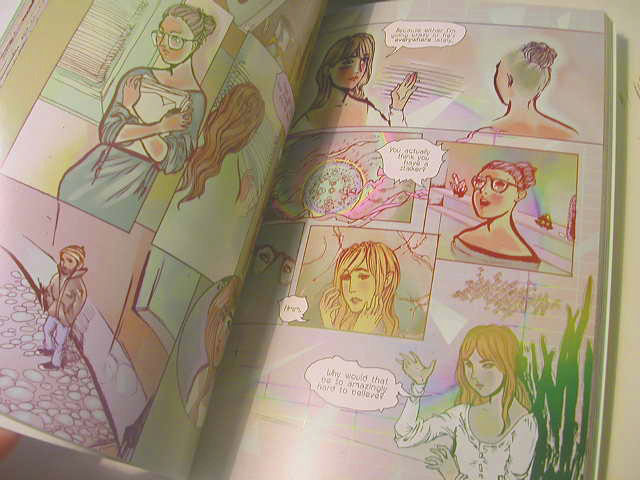 i don't get fame or fortune but i do get advance copies and great great joy! the printing is wonderful, the paper is thicker than i thought it would be, everything is perfect!! 144 pages, full colour. slightly unreal.
i sold and signed some of these on saturday at the opening of a group art show (well, me and two others). seeing the first copies in the hands of friends and strangers was really touching and very inspiring to keep drawing comics despite this being such a hard career path. i better sit down and actually write down my ideas if i want to be able to show terry something new when i go to new york in january….

---
December 8, 2009 by NBM
Ted Rall and Pablo Callejo's The Year of Loving Dangerously just keeps getting the accolades, the latest from Booklist:
"He was more interested in well-stocked refrigerators than impending sexual adventures. Realistically illustrated in soft colors by Callejo, of Bluesman (2004–06) fame, and maximally unbuttoned in some places, Rall's sympathetic account of his life on the edge encourages identifying with a situation so desperate that his outrageous choices seem necessary."
And Publishers Weekly thought Jesse Lonergan's Joe & Azat equally charming:
"Lonergan follows his graphic novel, Flower & Fade, with this charming and engrossing study of a friendship that transcends cultural borders. A simply illustrated charmer that grips readers from its opening pages and remains on the mind well after it has been read and absorbed."
---
December 8, 2009 by NBM
Here's what we're soliciting for in comics stores now, coming in February:
The new book in the Louvre collection:
ON THE ODD HOURS
Eric Liberge
The highly successful series of graphic novels co-published with the Louvre museum in Paris ("Glacial Period", "Museum Vaults") continues with its next outstanding graphic novel. This time, the author invites us on a guided tour of the museum… by night… when the works of art come alive. Our guide: a deaf night watchman who somehow manages to communicate with the souls of those ethereal and timeless works of art. A visual tour de force with a strong edge of the frighteningly fantastic.
61/2 x 9, 72 pages, full color trade paperback with flaps: $14.95,
ISBN 978-1-56163-577-1
The 1st book in this series, Glacial Period is already in its 3rd printing and the 2nd, Museum Vaults, is sold out!
And from Eurotica (go to 'coming up'):
SIZZLE #45
Peanut Butter vol.4 by Cornnell Clarke begins! And this issue continues best-selling series Kristina and Girl by Kevin Taylor, as well as Omaha the Cat Dancer and more goodies!
81/2 x 11, 64pp., B&W, magazine $5.95.
Voila! Put in your order now at your favorite comics shop!
---
December 7, 2009 by Jesse Lonergan
When you have absolute power in a country, you get to do a lot of things that most other people don't. For example, you get to have a lot of medals on your jacket.
Just a few of the awards presented to Turkmenbashy: Hero of Turkmenistan (six times), Medal for Labor Heroism, Order of Friendship of Peoples, Medal for Love of the Fatherland, The Award for International Understanding, Order Galkynysh, Silk Road Prize for Outstanding Achievement, Order Bitaraplyk, Gold Medal for the International Informatization Academy, Gold Medal for Outstanding Contribution to the World Strengthening and Understanding among Nations, First Class Order of the Russian Orthodox Church of Saint Duke Daniel of Moscow, Grand Duke Yaroslav the Wise First Class Order, Medal of the Turkmen-Turkish Frienship Society, Order of Saint Mesrop Mashtots…
… and so many many more (and none of these are fictional).
It's good to be the king, or at least the President for life.
Check out Joe and Azat for more about Turkmenistan and what it's like living in a place with a president like this. And check out this review from Publishers Weekly. Check out my blog, too.
---
December 4, 2009 by shane white
There's enough ranting about the holidays and better essayists than myself to do it out there than I care to imagine. I'll leave those things to the professional pessimists and satirists to do "once again" as they've done every year. And given a few more weeks they'll inevitably cop-out with "look back" over the year we've just had.
Personally I don't care much about any of it…except maybe the "look back" part. I like to take stock of what I did with my time and what I accomplished and what things I have left undone.
Usually it's a good feeling that I didn't waste my time on the planet doing things like: waiting in line, playing video games, waiting in line, stuck in traffic, waiting in more lines and jury duty. Well that last one is always a good chance to relax, draw people and then answer honestly when the prosecuting lawyer asks, "Out of anyone in the court, people of the jury, who would you want to be right now?"
I answered, "The defendent" while most answer the "Judge, because he has all the power." They ask me why I would pick the defendent, and I think isn't it obvious, it's a more creative position to be in with all that adrenaline and emotion running through your bones. My reply is, "Because I'm an artist and it might be useful to me someday."
That always gets people off the hook.
---