January 7, 2010 by NBM
Graphic Novel Reporter's John Hogan has posted an interview of Ted Rall over his latest book from us The Year of Loving Dangerously.
---
January 5, 2010 by Naomi Nowak
Hi everyone; happy new year! Holidays are coming to an end and I have no excuse to stay away from the computer anymore (it's -17 c out, that's 1 degree fahrenheit! It's Narnia out there, eternal winter, no christmas. I refuse to stick even the tip of my nose outside the door). Anyway, Graylight is in stores, so let's celebrate with two of my favourite images? Each chapter ends with a two page spread like this.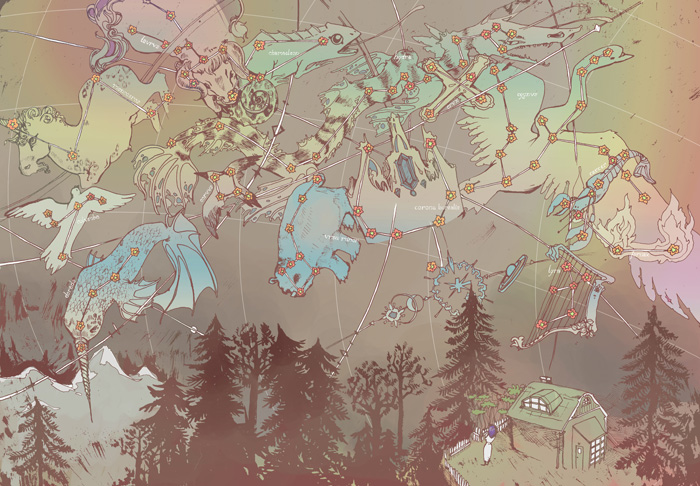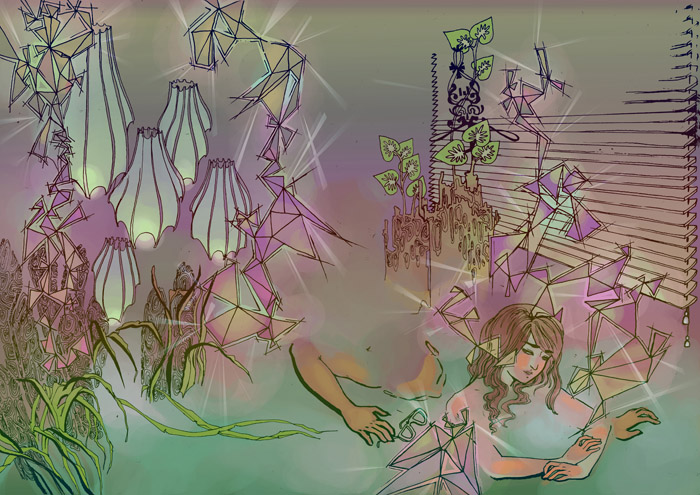 As you've probably guessed if you've been reading my posts here or over on my personal blog (which by the way gets a lot of updates) there's a whole lot more magic going on in this book than the previous ones. In Unholy Kinship, it was there in the shape of madness. In House of Clay it was there as a dainty sort of half-dream twist on a mostly realistic story. I do fully believe in magic though, and witches especially. I remember in the very first interview I did about my comics someone (it was a panel interview) asked how much of my work was inspired by faerytales. I laughed and said that well, faerytales always meant a lot to me but … there's no unicorns or anything. The audience liked my answer… but I've gotten tired of putting restraints on myself for fear of my work falling into a stereotypical "magical girl" genre. While trying not to be a stereotype is a good thing it very definitely takes a back seat to being honest and describing your real passions. You won't see people throwing spells at each other in my comics because to me that's not how it works. That's fantasy and what I would ideally want to do is show how much magic I see everywhere, in this real world. I've met three (older) women I believe to be witches so far in my life. They've fascinated me like no other people I've ever encountered and I've had more dreams about them than anyone else. Here's a strange coincidence: one is from the south (I met her before I started on Unholy Kinship), one from the north (I met her just as I began work on House of Clay), one from the east (You figure…). I guess there may be a fourth in my future. Okay so this probably all sounds ridiculous and perhaps too personal but now that Graylight is out I felt it was time to talk about my inspiration and motive more explicitly. Hopefully it will make someone want to read.
Moving on though, right? I'd like to write about new projects coming up this year … but I can't. True to my partner in crime for one of my juiciest crimes yet (only in part comics related) I can't share any news, but I swear this will be an exciting year… can I write stay tuned or is that cheesy? No, it's cheesy. Ok. But stay with me.
ps. There's gonna be unicorns some day.
pps. My website now has illustration and photography aside from paintings.
---
December 30, 2009 by NBM
"An ultra-broad send-up of '70's blaxploitation flicks, Hustle follows the exploits of private dick Boss Karate Black Guy Jones, who's hired to retrieve a naïve young thing from the clutches of Vatican City porn merchants. The two-fisted tough guy with a yen for Pottery Barn tchotchkes bulldozes his way through an assortment of garishly grotesque thugs, as a razor-brandishing degenerate Pope hits the bars for a night of debauchery.
You haven't seen such gleefully energetic cartoon slander since the glory days of underground comix."
---
December 29, 2009 by NBM
All of our NBM graphic novels are 20% off, including Eurotica, as long as your purchase is a minimum of $25. A great occasion for that Holiday cash you just got! …Maybe?
On our sale page you'll see other special bargains including a number of Pantheon/Random House as well as First Second Graphic Novels we're close to selling out of.
---
December 29, 2009 by NBM
Comic Mix reviews Malefic, which was then picked by the much larger IMDb:
"His art speaks volumes without a single letter. He works predominantly with acrylic and oil on paper and the work is moving and imaginative. There's an undercurrent of sensuality in his compositions regardless of setting or impending doom.
Royo fans will certainly rejoice in having new material and a unified library. More casual art fans are encouraged to check this out and see other worlds and ideas conjured up in a compelling way."
The book is out in stores now.
---
December 24, 2009 by NBM
"Ted Rall is a terrific journalist ("Silk Road to Ruin"), a take-no-prisoners political cartoonist ("America Gone Wild," to name just one collection, and his work runs in many media outlets) and … gigolo?
There's sex, sure, but it's a hard and humiliating way to go, and Rall is brutal as he savages himself and the choices he made."
So says The San Diego Union Tribune on The Year of Loving Dangerously at comics stores and Barnes & Nobles everywhere.
---
December 24, 2009 by NBM
We're making a few:
Mijeong, a manhwa, made Popcultureshock's list of best of 2009:
"Wholly unlike most of the other English-translated manhwa hitting the shelves these days, this volume is a hidden gem, with glimpses of true brilliance that promise a great future for the artist."
SFSite put The Big Kahn in theirs:
"Kleid's story reads like something Philip Roth, or perhaps Nathan Englander, would write if they worked in comics."
The Comics Waiting Room placed our Little Nothings vol.2 in theirs:
"I consider Trondheim to be the best living comics creator in the world right now, and this is him working at his purest form."
Speaking of Trondheim. John Seven at Reverse Direction puts the Dungeon series in the decade's best.
---
December 21, 2009 by NBM
Graylight is shipping and is to hit stores very soon. From the author of the well acclaimed Unholy Kinship and House of Clay.  See more and previews.
---
December 18, 2009 by shane white
The undead have as much use as the dead. My Dad was kind enough to mail me a cow's skull that he came across in a field. At least that's where he said he found it.
Often when I was younger I'd wander into the woods for hours and would eventually come upon a grisly horror of emaciated cow or horse parts. Your senses come alive when viewing death, alone, in the wilderness. Sometimes the animals would just die of old age or maybe from starvation as a woodchuck hole would break an animal's leg and they would not be discovered until it was too late. Or coy dogs (which were wild feral animals that ran around in packs like coyotes or wolves tearing down slow prey) would cross their paths and instinctively rip them apart eating very little and leaving the rest for crows and flies.
So why do I bring all this up? I don't know…but like I said the dead have their use either as a metaphor or as an adornment for creative endeavors. Such as…
Happy Holidays.
---
December 17, 2009 by NBM
"Lonergan's clean, sharp lines, minimal backgrounds, and pure black and white (no grays, not even via shading) make another story of a youthful, probably temporary relationship vivid and affecting.
Altogether excellent."
See more on Joe & Azat and Jesse Lonergan.
---