December 9, 2009 by Naomi Nowak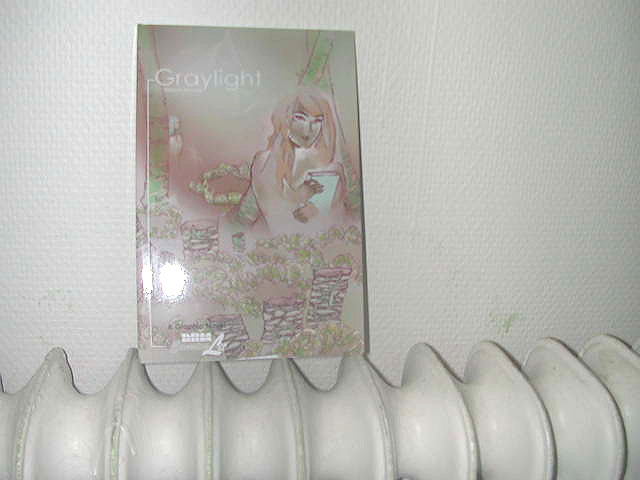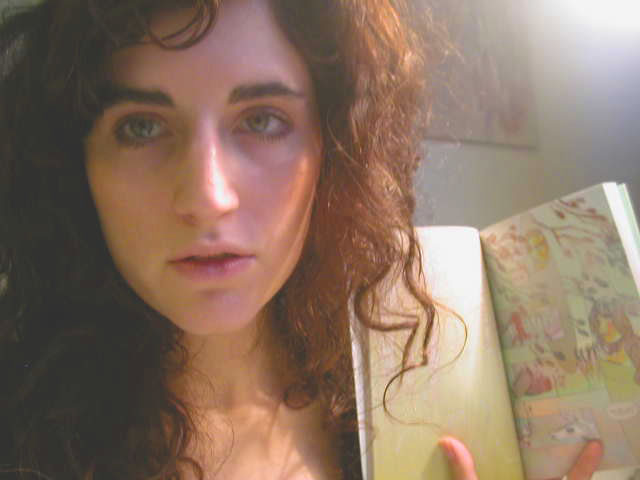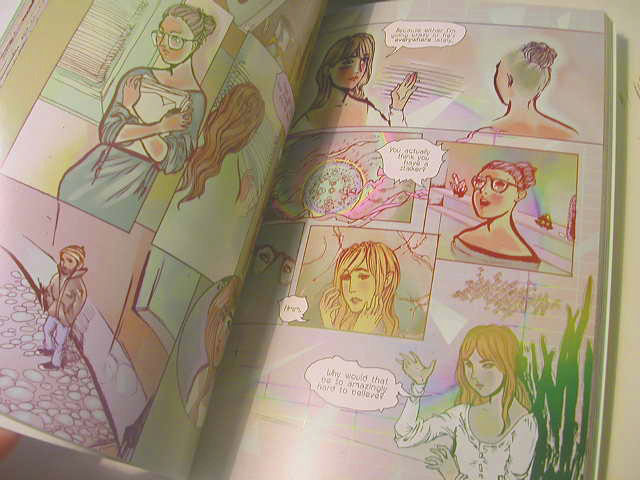 i don't get fame or fortune but i do get advance copies and great great joy! the printing is wonderful, the paper is thicker than i thought it would be, everything is perfect!! 144 pages, full colour. slightly unreal.
i sold and signed some of these on saturday at the opening of a group art show (well, me and two others). seeing the first copies in the hands of friends and strangers was really touching and very inspiring to keep drawing comics despite this being such a hard career path. i better sit down and actually write down my ideas if i want to be able to show terry something new when i go to new york in january….

---
December 8, 2009 by NBM
Ted Rall and Pablo Callejo's The Year of Loving Dangerously just keeps getting the accolades, the latest from Booklist:
"He was more interested in well-stocked refrigerators than impending sexual adventures. Realistically illustrated in soft colors by Callejo, of Bluesman (2004–06) fame, and maximally unbuttoned in some places, Rall's sympathetic account of his life on the edge encourages identifying with a situation so desperate that his outrageous choices seem necessary."
And Publishers Weekly thought Jesse Lonergan's Joe & Azat equally charming:
"Lonergan follows his graphic novel, Flower & Fade, with this charming and engrossing study of a friendship that transcends cultural borders. A simply illustrated charmer that grips readers from its opening pages and remains on the mind well after it has been read and absorbed."
---
December 8, 2009 by NBM
Here's what we're soliciting for in comics stores now, coming in February:
The new book in the Louvre collection:
ON THE ODD HOURS
Eric Liberge
The highly successful series of graphic novels co-published with the Louvre museum in Paris ("Glacial Period", "Museum Vaults") continues with its next outstanding graphic novel. This time, the author invites us on a guided tour of the museum… by night… when the works of art come alive. Our guide: a deaf night watchman who somehow manages to communicate with the souls of those ethereal and timeless works of art. A visual tour de force with a strong edge of the frighteningly fantastic.
61/2 x 9, 72 pages, full color trade paperback with flaps: $14.95,
ISBN 978-1-56163-577-1
The 1st book in this series, Glacial Period is already in its 3rd printing and the 2nd, Museum Vaults, is sold out!
And from Eurotica (go to 'coming up'):
SIZZLE #45
Peanut Butter vol.4 by Cornnell Clarke begins! And this issue continues best-selling series Kristina and Girl by Kevin Taylor, as well as Omaha the Cat Dancer and more goodies!
81/2 x 11, 64pp., B&W, magazine $5.95.
Voila! Put in your order now at your favorite comics shop!
---
December 7, 2009 by Jesse Lonergan
When you have absolute power in a country, you get to do a lot of things that most other people don't. For example, you get to have a lot of medals on your jacket.
Just a few of the awards presented to Turkmenbashy: Hero of Turkmenistan (six times), Medal for Labor Heroism, Order of Friendship of Peoples, Medal for Love of the Fatherland, The Award for International Understanding, Order Galkynysh, Silk Road Prize for Outstanding Achievement, Order Bitaraplyk, Gold Medal for the International Informatization Academy, Gold Medal for Outstanding Contribution to the World Strengthening and Understanding among Nations, First Class Order of the Russian Orthodox Church of Saint Duke Daniel of Moscow, Grand Duke Yaroslav the Wise First Class Order, Medal of the Turkmen-Turkish Frienship Society, Order of Saint Mesrop Mashtots…
… and so many many more (and none of these are fictional).
It's good to be the king, or at least the President for life.
Check out Joe and Azat for more about Turkmenistan and what it's like living in a place with a president like this. And check out this review from Publishers Weekly. Check out my blog, too.
---
December 4, 2009 by shane white
There's enough ranting about the holidays and better essayists than myself to do it out there than I care to imagine. I'll leave those things to the professional pessimists and satirists to do "once again" as they've done every year. And given a few more weeks they'll inevitably cop-out with "look back" over the year we've just had.
Personally I don't care much about any of it…except maybe the "look back" part. I like to take stock of what I did with my time and what I accomplished and what things I have left undone.
Usually it's a good feeling that I didn't waste my time on the planet doing things like: waiting in line, playing video games, waiting in line, stuck in traffic, waiting in more lines and jury duty. Well that last one is always a good chance to relax, draw people and then answer honestly when the prosecuting lawyer asks, "Out of anyone in the court, people of the jury, who would you want to be right now?"
I answered, "The defendent" while most answer the "Judge, because he has all the power." They ask me why I would pick the defendent, and I think isn't it obvious, it's a more creative position to be in with all that adrenaline and emotion running through your bones. My reply is, "Because I'm an artist and it might be useful to me someday."
That always gets people off the hook.
---
December 4, 2009 by NBM
A very important interview just up on Chicago's Redeye site Chicago Now. It zeroes in on the fact that Ted Rall called it early back in 2001 as can be seen in his 'instant graphic novel' we published in 2002 To Afghanistan & Back. Basically he already said it then: 'we lost this war.'
You'll remember we all thought we had just won it.
This book is ever more relevant today, check it out. He risked his life going there to see the war with his own eyes, not trusting the news.
And for you Californians, note Ted Rall will be appearing at the D.G. Wills Bookstore, 7461 Girard Avenue, La Jolla, Ca. 92037 (858)456-1800
Friday December 11 at 7PM
---
December 2, 2009 by NBM
Sasha Watson, a well known author in her own right, calls Ted Rall and Pablo Callejo's The Year of Loving Dangerously 'a gorgeous whirlwind of a memoir' and does a great interview of Rall in Publishers Weekly's Comics Week.
And don't forget, Ted appears at MoCCA Thursday evening at 7PM to talk about and then sign this book!
---
December 2, 2009 by Pablo Callejo
Hello, everyone.
Back from France. It's been a great weekend at the Blues Festival "Blues Sur Seine", where I've been signing the French edition of "Bluesman", at Mantes-la-Jolie (such a great name for a city!). I would thank Philippe, Dimitri and the rest of the enthusiastic members of "Bulles a Mantes" for their kinderness.
They organized a small exhibition of "Bluesman" original art, at the ENM (a fantastic School of Music, Dance and Theatre, at Mantes). Pretty beautiful.
The stuff helps people (well, I hope so) to have an idea about the "making of", from the script page to the final art. That's something that I always loved to see when I was on the other side –the reader's side-, and I want the people see now in my work. I found really interesting to see the penciled pages, compare them with the final results, checking corrections and modifications…
 I had time to spend in Paris. Always beautiful, one of these cities where everyone should go at last one time. And, as the rest of France, very friendly with comics. I don't know how are things in the States, but I can say for sure that it's hard to find in Spain an art gallery like this:
There are many other beautiful things you can see in Paris, besides the Eiffel Tower or the Louvre. And I'm not talking about the beautiful "parisiennes" girls ("the only women in the World who can look glamourous while riding on bike wearing skirts", according to my wife). I talk about this:
 Yum…
Anyway, talking about "making of" and sketches, there are some of the first stuff I prepared for "The Year of Loving Dangerously", based on a introductory text which Ted Rall sent to me, to check if my style will match the story:
I hope you liked!
Pablo.
---
December 2, 2009 by NBM
Shane White's Things Undone has an excellent review to its credit in the influential Booklist:
"This indie graphic novel has high appeal, especially for Rick's peers. His gradual zombification is slyly funny without becoming grotesque."
Booklist
And SF Site has put Geary's latest Famous Players in its top ten list. The paperback of this is just out!
---
December 1, 2009 by NBM
Sequential Tart has a very well researched review, brings up some interesting background.
"The story stands the test of time, partly because it is a catalogue of classic pornographic and Sadean tropes (Susan Sontag called The Story of O "meta-pornography"), but also because it has a purposely retro feel. Crepax gives the comic a flapper-era aesthetic that calls upon a timeless, iconic era of libertine feminism.
Crepax, who was a successful advertising illustrator, also knew the power of suggestion. While he does not shy away from explicit depictions of sex and BDSM activities, he also knows when to pull back and let comics do what they do best: allow the reader to imagine what happens between scenes, just outside the panel, in the next frame, or elsewhere on O's body.
The true selling point of this edition of The Story of O is the production. Printed on a bright white, opaque stock, Crepax's linework comes to life, with the flow of ink, the physical weight of the hand and turns of the wrist evident in every line.  The NBM edition of The Story of O is a solid, very reasonable priced standalone volume."
---