August 18, 2009 by NBM
The review blog Highlow comics has a review of our Forever Nuts' most recent two collections, Happy Hooligan and Bringing Up Father.
Heavy praise went to Happy Hooligan:
"Every fan of gag cartooning in particular needs to read HAPPY HOOLIGAN."
"The panel-to-panel transitions, the way he drew action and violence, the way he layered gag on top of gag and the way he gave the reader something to look at in every panel was a direct progenitor of both classic animation and artists like Milt Gross, Harvey Kurtzman, Will Elder and Al Jaffee (for starters). "
If you missed our Happy Hooligan collection, it's still available, take a look.
---
August 17, 2009 by Jesse Lonergan
So this is a sequence from Joe and Azat that I decided to redraw. The sequence on top is the original drawing that I didn't like, and the one on the bottom is what appears in the finished book. This sequence takes place inside a video game that Joe and Azat are playing and I thought it would be better to keep it static with the two fighters staying the same size and the viewed from the same angle.
I don't read or draw superheroes too much anymore, but this sequence was a fun little digression from the rest of the book. The character who is winning the fight is one that I came up with in high school named General Eric (which abbreviates to Gen. Eric)(I thought I was so clever). He had no powers or anything. He just went around causing mayhem. The comics I drew with him in them were really really really bloody. 
Eric also made a cameo in my first book Flower and Fade. He shows up at a costume party, but it's just somebody dressed like him so no one gets killed.
Joe and Azat should be coming up sometime in the next month. Pick it up.
Check out my blog too.
---
August 17, 2009 by Neil Kleid
It's official, folks — the reviews are in, and THE BIG KAHN is the sleeper hit of the season. Aside from the great reviews we've already had, three new ones popped up today.
Before we even get to the reviews, head over to Comic Book Resources where Kiel Phegley interviews me up proper about THE BIG KAHN, my work and Jewish comix.
Publisher's Weekly included the book in today's book reviews saying that "The Big Kahn is not an easy book to read, especially given its underlying religious questions, but it is gripping"
Michael C Lorah reviews us for Newsarama's Best Shots today, flattering us by saying "Kleid's done some good comics work in the past, but The Big Kahn is his new gold standard", "Cinquegrani's visual storytelling is good. Sticking to clear grids, he clearly moves the narrative forward and does a good job with backgrounds and layouts" and that "it all adds up to something that resembles a great American novel." He ends with "The Big Kahn is going to make some Best Of 2009 lists, and it deserves to do so… handles the complications of family with a caring and intelligent touch, giving closure without providing easy or pat answers. The Big Kahn is a good, good comic, and you should read it."
Finally, retailer Ralph Mathieu at Alternate Reality Comics reviewed the book at his blog, Ich Liebe Comics, and got us thinking when he finished with "I'm sure that Hollywood option people will be calling in short order to try to secure the rights to film The Big Kahn."
---
August 17, 2009 by shane white

So I thought I'd really jump the shark here and get all bizarroworld on you! My Mom saw this blog for the first time today. It made her laugh. So hopefully this will make her embarrassed.
So this is kind of weird thing for many reasons. You ready TRUE CONFESSION: I used to buy Teen Beat and Tiger Beat magazine…well, my Mom would buy it because I was insane about a band called KISS. If you don't know who they are…they're the comic book equivalent of hard rock from the 70s. The album covers (music discs that measured 12″ x 12″) were the bomb! Ken Kelly's DESTROYER cover was one of the best covers for one of the best albums in their canon of work. Love Gun was pretty snazzy too, but nothing compared to its predesessor.  Anyway, I wall-papered my walls with their images, I redrew the album covers, and I would listen to their music like any crazed middle-school kid can get about something that they can call all their own.
Then they broke up. I think that's when the innocence was gone and I realized there were men behind the costumes and make-up and they didn't like hanging out and rocking. So I tore down all the ephemera, gave it away and was left with a blank wall to ponder upon. I think it was about that time I started getting serious about art.
Another reason this is weird is my book THINGS UNDONE a dark comedy about a guy who turns into a zombie because his life is starting to avalanche, comes out 2 days after my birthday on August 26th! Yay me, <snore>zzzzzzzz.
Next…the header is appropriate because what better way to present creator information and inner workings of the mind than through an interview that I did at ComicsCareer.com earlier this year. Generally this is pretty cheesy stuff, but if you can bear it there might be something worth a damn in there.
Finally it is true. If you order 1000 of THINGS UNDONE for your store, I will make you a Special Love Calendar out of dried animal pelts, glue and tchotkes. I'll even personalize it for you…whatever that means.
=s=
---
August 13, 2009 by Naomi Nowak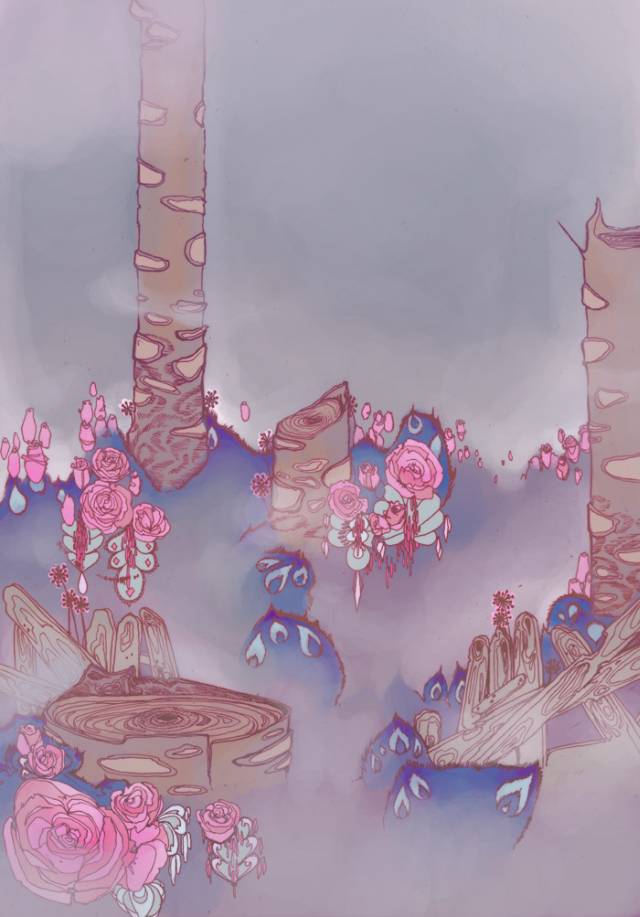 this is the graylight back cover! the following text will go on it when i can decide on a font to use:
A promise made decades ago could suddenly be fulfilled, endangering the life of a girl, trying her friendships and confusing her suitors. A semi-conscious love triangle ensues in twilit northern forests. Obsession, overprotection and the hunger for everything to be in it's right place – rules of the game, set to a backdrop of arctic summer.
i'm thinking about new projects to sink my teeth into. i'm getting that fresh but slightly scary feeling of not being tied down by a huge undertaking, for once. how is it that while you're working on a graphic novel you think "i'm just going to do this, and then never again, too grueling" and as soon as you're done you're entertaining happy thoughts of your next 150-page endeavour? i'm going to hold off on it a little though. i'd like to do something for a younger audience, possibly.
ps. follow my non-comics-related life over at my blog. i mostly post drawings and photos + talk about plants or clothes (and comics too of course).
---
August 12, 2009 by NBM
First off: Booklist, an influential review of books:
Kleid's second graphic novel observes the fallout of a 40-year deception. At Rabbi David Kahn's funeral, a Gentile asks to see his brother one more time. His brother? Just so, for the rabbi wasn't a Jew. He came to Judaism as a young crook working a con but, falling in love and marrying into it, stayed to become a revered spiritual leader. His family is devastated, none more than elder son Avi, a sincere young rabbi presumed to be David's successor-but no longer, which shakes his faith. Equally affected is David's daughter, Lea, who has been in full rebellion against her upbringing (she is first seen here assuaging her grief by shtupping in a synagogue closet while Avi delivers the eulogy) but now reacts with self-doubt. This is an unusually rich work. Every character is well realized. Each panel's composition, perspective, and placement within the continuity, and also the transitions between scenes, are done with care. Unfortunately, Cinquegrani's figural skills don't match the excellence of story and visual conceptualization. Nevertheless, a not-to-be-missed original graphic novel. -Ray Olson
Kleid's script is a wonder, with its pitch-perfect ear for dialogue. Paired with Nicolas Cinquegrani's richly textured shades and overtones, it not only captures New Jersey well—it also fully delivers on the premise of the story. When the no-good brother bursts in, disrupting everything and causing chaos at the scene, the emotions he provokes in the family and in the crowd are so nicely executed that they feel completely real—Cinquegrani's work bringing the panels to life right along with the script, which is at times funny and then heartbreaking.
 
The Big Kahn is an adventurous step for Kleid, author of Brownsville and the webcomic Action, Ohio. Like Brownsville, it's a Jewish story set out east, but it's so simply executed (and subtly ambitious) that it sneaks up on you more easily and more casually than you expect. Its great strength lies in that. I loved the story and was glad to be able to read it in graphic novel form. — John Hogan
See
MORE
on the book including preview pages.
---
August 10, 2009 by Jesse Lonergan
Joe and Azat starts with a taxi ride and it ends with a taxi ride. These two rides work as bookends for the story. One taxi takes you in, another takes you out. In reality it was a Lufthansa jet that brought me to Turkmenistan and another one that took me out, but I thought taxis were better.
Because I rode in so many damn taxis in Turkmenistan.
I rode in taxis across the entire country. I sat in the backseat of a taxi crammed in with two other people for nine hours. I had taxi drivers try and rip me off. I had taxi drivers who didn't have licenses and would bribe there way through the frequent military checkpoints. I had one taxi driver who had to be the worst smelling man I have ever met. I had taxi drivers who refused to turn their lights on at night because they thought the lights would run down the battery. I had taxi drivers who insisted I not wear a seat belt, claiming they were good drivers despite the spider web of cracks on the passenger side of the windshield. I had one taxi driver who somehow had a dvd player and flat screen TV in his cab and only wanted to show me his massive collection of porn. One taxi driver wanted me to go to a prostitute with him, bragging that the prostitute was only eighteen and he was fifty-eight. I rode with fat old women. I rode with crying babies. I rode with hungover army men who repeatedly asked if I wanted to have sex with a goat and then quizzed me in Turkmen to see if I knew my colors. I rode in a taxi where the entire back seat was filled with frozen goat meat.  I road with a taxi driver who insisted on playing the same song over and over and over again for two and a half hours. I rode in a lot of taxis.
And so my book begins and ends with a taxi ride.
It's coming out next month. Check it out. Check out my blog as well.
---
August 10, 2009 by Terry
One of our best and most anticipated books this season, The Big Kahn, is now out and available in stores. Buzz was mounting in San Diego for it as we premiered it there.
As soon as Neil presented this concept to me, I knew we had a winner. But at first, like most people, I thought it would be a comedy. What, a Rabbi who wasn't Jewish? Turned out to be a grifter? But when Neil explained to me this was serious and I read on more about his concept, I was even more intrigued. It's a funny premise alright, but what Neil does with it is fascinating. It becomes a story on the nature of faith and with all the different characters in it, reacting in a wide variety of ways, it's just a great read, his best work so far. I fell in love with it, I hope you do too.
---
August 6, 2009 by NBM
Why I like it: Sometimes, the best information I get at Comic-Con comes from just strolling around and chatting with people. While wandering the convention floor, I started hearing buzz about Kleid's new graphic novel, a tale that begins at a rabbi's funeral. Rabbi Kahn's grieving family is shocked to learn that the man they love wasn't who they thought he was — and each family member reacts in a very specific, yet different, way. I almost missed my subway stop because I was so engrossed in this book, which weaves issues of family, faith and morality. (There's also a glossary in the back, if you're not too familiar with Jewish culture.) And though it touches on some heavy themes, it has lighter (and even sexier!) moments, too.
Why you'll like it: Because you love Catch Me If You Can and stories about con men. Because, even though you have enough family drama at home, you still can't get enough of it.
as seen here
---
August 5, 2009 by NBM
Voice Of Youth Advocates (VOYA), an influential professional publication for librarians catering to YA (Young Adult) audiences has reviewed 3 of our books recently:
Of Famous Players by Geary:
"A compelling tale full of jealousy, hatred, loyalty and a murderer who walked away from the crime."
"Thought-provoking, difficult to put down. It deals with a controversial subject in a unique and absorbing way. The artwork illustrates the tale beautifully, almost poetically."
of Mijeong:
"The stories are unique and powerful on their own, but together they create a solid theme for the collection. Although this title is definitely for comic readers who enjoy more literary quality in their sequential artwork, it has a larger appeal than the typical literary graphic novel. High school teens and adults will find inspiration here."
---